Danby DDR070BDWDB Reviews. 
The Danby 70 pint Dehumidifier is Energy Star Rated and uses an eco-friendly R410a refrigerant.
Lots of reasons to like this model, but the Smart Dehumidify function is my favorite.
By factoring in ambient temperature, the Danby 70 pint will auto adjust for the ideal humidity level.
Simply set your RH level and let the dehumidifier do the rest!
Reading reviews, many buyers live in valleys (below sea level), near lakes, or need a powerful dehumidifier for basement.
Size: 70 pints (9 gal.)
Rooms: 4,000 – 4,500 sq. ft.
Danby dehumidifier is perfect for large rooms, especially basements. It comes w/ 12.7 pint water tank + hose for continuous drainage.
If the 70 pint is too large, Danby offers the Energy Star units in 6 sizes.
[table id=62 /]
All units have the same features — only different area capacity and water tanks.
For my review I'll focus on the Danby Energy Star 70 pint dehumidifier (DDR070BBWDB).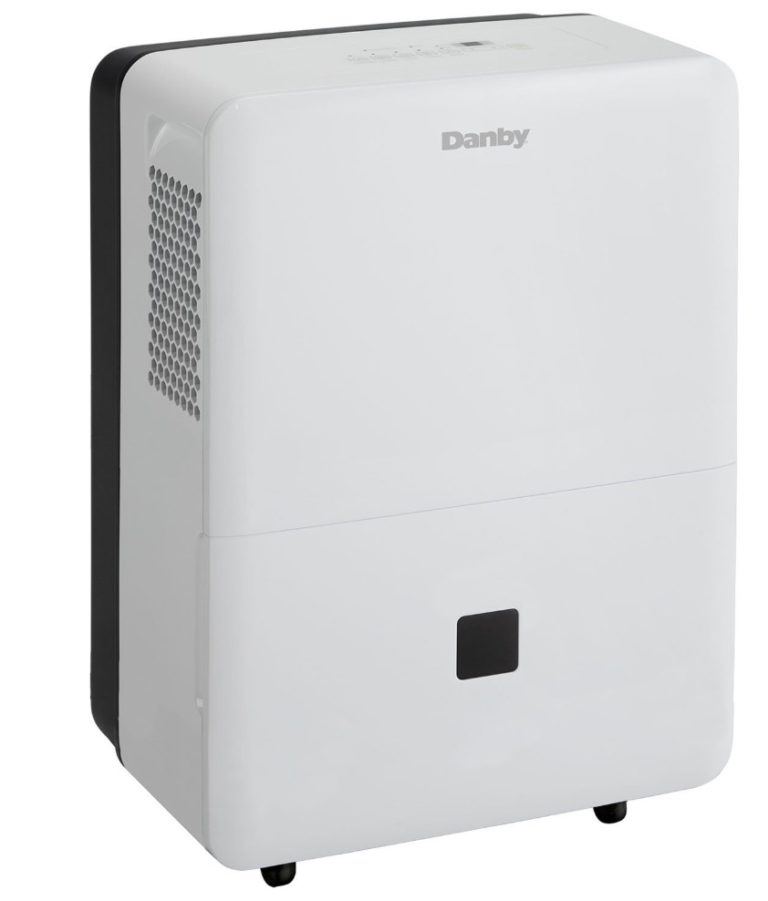 Danby 70 Pint Dehumidifier Review:
Allowing excess moisture to build in your home can cause a lot of damage.
mold, mildew, fungus, and rotting wood (especially support beams)
It also poses health risks — mold can pollute air quality without you realizing it. The longterm affects can certainly lead to health issues.
A secondary issue is a damp-smelling or musty environment.
These are all worst-case scenarios, but it can mostly be avoided by having a dehumidifier that suits your scenario.
Fortunately, modern dehumidifiers are affordable + require very little maintenance.
At the forefront of residential dehumidifiers is Danby — they have produced many of the top models and released their Energy Star Series just this year.
Perfect for larger rooms, the Danby Energy Star 70 pint dehumidifier includes a Smart Dehumidify function — the system will automatically adjust itself based on air moisture levels. Super easy maintenance!
** FYI — recommended humidity level in house or basement is 40-50% RH (relative humidity).
The Danby Energy Star dehumidifiers include a built-in hygrometer. If you only want a hygrometer, they're pretty cheap. Here's a few hygrometers if you're interested >>
For even easier operation, the Danby 70 pint includes reusable, washable air filters.
As a modern unit it's a dehumidifier with continuous drainage for basements (also known as "direct drain" feature).
Buyers say it runs very quietly — as an Energy Star Rated unit it helps reduce electric bills month-over-month.

Additional features include auto-restart function — automatically turns it back on if your electricity goes out.
Easy-pour water tank prevents spilling or splashing when emptying –  it is designed to pour out like from a pitcher.
For use in cooler rooms (i.e. basement dehumidifier) the Low Temperature feature allows the Danby dehumidifier to operate in areas as low as 41°F.
Lastly, the Danby Energy Star is the best basement dehumidifier with continuous drainage.
Continuous drainage: simply attach a hose to the machine w/ the other end leading to a drain or sink. This allows for continuous drainage, meaning you don't need to empty the water bin anymore.
This feature is especially useful for basement dehumidifiers.
Danby Energy Star Dehumidifier Review:
Model: DDR070BDWDB
Capacity:

70 pints (33.1 liters)

Additional sizes:

30, 45, 50, 60 pint dehumidifiers

Water Tank: 12.7-pints

Includes full tank indicator light

Room Size:

4,500 sq. ft.

Pricing:

Affordable

Dehumidifier with continuous drainage

Quiet operation

Automatic de-icer to prevent frost build-up on coils

2 fans speeds

Wheels = portable dehumidifier

Energy Star compliant

Auto-Restart feature (in case of power outage)

Reusable, washable air filters

24-hour timer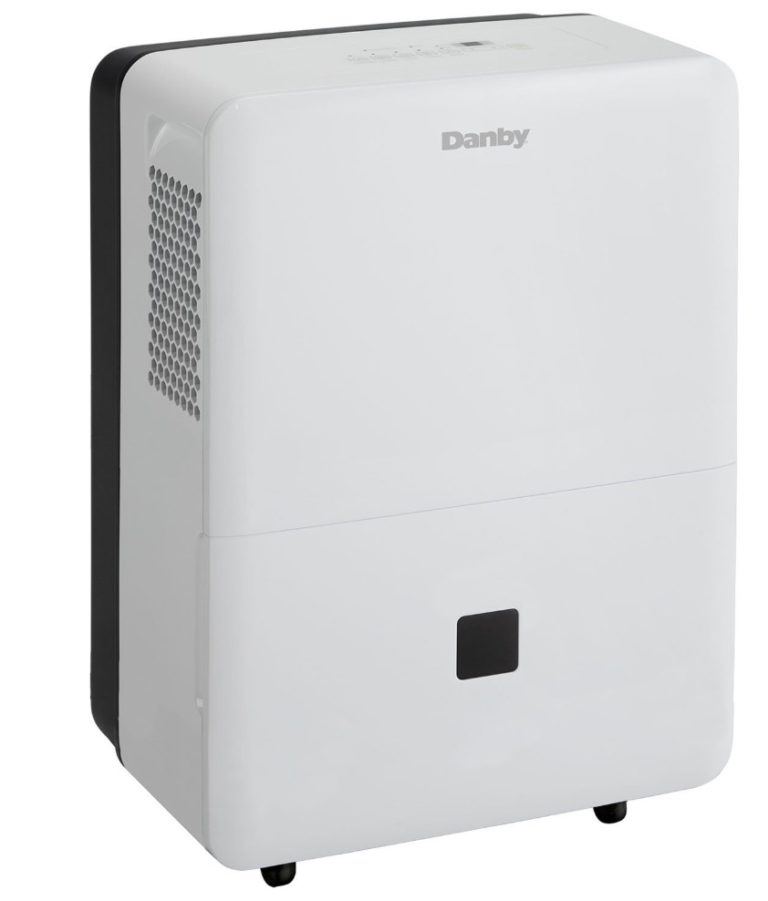 Danby DDR070BDWDB Review:
In my opinion, the Danby Energy Star 70 pint dehumidifier is the best option available.
It's offered in 5 sizes so you can choose the best sq. ft. option for your home.
30, 45, 50, 60-pint options
The Danby 70 pint in particular is very popular online — many buyers use as a dehumidifier for basement with continuous drainage feature.
If you're looking to large rooms (up to 4500 sq. ft.) or a basement dehumidifier, I think the Danby Energy Star 70 pint dehumidifier is worth considering.
It has a very affordable price + lots of positive buyer reviews.
Let us know what you think in the comments!
---
Danby 70 Pint Dehumidifier Review
Top Rated Dehumidifiers 2020
Best Dehumidifiers for Basement