For large rooms or basements, a 70 pint dehumidifier should do the trick.
Modern dehumidifiers are more advanced than 2-3 years ago – they include humidity controls, whisper-quiet operation, and are very energy efficient.
Below I list the best 70 pint dehumidifier options for home.
Prices range, $159 – $349.
---
Best 70 Pint Dehumidifier Reviews
---

The Vremi "Moisture Maniac" Dehumidifier is the best release in 2020.
Affordable price and lots of advanced functions – humidity controls, washable filters & continuous drainage (for basements).
Rooms: 2500 – 4000 sq. ft.
Water Tank: 1.6 gal.
Pricing: Medium
LCD control panel, you can set the room's relative humidity level – Vremi 70 pint dehumidifier will auto adjust its speed/power.
You can also use a drain hose for continuous drainage which is great for basements or large areas.
Buyers also say the Vremi 70 pint dehumidifier runs very quietly.
Affordable price and lots of positive buyer reviews.
---

Tolys 70 pint portable dehumidifier is a newer model, but has incredible reviews from buyers.
As a large capacity model the Tolys dehumidifier is great for decreasing normal air moisture, but is also effective at drying clothes.
Rooms: 2500 – 4000 sq. ft.
Humidity (RH): 35% – 80%
Pricing: Expensive
Buyers like the adjustable humidity controls — simply choose your desired relative humidity level and the dehumidifier will automatically reach and maintain it.
Super easy maintenance!
For basement use, the Tolys 70 pint dehumidifier offers a continuous drain function.
After connecting the drain hose to the dehumidifier, place the other end in a sink or drain ~ this way you won't have to empty the water tank.
Lots of positive buyer reviews w/ affordable price!
---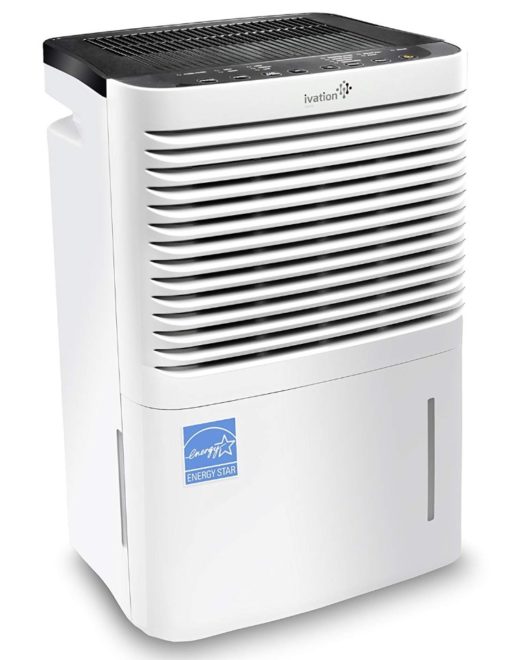 The Ivation 70 pint dehumidifier is a compact, eco-friendly dehumidifier.
It's Energy Star rated which is ideal for operating for duration in large areas (such as basements).
Room Size: 3,000 – 4,500 sq. ft.
Water Tank: 1.6 gallons
Using the LED control panel you can set the relative humidity level.
** Ideal humidity for homes is 40-50% RH
Buyers like it for its versatility — the compressor helps make it whisper quiet and is powerful enough for large areas.
Ivation 70 pint includes air filters to remove dust, allergens, pet dander, and help prevent mold.
Read our review on Honeywell 70 pint dehumidifier.
---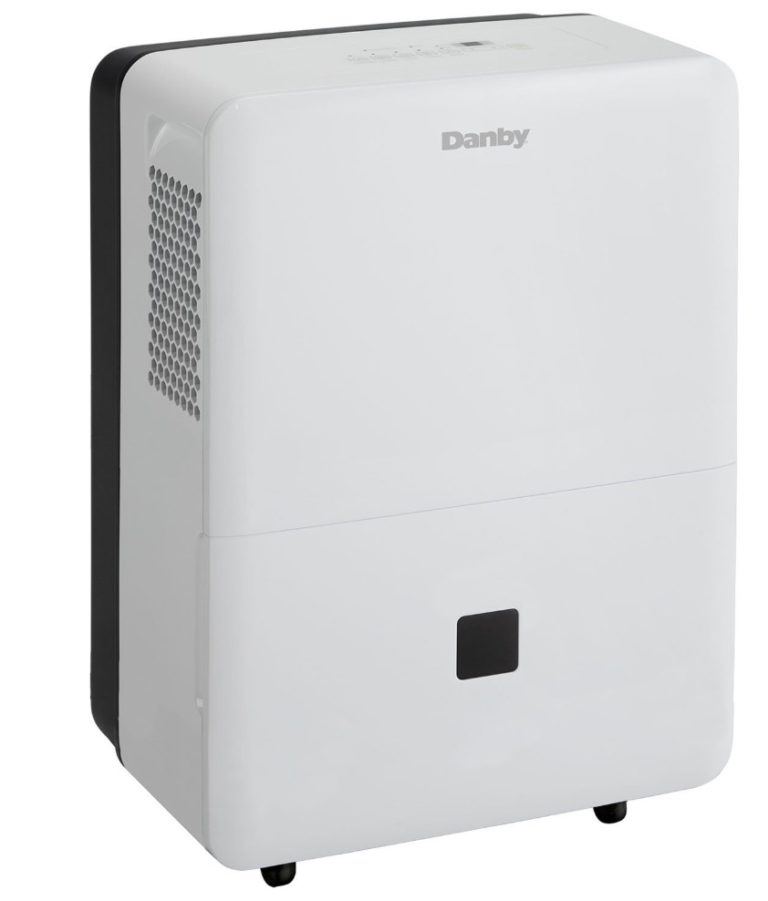 The Danby dehumidifier is an affordable model released in 2020.
Ideal for large areas or basements, the Danby 70 pint comes w/ continuous drainage option and humidity settings.
Room Size: 3,500 – 4,500 sq. ft.
Water Tank: 1.5 gallons
Buyers like the new "Smart Dehumidify" feature which let you select your ideal humidity level.
Includes full-tank indicator light if the tank gets full — most buyers use the continuous drainage though.
Other features include:
quiet operation, automatic defrost option, caster wheels
All Danby dehumidifiers are energy efficient and operate quietly in large rooms.
Buyers love the affordable price tag!
---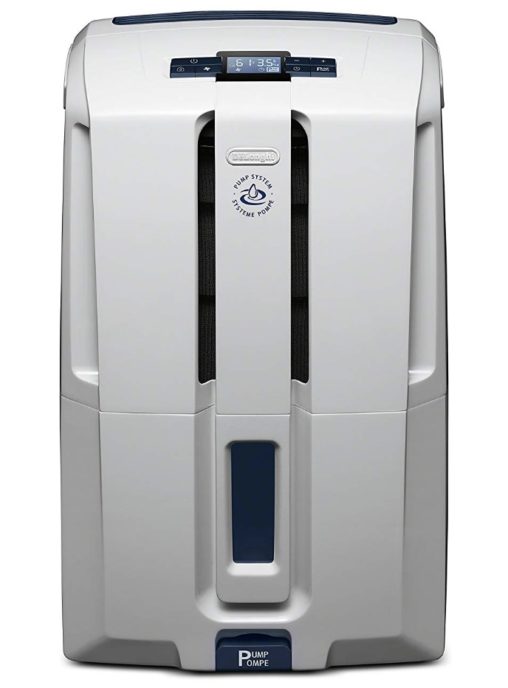 DeLonghi 70 pint dehumidifier (DDX70PE) is designed for energy efficiency.
It's one of the most expensive on the market (which is why it's not higher on my list), but it offers a lot of niche features.
Room Size: 750 – 1000 sq. ft.
Noise Level: 52 – 55 decibels
You can set your ideal humidity level — simply select your the RH on the control panel and the DeLonghi dehumidifier will do the rest!
As a basement dehumidifier, the DeLonghi units come are equipped w/ a specialized pump system that can discharge water into a drain and up to 16 ft. overhead.
They also help purify your air — the first dehumidifiers certified "Asthma and Allergy Friendly".
DeLonghi DDX70PE is also Energy Star certified, making it great for long-durations and continuous drainage. For those needing an all-year-round dehumidifier, this is the one to get!
Downside is the bigger price tag.
---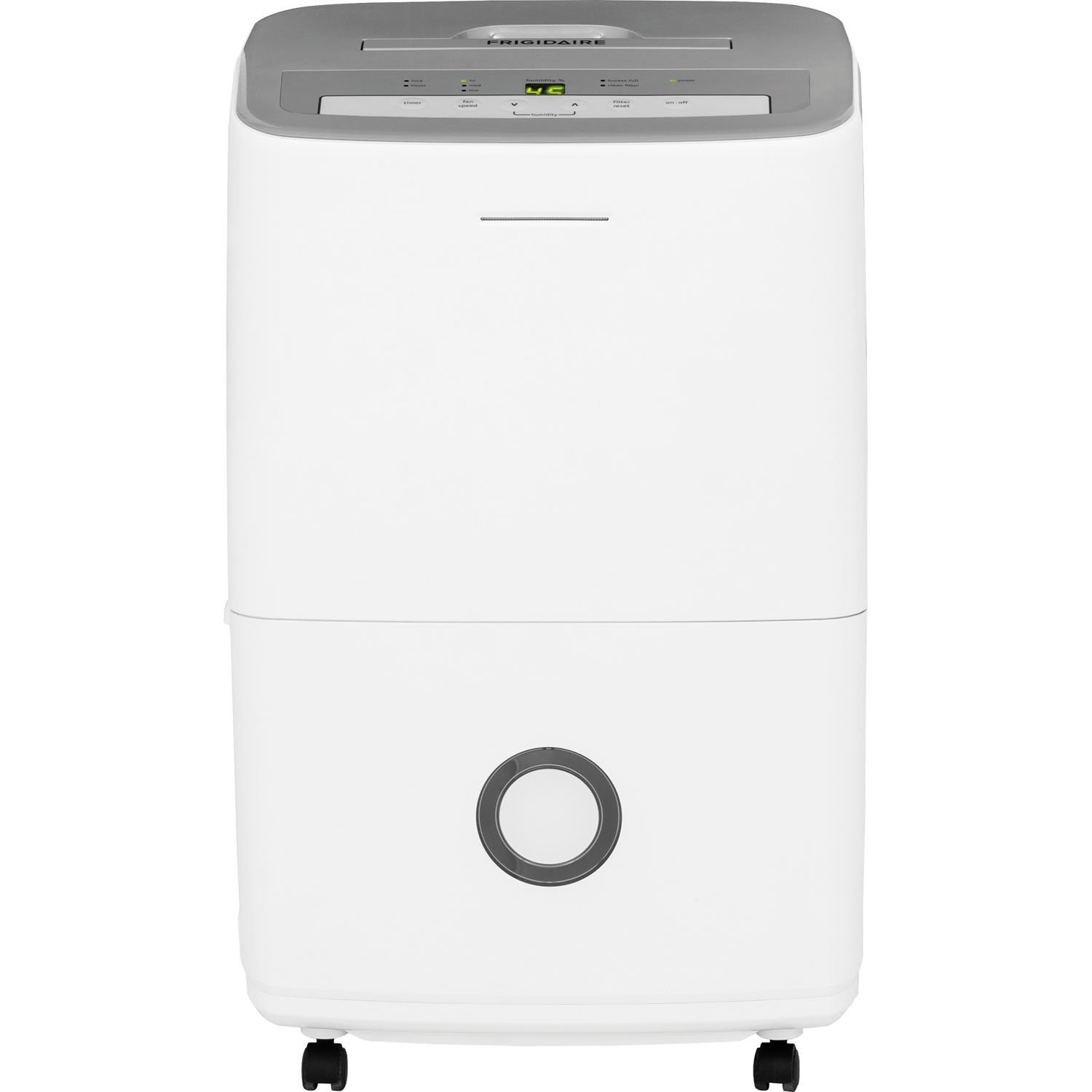 The Frigidaire Energy Star dehumidifier (FFAD7033R1) was the top seller in 2018.
Buyers say it's perhaps the best basement dehumidifier for basements because of its performance and portability.
Room Size: 3,000 – 4,000 sq. ft.
Water Tank: 1.64 gallons
Effortless Humidity Controls will automate the dehumidify speeds, making it very easy maintenance.
The LCD display shows you the current relative humidity level.
Buyers also confirm how quietly it runs — operates at only 51 decibels (on "high") allowing you to run in bedrooms.
Frigidaire 70 pint dehumidifier includes a built-in pump too!
Good price w/ lots of positive reviews from buyers.
---

The Yaufey 70 pint dehumidifier is a newer model in 2020.
It's fairly expensive, but is perfect for large rooms and is also the quietest dehumidifier on my list.
Room Size: 4000 – 5000 sq. ft.
Noise Level (dBA): 22.7 decibels
You can easily set it up for continuous drainage for garages or basements.
(drain hose included)
For easy maintenance, you can set your desired humidity level using the LCD control panel — Simply set your desired RH level and let the machine do the rest!
If you're looking a quiet dehumidifier, this is the one to get — Yaufey 70 pint dehumidifier is the quietest you'll find.
Very good buyer reviews and ratings!
---
** I will add #8-10 best 70 pint dehumidifier soon! Stay tuned!
Best 70 Pint Dehumidifier with Pump