Best Reverse Osmosis System Reviews.
A good reverse osmosis water filtration system helps remove a variety of contaminants and pollutants.
The best reverse osmosis system models filter out 99% of unwanted particles, but they also include newer features such as:
remineralization, increased pH+ levels, UV fast water flow, anti-oxidants
To help you find the right option, below is my list of the best reverse osmosis systems available online. Most are under sink RO systems, but a couple are countertop RO systems.
Best reverse osmosis system reviews.

The APEC RO-PH90 is an affordable system with many positive reviews.
It uses a 6-stage process to increase water purity and tap water pH+ levels — APEC specialized system filters, but won't eliminate the healthy minerals.
Performance: 99% of contaminants
Flow Rate: 90 gallons daily
As a pH+ system it comes with specialized filters that remove 99% of particles:
chemicals, chlorine, lead, bad odors + bacteria
Buyers confirm it's very easy to install. (takes only 2-3 hours for tank to fill)
Overall, it's an affordable priced system with good reviews.
It's also a very durable reverse osmosis filtration system — 2017 buyers say it still works wonderfully in 2019.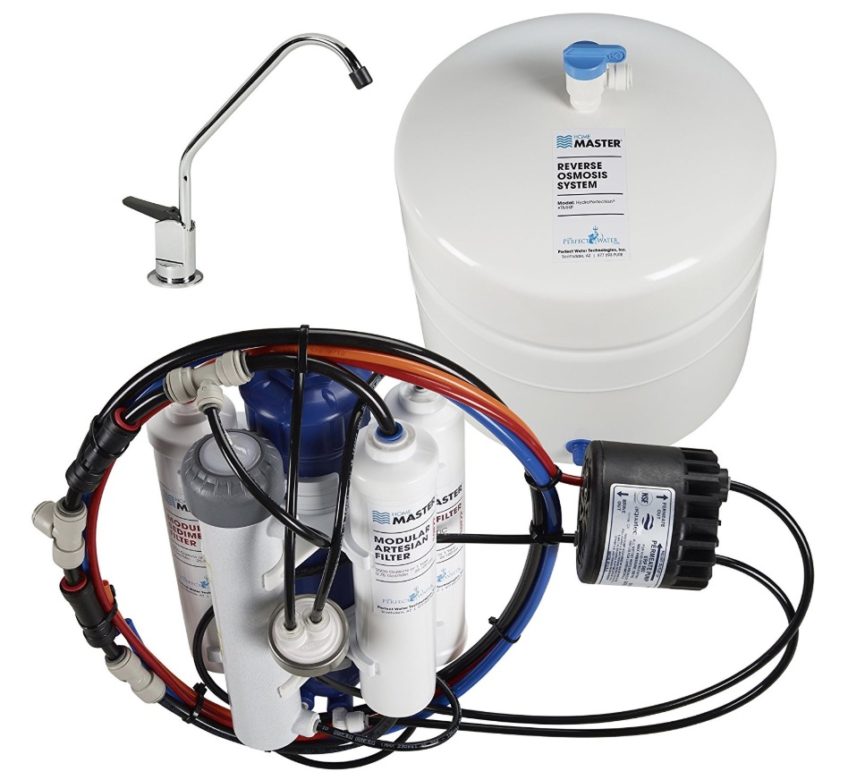 * TMHP comes fully assembled
The Home Master Hydroperfection has some of the highest ratings online.
Advanced UV sterilization process (safely) destroys 99.9% of germs, viruses, and bacteria.
Flow rate: 75 gallons (daily)
Home Master HydroPerfection uses a remineralization process to add calcium and magnesium (after filtering) — this gives water a balanced pH and purity level.
As a 9 stage RO system it's equipped with specialized iron pre-filters.
Home Master Hydroperfection removes:
98% of iron, metallic residue, chlorine and microorganisms
Hydroperfection reverse osmosis system is very expensive, but has a very good buyer reviews.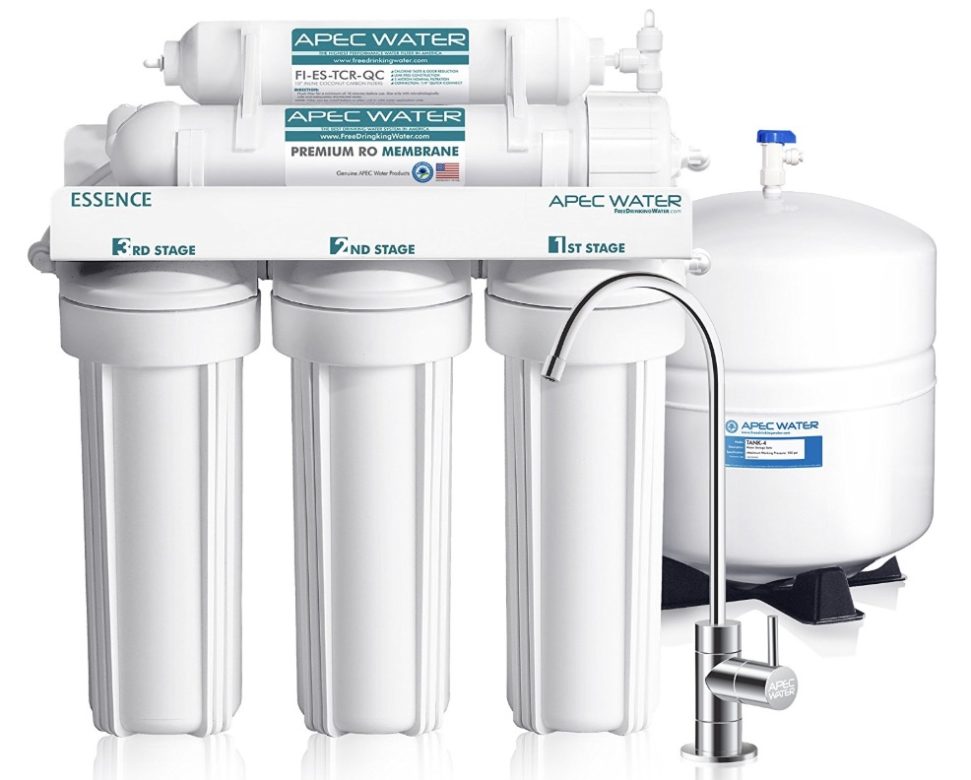 APEC Top Tier reverse osmosis system is a top seller online.
It includes a 5-stage process:
Stage 1: high-grade filters remove dust, particles + rust
Stage 2-3: specialized carbon filter for unpleasant tastes, chlorine + odors
APEC filters remove water cloudiness and coloration. (usually in older homes)
Stage 4: Dow FilmTec filters remove 99% of smaller contaminants: arsenic, lead, chromium, radium, bacteria, etc
Stage 5: captures residual particles (sometimes left from the tank)
It's considered one of the best 5 stage RO systems with 90 gal per day + alkaline filters lasting 1+ year.
Buyers love the APEC reverse osmosis system price and easy install.

The Home Master Artesian has the highest online reviews (for RO systems).
Buyers say they immediately noticed that their water purity + taste quality increased.
Flow Rate: 75 gallons (daily)
It uses a 7-stage filtration for high-quality alkaline water.
Home Master TMAFC-ERP system also remineralizes tap water with calcium + magnesium for healthier drinking water.
Fast install — takes only 10 to 20 mins.
Little cheaper than the Home Master Hydroperfection RO System.
Very expensive RO system, but lots of happy buyer review!

The iSpring RCC7AK is an affordable system with multi-layered filtration.
It uses a 6 stage filter process to remove 97% of contaminants: salmonella, e-coli, viruses, bacteria + micro particles
Tap water is remineralized with calcium + magnesium — Buyers say tap water has more natural, pure taste.
iSpring RO water tastes very similar to bottled water
iSpring RCC7AK RO System has flow rate of 75 GPM.
Buyers love its affordable price + easy installation.
** Much cheaper than the Home Master Hydroperfection.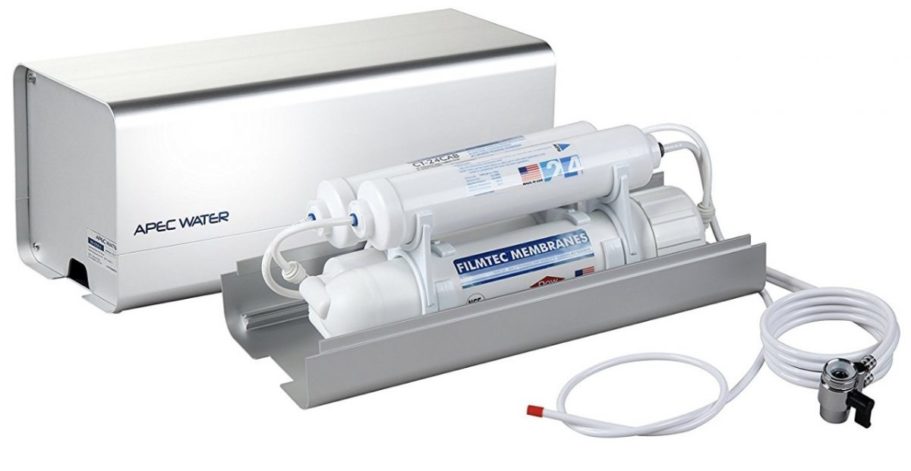 This APEC countertop is the best reverse osmosis system for high-quality alkaline water.
It uses a 4 stage RO filter system to remove 99% of impurities in tap water — odors, particles, chlorine, etc.
Flow Rate: 90 gallons (daily)
Unlike a reverse osmosis under sink, this APEC ro system is designed for countertops. It does not require any installation and fits every standard faucet.
Some buyers say it is the best RO system for countertops — the Brondell Circle RO and AquaTru can also be considered.
APEC countertop reverse osmosis system has good reviews and fair price.

The Aquasure RO System uses an innovative snap-and-twist water filter.
Uses a 4 stage water filtration to remove 99% of water contaminants: bacteria, chlorine, metals and micro-organisms.
Premier RO System  = 75 GPD
Pro Series RO System = 100 GDP
Buyers love the quick-twist filter connection and say it is very easy to hook up to your sink.
Filters also come with a new Flow-Lock to help reduce leaks.
Aquasure is one of the newer reverse osmosis systems, but so far has excellent reviews.

The Express RO is one of the best reverse osmosis system model with a remineralization process.
It adds nutritional elements to your tap water + filters water through the 11-stage water filtration process.
It removes 99% harmful particles and adds nutritional minerals:
potassium, calcium and magnesium
Unlike other reverse osmosis systems, the filter won't disrupt your water flow with daily production of 100 gal. per day.
Buyers love its affordable price + vitamin remineralization (making regular water more healthy)

The APEC RO-90 is an affordable reverse osmosis system w/ high flow rate of 90 GPM.
It uses a 5 stage process to remove 99% of contaminants:
bacteria, viruses, chlorine and chemicals
RO-90 is equipped with long-lasting filters which can produce 2,000 gallons (approx. 12-15 month) of water.
** APEC filters last 2X normal filter systems
Buyers confirm that the APEC RO-90 is easy to install and low maintenance.
Affordable with lots of positive buyer reviews!

The AquaTru is a little different compared to others on my list.
It's a countertop reverse osmosis system with 4 stage water filtration — buyers say it's one of the best reverse osmosis system models for apartments
Users say it's very easy to install too. The AquaTru RO system easily attaches to your kitchen sink.
NSF Standards show that it removes 15X more contaminants than regular water-filter pitchers.
AquaTru countertop reverse osmosis system is also designed with quick-change filters.
Lots of positive buyer reviews online.

The Brondell RO Circle is a 4-stage countertop ro water filter system.
Using a "Smart Valve" the ro system provides a consistent flow rate and does not require electricity. It is able to constantly maintain a 2:1 water efficiency ratio with less wastewater than normal ro water systems.
Convenient for families, Brondell Circle comes with LED indicators that alert you when to change the filter.
Additional features include:
high water efficiency, indicator light, twist water filters, smart valve, flexible reservoir.
Brondell Circle is one of the best RO systems for countertops.
Best Reverse Osmosis System Reviews:
Best Fleck Water Filtration Systems
Top 6 Best Reverse Osmosis System (under-sink)