Colzer 70 Pint Dehumidifier. 
The Colzer dehumidifier is a newer model, but already has top buyer reviews.
What makes it unique are the two modes of operation.
1.) Dehumidifier
2.) Dry clothes
The dry clothes function is great for those who like to hand-wash — buyers say it speeds up evaporation by 30-40%. (works best when drying in small rooms)
Colzer 70 pints dehumidifier can remove up to 9 gallons of moisture in rooms up to 4,000 sq. ft.
Dehumidify: 9 gal. (daily)
Room Size: 2500 – 4000 sq. ft.
For basements you can use the auto, continuous drain feature.
Colzer dehumidifier also comes on wheels, making very portable around the house!
Additional features:
full water tank alert, 4.5L tank, 24-hr timer, humidity selector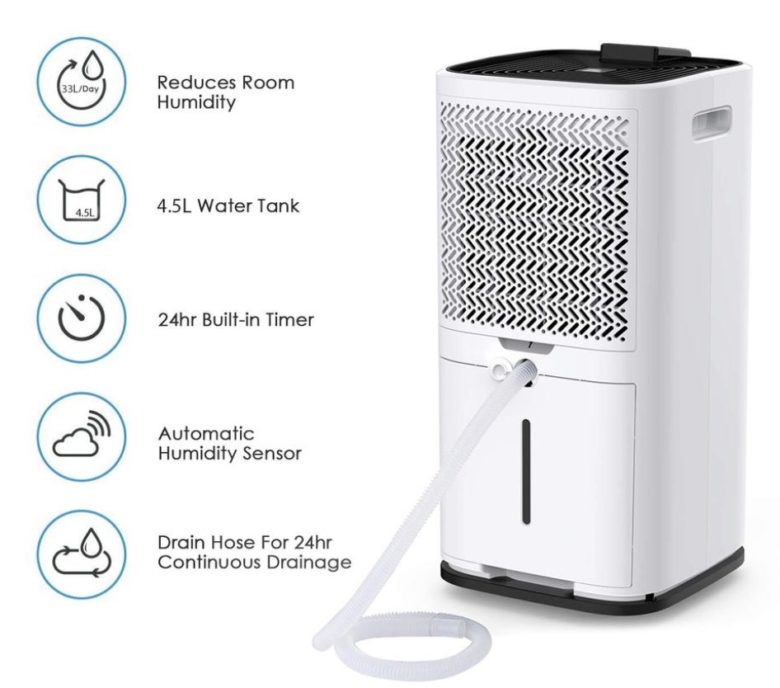 Colzer 70 Pints Dehumidifier Review:
The Colzer 70 Pint dehumidifier is a compact unit that weighs only 29 lbs.
Buyers love both dehumidify functions — they say it performs well in peak summer and quickly dries clothes (useful in winter time also).
LED panel and remote control make it super easy to use.
Colzer dehumidifier has blue LED display panel which show you the current humidity level.
Includes auto-restart (auto restarts if shutdown due to power outage) + 24-hr timer function.
Temp range: 41°F – 95°F
Continuous drainage is also very easy to set up.
Simply attach the 3.2 ft. hose to the back of the Colzer dehumidifier and place the other end in a sink or drain — once hooked up, you won't need to worry about the water tank!
Buyers like having it operate all day-long, especially at peak summertime.
Continuous drainage makes it perfect as a basement dehumidifier.
Features:
Water Tank:

4.5L

Room Size:

4,000 sq. ft.

Sizes: 70, 50, 30 pint
Capacity: 9 gallons (70-pint)

Select humidity level

Air filtering

24 hour timer

Gravity drain option included

Affordable model
Read our review on the Danby Dehumidifier.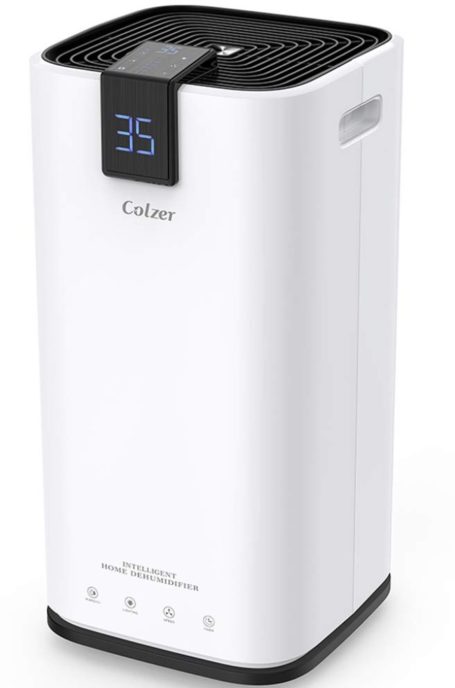 Colzer Dehumidifier 70 Pint Review:
I'm surprised by the affordability of the Colzer dehumidifiers — ones of this capacity are usually 10-20% higher in cost.
Perhaps because it's a newer model?
In any case, it looks to be a good option, especially for larger rooms. Buyers say it works very well in homes with open layout or high ceiling.
If you're looking for a portable dehumidifier for a larger room, I think the Colzer 70 pint is worth considering.
With so many positive reviews the Colzer, is arguably the best 70 pint dehumidifier for home.
Colzer Dehumidifier Review