Honeywell TP70PWK Review.
The Honeywell 70 pint dehumidifier is one of the best Energy Star models available.
Lots of reasons to like it as a large-capacity dehumidifier, but the standout feature — it's very quiet.
As a newer unit, the Honeywell TP70PWK won't operate louder than 51 decibels (dBA).
Buyers confirm that it's one of the best quiet dehumidifiers for residences — powerful enough for large basements and quiet enough for bedroom use.
Performance: 70 pints (9 gal.)
Water Tank: 14-pints
The water tank isn't huge, but the dehumidifier includes a "Tank Full" notification alert and will automatically shutoff if not emptied.
It also includes a built-in pump, anti-spill design, and continuous drainage (for direct drain).
Coverage: up to 4000 sq. ft.
Noise Level: ≤ 51 decibel
If you're looking for a smaller dehumidifier, Honeywell offers it in 3 capacity sizes.
Here's a run-down of the other units.
[table id=64 /]
Top 10 Best Home Dehumidifiers >>

Honeywell TP70PWK Dehumidifier Review:
Allowing moisture to build-up can cause a lot of damage in your home.
mold, mildew or rotting wood
This can have potential health risks if not properly managed — a good, dependable dehumidifier helps reduce most of these problems.
Fortunately, high-end dehumidifiers like the Honeywell TP70PWK is fairly priced and easy maintenance.
"Smart Digital Humidistat" lets you select your relative humidity level – based on your RH setting, the dehumidifier will automatically adjust its power to sustain it.
It even comes w/ a built-in pump and hose for continuous drainage!
Honeywell TP70PWK dehumidifier includes a powerful, Auto-Drain Pump – capable of draining condensation vertically or horizontally up to 15 ft. (into a sink or out through a window).
Easy maintenance, it's able to operate for multiple weeks straight.
The "Smart Digital Humidistat Control System" will automatically sense room moisture levels & activate the dehumidify function to accurately maintain your desired humidity levels. It also helps reduce allergy and odor causing mold/mildew.
It's also designed with a washable air filter which helps remove dust and allergens.
Overall, buyers confirm that it's one of the best dehumidifiers for basements.
Very easy maintenance and high-performing unit.
Additional features include
drain pump and hose, auto restart function (in case of power outage), anti-spill design, washable air filters, auto defrost controls, very quiet operation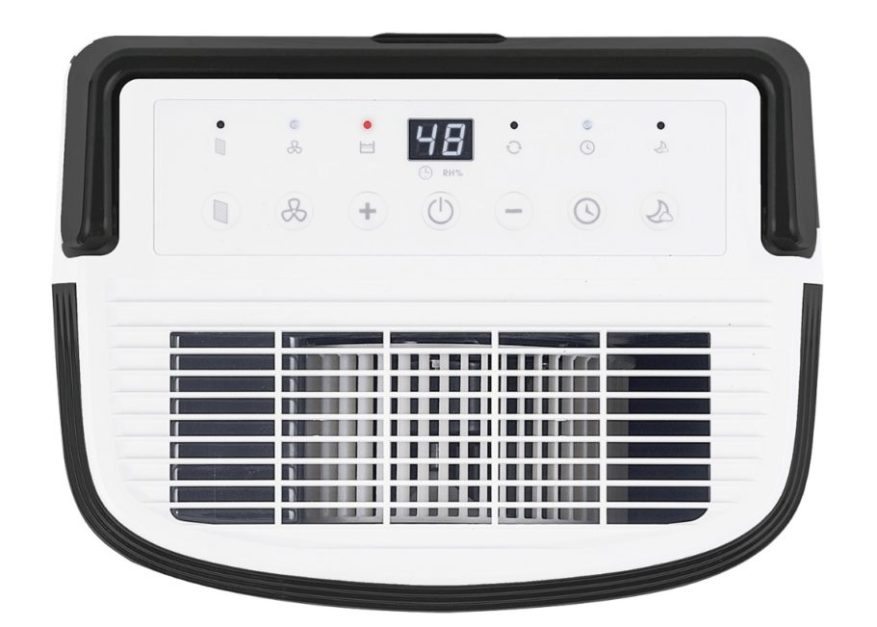 What's Included:
Honeywell 70 pint dehumidifier

Drain hose and built-in pump

14 pint water bin

Washable air filter
Honeywell 70 Pint Dehumidifier Review:
Units: TP70PWK / TP70WK
Capacity:

70 pint (8.75 gal.)

Water Tank: 14 pints
Rooms:

4,000

 sq. ft.

Price: Medium
Noise Level: ≤ 51 decibels

Dehumidifier w/ continuous drainage

Filter clean alert notification

Built-in pump (and hose included)

Automatic restart function

Energy Star qualified

Honeywell 70 Pint Basement Review
Overall, the Honeywell TP70PWK (or TP70WK) is a top option for removing air moisture in large, residential areas.
Even though a newer unit, it's already has gotten very good buyer reviews — most use it for basements.
For people with smaller areas or medium-size basements (smaller than 4,000 sq. ft.), the Honeywell 50 Pint dehumidifier could be a better fit. Both are high-powered units and include continuous drainage for basements.
Buyers also like how easy set up + maintenance is. Simply connect the drain hose and the built-in pump will do the rest!
For the price & performance, it's looking to be one of the best basement dehumidifiers this year.
---
Honeywell 70 Pint Dehumidifier for Basement:
Top 10 Best Home Dehumidifiers
Danby Energy Star Dehumidifier
Shinco 70-Pint Dehumidifier for Basement
Colzer Residential Dehumidifier
Danby 70 Pint Dehumidifier with Drain Pump