Pro Breeze Portable Air Conditioner.
The Pro Breeze portable air conditioner is an affordable, 4-in-1 unit.
Versatile and lightweight, it includes a high-powered AC motor that quickly cools medium-size rooms.
Power: 9000 BTU
Rooms: 18 m² – 22 m²
Efficiency: Class A rating
As a 9000 BTU air conditioner, it is ideal for most rooms:
bedrooms, apartments/flats, kitchens, small basements, home offices
Pro Breeze Portable Air Conditioner Review
As a high-performance portable air conditioning unit, it quickly and efficiently cools rooms as low as 16°C.
It includes multiple fan speeds, a built-in dehumidifier, new "Sleep Mode" and adjustable temp feature.
Buyers love the Sleep Mode — it uses energy efficient cooling to help ease you into a deep sleep. It will gradually reduce the fan speed until it turns-off, keeping you cool throughout the night (while limiting electricity use).
Other features include:
no-drip design, water-full alert (for the dehumidifier), adjustable louvres (for air direction) + auto-evaporation system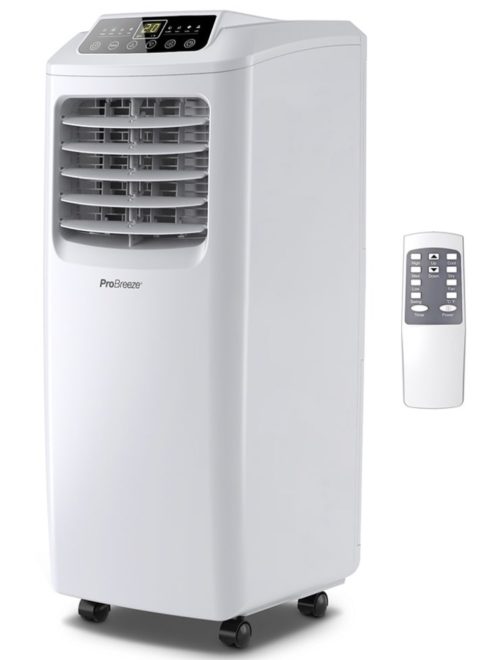 Pro Breeze Portable Air Conditioner:
The Pro Breeze air conditioner also acts as a large room dehumidifier — perfect for peak summer months!
To help avoid leaks, there is a "full-water alert" to notify you when the water bin needs to be emptied.
Dehumidifier: 21.6 litres (0.9L / hour)
As an air conditioner, the digital display and remote control are easy-to-use.
You're able to adjust the room temperature, switch to dehumidifier, or select fan speed.
Temperature: 16℃ – 30℃
If using as a bedroom air conditioner, the Sleep Mode will be a useful feature — this keeps the AC noise below 60 decibels.
The built-in timer is a nice addition too — if you have a consistent morning schedule you can set it to auto shutoff after you leave.
The Pro Breeze 4-in-1 portable air conditioner arrives 90% preassembled, making install easy.
Installation: 10 – 15 mins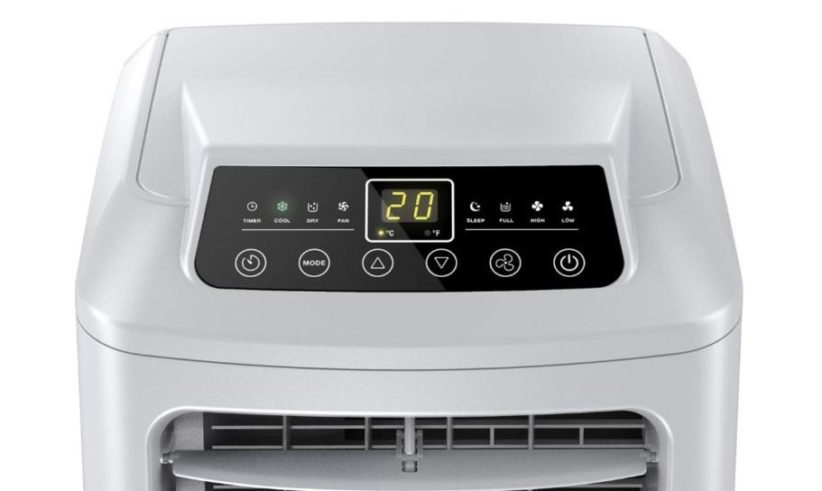 What's Included:
Pro Breeze air conditioner

Remote control

Window venting kit

Exhaust hose

Castor wheels for mobility
Pro Breeze Air Conditioner:
Model: PB-AC01-UK
Power: 9000 BTU
Temp range: 16℃ – 30℃
Noise level: < 64 dB
Energy Consumption: 1 kW per hour
Energy Efficiency: Class A rating
Dehumidifier: 21.6 litres (0.9L per hour)

Adjustable louvres for air direction

Eco-friendly refrigerant

Multiple fan speeds

Sleep mode

24-hour timer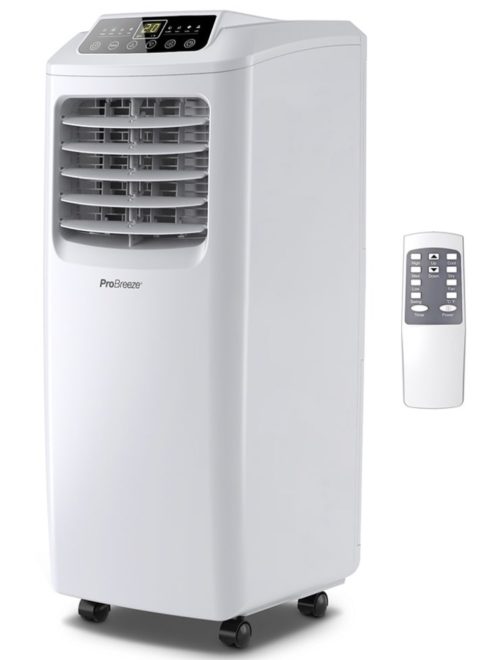 Pro Breeze 4-in-1 Portable Air Conditioner:
Overall, the Pro Breeze portable air conditioner is a high-powered, luxury unit.
Compared to similar units, it's a little more affordable — there's cheaper air conditioners too, but don't offer the 4-in-1 functionality.
It is also very energy efficient w/ Class A Energy Efficiency rating.
Even with the affordable price you'll save money on annual electric costs.
For those looking for an affordable, versatile portable air conditioner I think the Pro Breeze 9000 BTU is worth looking into.