A good dehumidifier is like a good home insurance policy ~ it helps prevent mildew, black mould, wood rot, and keeps wall paint from peeling.
Many of the top models have specialized air filters to remove airborne pollutants:
dust, allergens, mould spores, pet dander, etc.
With so many options, below is our list for best dehumidifies in 2021.
Prices range, £149 – £399.
---
The Best Dehumidifiers UK

---

The Meaco 20L LE is the best dehumidifier and air purifier combo.
Includes specialized filters for improved air quality – filters out dust, mould, seasonal allergens, pet dander, etc.
Model: 2 in 1 Dehumidifier
Price: Expensive
Compared to other 20L models, the Meaco dehumidifier is the most energy efficient.
Superior compressor is perfect for removing moisture in large rooms, damp areas, or in flats with 1-3 bedrooms.
The air purifier filter is what makes it unique though. The Meaco 20L includes HEPA filters that remove 99.7% of air pollutants.
dust, pet dander, allergens, pollen, mould
Other features include adjustable humidistat, 6L water tank, and new "dry laundry" mode.
Lots of positive buyer reviews!
---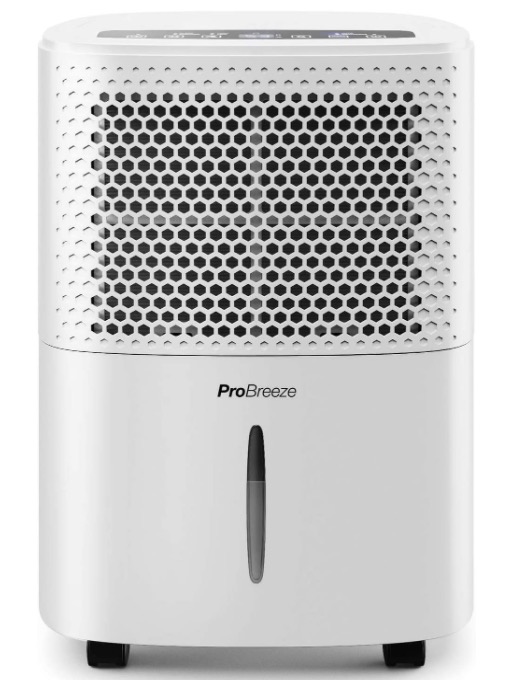 Pro Breeze 12L is the best dehumidifier under £150.
From reading reviews it's popular in city flats and bedrooms – its compact size and castor wheels mean you won't have to carry to empty.
Capacity: 12 litre
Pricing: Affordable
Even as a smaller option, the Pro Breeze dehumidifier offers more features than expected.
User-friendly digital controls let you set the humidity level you want.
One downside is the small, 1.8 litre water tank.
The good news is that the Pro Breeze dehumidifier comes w/ a built-in hose – direct the hose to a drain and it's practically worry-free!
Affordable option for medium size rooms.
---

The Ebac 3850e is designed for the highest humidity regions.
Capable of extracting lots of air moisture, it's guarantees to alleviate existing condensation issues within 30 days (i.e. visible wood rot).
Capacity: 21 L (per day)
Pricing: Expensive
Ebac dehumidifier comes in multiple sizes, but the larger model is worth the extra money.
It's equipped w/ a smart auto dehumidify function – it auto adjusts dehumidify speed to achieve an ideal humidity levels w/ the lowest energy consumption.
Another upside is its quiet operation – compared to other 21L dehumidifiers the Ebac 3850e is hardly noticeable.
Quiet operation makes it a good for air-drying clothes at night.
Lastly, this Ebac dehumidifier doubles as an air purifier!
Air purify mode activates a fan to cycle and filter most home air pollutants.
dust, mould, allergens (i.e. pollen or pet dander), some smoke
Expensive option, but the Ebac 3850e is perhaps the best dehumidifier for homes that can spend £250-300.
---

De'Longhi DEX models are the best dehumidifier for medium rooms.
As a 12 litre dehumidifier it's a true multi-purpose model – decrease room humidity or use to dry clothes!
Sizes: 10-16 litres
Price: Medium
Its primary use is to remove air moisture, but buyers love the "Dry Clothes" function.
For air-drying clothes, the DeLonghi model is the one to get!
The De'Longhi dehumidifier is also very quiet – perfect for bedrooms, flats, or damp areas.
Includes a hose for continuous drainage in basements or cellars.
Fair price w/ lots of positive buyer reviews!
---

The Pro Breeze 20 litre is the best dehumidifier under £200.
It's designed for continuous drainage and comes w/ a hose for zero-maintenance operation.
Areas: High humidity
Price: Medium
As a low-energy option the Pro Breeze unit is perfect for residences in high humidity areas.
Pro Breeze dehumidifier includes humidity indicator lights and new auto humidity sensor. You can set the humidity level from 30-80% (ideal humidity is 50%).
Blue – humidity lower than 50%

Green – humidity between 50-70%

Red – room humidity above 70%
Includes a large 5.5 litre tank and auto turn-off to avoid overflow.
Overall it's the best 20L dehumidifier in the UK.