Shinco 6 Gallon Portable Dehumidifier. 
The Shinco 50 pint dehumidifier is designed for large spaces up to 3000 sq. ft.
As an Energy Star Certified unit, you can expect to reduce energy consumption by 10-20% (compared to typical 50 pint dehumidifiers).
Lots of reasons to like this model, but the standout feature — it's very quiet.
As a newer model, the Shinco SDZ1-50P will never operate louder than 48 decibels. It's regarded as one of the quietest dehumidifiers for bedrooms, especially for light sleepers.
As a 50 pint dehumidifier it's ideal for medium to large size rooms.
Gallons (daily): 6
Liters (daily): 22.7
Reading reviews, many buyers love it as a bedroom or basement dehumidifier.
Also comes w/ 5 liter water tank and continuous drainage option.
Room size: 1500 – 3000 sq. ft.
** If the 50 pint is too small, Shinco offers a 70-pint as well. (Prices range from $199 to $249.)
Read our review on Top 10 Best Dehumidifiers 2020.

Shinco 50 Pint Dehumidifier Review:
Allowing moisture to build-up can cause a lot of damage in your home.
mold, mildew, and rotting wood
It can also create health risks too if not properly managed — having a good, dependable dehumidifier helps reduce most of these problems.
Fortunately, a high-end dehumidifier like the Shinco 5 pint is very affordable and will last 10+ years.
Perfect for larger rooms, the Shinco 50 pint dehumidifier is very easy maintenance.
It will even notify you when the water tank needs to be emptied.
Buyers say it's one of the best basement dehumidifiers with continuous drainage — it takes minutes to hook up and requires very little maintenance afterwards.
Continuous drainage: attach hose and place other end in a drain or sink — This way you won't need to empty the 5L water bin.
Especially useful feature for basement dehumidifier use.
** Purchase includes a drain hose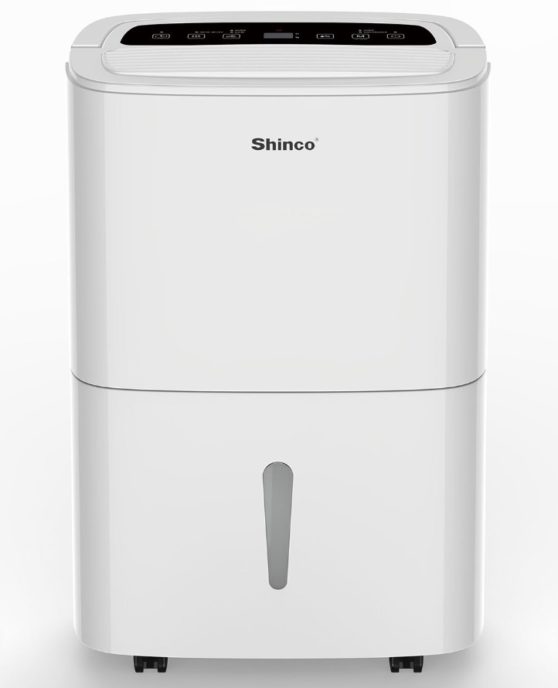 Users also like its silent performance – even on high it operates below 48 decibels. One of the quietest dehumidifiers available.
Additional features include:
3-minute restart, fan speeds, water-full alert, auto-defrost mode
In case of a power outage, the Shinco 50 pint dehumidifier will automatically restart when power is back on.
Shinco 6 Gallon Portable Dehumidifier Review:
Model: Shinco SDZ1-50P
Capacity:

50 pint (6 gallons)

Tank Size: 5 liter
Rooms:

3000 sq. ft.

Pricing:

Affordable

Very quiet operation: < 48 decibels

Dehumidifier with continuous drainage

2 fans speeds

Wheels = portable dehumidifier

Energy Star Certified

Auto-Restart function (in case of power outage)

24-hour timer

Shinco 50 Pint Dehumidifier Review:
The Shinco 50 pint dehumidifier is a top option this summer — it's affordable and comes w/ lots of positive buyer reviews.
For those with larger areas or basements (above 3000 sq. ft.), the Shinco 70 pints dehumidifier might be a better fit.
The Shinco 50 pint in particular is becoming very popular w/ buyers.
It's high-performance and is a true basement dehumidifier with continuous drainage function — purchase includes a drainage hose which means you don't have to find the right attachment size.
For the price and function, it's one of the best out there.
I expect the Shinco dehumidifiers to be top sellers by the end of the year.
---
Shinco SDZ1-50P Review: