Shinco Portable Air Conditioner Review.
The Shinco SPS5 is an affordable air conditioner + heater.
In terms of cooling and heating, the Shinco 14,000 BTU AC is energy efficient, making it perfect for larger rooms.
AC Power: 500 – 650 sq. ft.
Heating Power: 300 – 450 sq. ft.
It's also moderately quiet, operating below 55 decibels (on first speed level).
If using as a bedroom portable air conditioner, I suggest taking a look at the Shinco SPF2 which is a little quieter and is ideal cooling medium size bedrooms
Read our Shinco SPF2 Review >>
For the Shinco SPS5 review, it's avail in 4 sizes:
SPS5-08C: 8,000 BTU (150 – 200 sq. ft.)
SPS5-10C: 10,000 BTU (200 – 300 sq. ft.)
SPS5-12C: 12,000 BTU (300 – 400 sq. ft.)
SPS5-14H: 14,000 BTU (500 – 650 sq. ft.)
The Shinco SPS5-14H is the only one which includes the heater — the others are only Shinco Air Conditioners.

Shinco SPS5 Portable Air Conditioner:
Shinco's SPS5 acs are the newest models they released this year and so far they've gotten very good reviews.
The Shinco SPS5-14H portable air conditioner is their most popular in this line of acs.
Features include:
4-in-1 functionality

ac cooling, fan, heater, dehumidifier

Energy saving mode

Self-evaporative system

Silent mode

Remote control
Shinco AC Overview:
The SPS5-14H is a high-powered portable air conditioner.
As a 14,000 BTU unit it can cool larger rooms up to 650 sq. ft. — perfect for very large master bedrooms, living rooms, and homes with open layouts (ex: living room and kitchen combo).
It comes with a built-in dehumidifier and room heater for winter.
The dehumidifier is one of the most powerful on any portable ac unit — it can remove up to 105 pints per day. (10-12 gallons of air moisture per day!)
One buyer confirms that it works well in high-humidity areas near water and below sea level.
Similar dehumidifiers cost around $300 and don't include an air conditioner.

What's included:
By purchasing the Shinco SPS5 you receive the following install items:
Shinco air conditioner (65 pounds)

Vent hose and exhaust hose

Remote control
Shinco SPS5-14H – Operating:
You can adjust the Shinco air conditioner using the LED display panel at the top or with the remote control.
Turn on/off

Increase or decrease temp

Select from 3 fan speeds

Activate the dehumidifier

Switch modes:

silent mode (below 55 dBs)

energy saving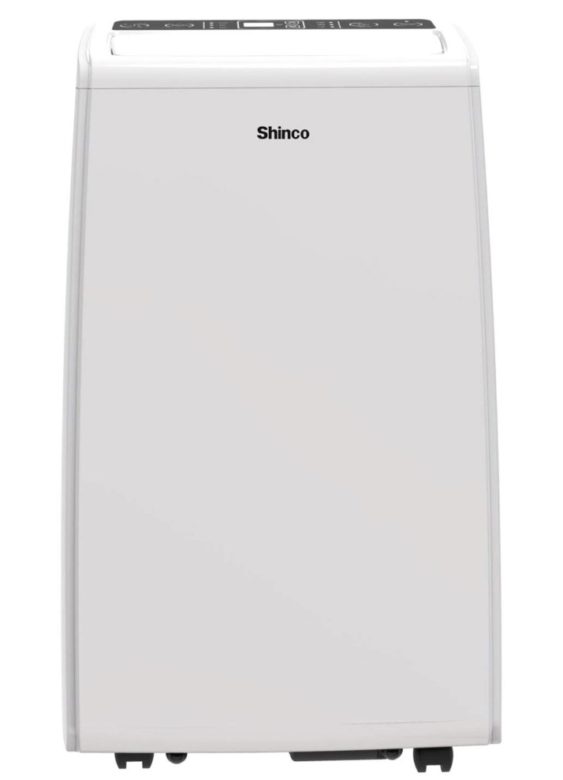 Shinco Portable Air Conditioner Review:
Even though the Shinco SPS5 models are a bit newer, they're already receiving top ratings.
I was surprised at the price — it's very affordable compared to similar units and in my opinions should be 20-30% more expensive than it is.
Price is below $500 and it should probably be in the $550-650.
Dehumidifiers which remove 10-12 gallons per day cost $300+ (without the ac function).
Overall, a great value purchase.
For anyone living in a high-humidity area, the Shinco portable air conditioner is certainly an option worth considering.
Shinco Portable Air Conditioner Review – Related:
Quilo Portable Air Conditioner
Danby Portable AC Review
Koldfront Portable ACs
Honeywell Compact Portable AC Review
Costway Portable AC Unit Review
Honeywell Contempo Portable AC Review
Edgestar Portable AC Unit