Best Electric Shavers for Men. 
Electric razors are the best way to get a close shave and save time.
For travelers it's almost a necessity – no more throwaways or blade subscriptions. They're simple, efficient, and stylish.
To help you find the right option, here are my picks for best electric shaver 2020.
Prices range from, $99 – $349.
Philips Norelco 7500

Braun Series 7 Shaver

Braun Series 5 5190cc

Philips Norelco 9700

Braun Series 9 Foil Razor

Philips Norelco S9000
---
The Best Electric Shavers 2021
---

The Philips Norelco 7300 is an affordable, wet + dry electric shaver.
It comes w/ new comfort rings which easily glides across skin for the closest shave.
Battery: 60-mins
Pricing: Medium
LED display on shaver handle shows you how much battery life is left.
Flexible heads are able to move in 5 different directions — this lets you reach tricky spots safely.
The Norelco 7300 also features a SmartClean system. When charging, the shaver will auto clean + lubricate (making maintenance very easy!)
Affordable price w/ lots of positive buyer reviews.
---

The Braun Series 7 is one of the most affordable shavers on my list.
It's a true waterproof electric foil shaver which you can use in the shower or sink — you can also apply shaving cream or gel.
Battery: 50-mins
Pricing: Expensive
It's designed w/ 5 operating modes and adjustable speed.
There's 4 shaving elements + precision trimmer for hard to reach areas
Braun's charging station automatically keeps the razor clean and lubricated.
---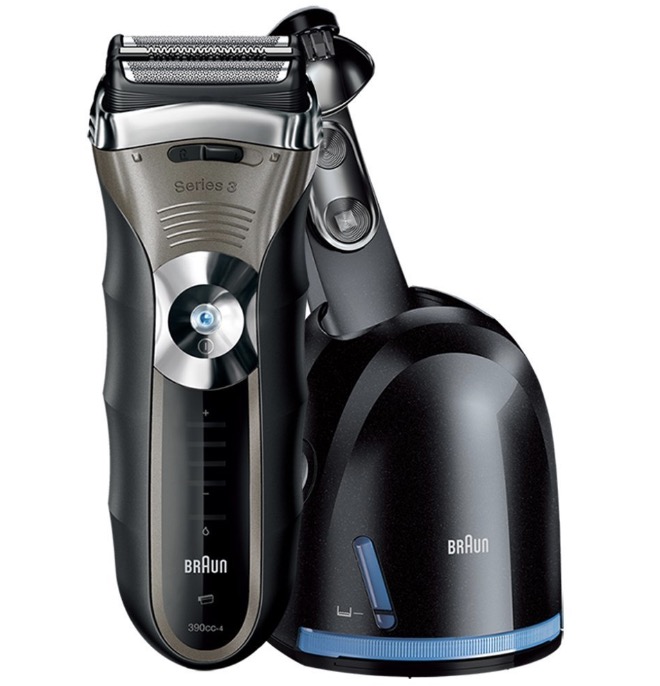 The Braun Series 5 is a slightly more affordable electric foil shaver.
Designed for less skin irritation while providing a closer shave than rotary-style electric shavers.
Battery: 45-mins per charge
Pricing: Expensive
As a foil shaver it can be used wet or dry — use it with shaving cream or take it into the shower.
The charging station will auto clean + lubricate it for next use.
Braun suggests you replace the cleaning cartridge every 2-3 months. You can also purchase cartridges w/ lemon scent!
Little more expensive than other electric foil shaver, but good reviews from buyers.
---

The Philips Norelco 9700 is a high-performance electric shaver w/ 3 pivoting heads.
It includes 3 speed settings + attachable facial brush which picks up small, micro hairs as you're shaving.
Shaves: 20 (per charge)
Pricing: Expensive
Norelco 9700 has a handle display which gives makes it easy to know how much battery is left.
Also comes w/ SmartClean system — recharges, self-clean itself and re-lubricate blades for next use.
Very expensive shaver, but lots of happy buyer reviews.
---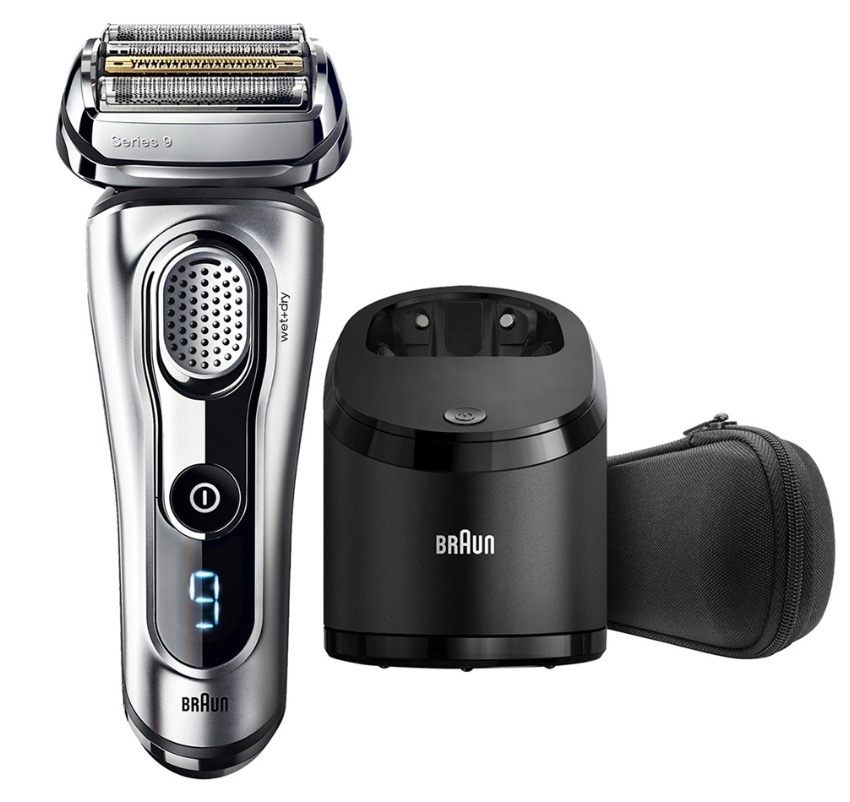 The Braun Series 9 Shaver is a true wet/dry foil shaver.
Buyers love its basic functionality and say it's great to travel with.
It comes w/ a flexible head which moves in 10 directions, enabling it to reach tricky spots — it's a favorite for men w/ beards!
Battery: 50-mins
Pricing: Medium
Also features 2 titanium-coated trimmers (for hard-to-reach hairs).
Braun Series 9 shaver includes recharging base w/ auto-cleaning system — removes hairs and re-lubricates blades.
Buyers say they love it bc they can save time by shaving in the shower!
It's fairly expensive, but has lots of happy buyer reviews.
---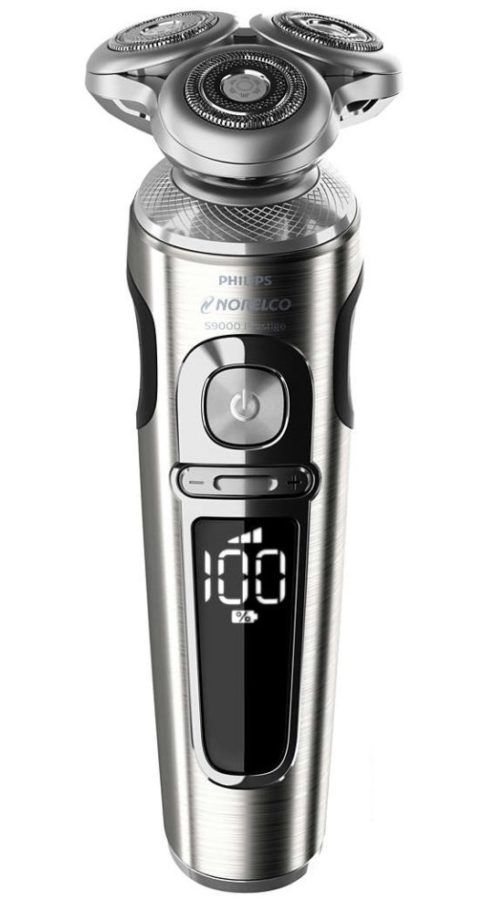 The Norelco 9000 is a high-end precision shaver.
It's comes w/ Norelco's nano-precision blades which offer a closer shave w/ the fewest passes.
Battery: 60-mins
Pricing: Expensive
Norelco 9000 Prestige includes new SkinComfort rings — you'll notice that it glides very smoothly, even if shaving thicker whiskers.
Read our review on the iHelmet Hair Growth.
Takes about 1-hour to charge. (razor handle shows how much battery is left)
Norelco 9000  is expensive, but has top buyer reviews — buyers say it's the best option for men w/ mustaches or beards.
Personally I think it's one of the best electric shavers for traveling.
---

The Panasonic Arc 5 is a wet + dry foil razor w/ 5 blades.
It comes w/ multi-flex pivoting razors which allows it to reach all the tricky spots (i.e. near the jaw-line where contours have sharper angles).
Battery: 45-mins
Pricing: Affordable
High-powered motor promises 14,000 cuts per minute and it's safe for wet or dry shaving.
Buyers it shaves quicker than most electric shavers — one buyer notes that they use it to shave their head.
Includes auto self-cleaning and lubricating as it charges.
---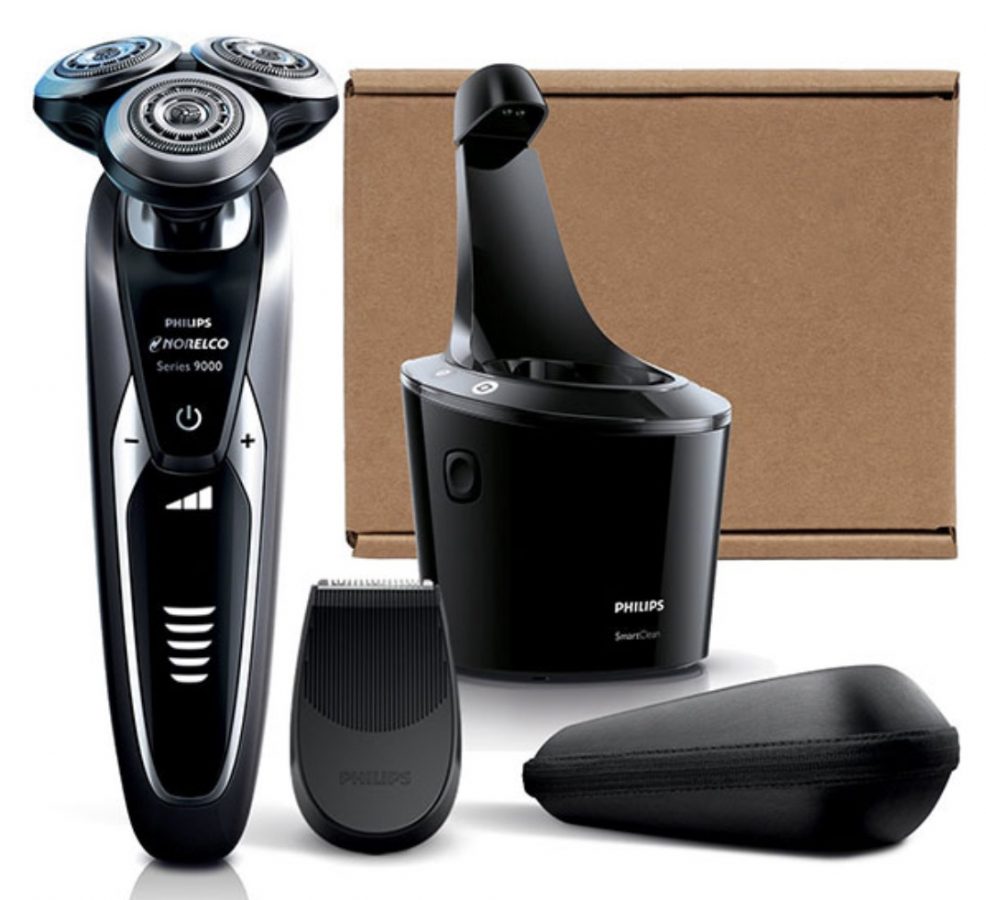 The Philips Norelco 9300 expensive, but is a top selling wet/dry shaver.
It features 3 rotating heads which move in 8 directions for increased surface contact.
Battery: 50-mins
Shaves: 17 (per charge)
Norelco 9300 can be used as wet or dry razor + offers 3 speed options.
Philips shaver blades are designed to collect hair — and SmartClean system helps clean and lubricate while charging.
It also comes w/ a quick 5-min charge feature which promises a full shave. Great for traveling!
Although very expensive, I think it's the best electric razor for daily use.
---
The Philips Series 7000 is a great option for men with sensitive skin.
New SkinGlide rings and anti-friction coating gives you a closer shave without brushing up against the skin as much.
Battery: 50 mins
Shaves: 17 shaves (per charge)
Philips electric shaver includes 5 Dynamic Flex Heads and ergonomic grip – can be used for wet or dry usage.
Smart clean system auto cleans, charges, and re-lubricates.
Philips Series 7000 is a newer model, but has top buyer ratings so far.
---

The Philips Norelco SensoTouch is very expensive.
Buyers appear to love it though — it comes w/ a unique pivoting-head design that's gives you a quick + close shave.
Norelco 1250X comes w/ GyroFlex 3D contouring — it auto adjusts to your facial contours for a closer shave and smooth glide.
Each of the 3 heads has 3 shaving tracks, so it's designed to cut and remove hairs effectively.
Norelco SensoTouch comes w/ a pop-up trimmer and is designed for wet or dry shaves.
---

The Philips Norelco 8900 offers standard feature for an affordable price.
It comes w/ 3 flexible razors which pivot in 8 directions. 
Razor heads include Norelco's precision blades for a closer shave + optional 5 length settings.
Norelco 8900 shaver can be used for wet or dry shaving.
Takes 1-hour to charge and 50-mins of usage.
Beard trimmer is included for user convenience and a travel bag is also included.
---
Best Electric Shaver 2021