Best Home Theater Projector 2019.
Top projectors list: 
#1.) Epson 1080p Home Theater Projector 
#2.) Optoma UHD51A Home Theater Projector
#3.) Optoma 3D DLP Projector 
#4.) Sony 4K HDR Home Theater 
#5.) Epson 4K Cinema Projector
#6.) Optoma UHD60 4K Theater Projector
#7.) Epson 1080p Home Cinema
#8.) Sony VPLHW45ES Theater Projector
#9.) Optoma HD142x 1080p Projector
#10.) InFocus 1080p DLP Projector

** FYI: links go to Amazon (had lowest prices)

Epson Home Theatre Projector (model # 5030UB) is a stylish, powerful home theater projector that adds extreme color + depth to your movies.
The strong contrast ratio for the Epson is a whopping 600,000:1 — no matter what genre you're playing, picture quality will be sharp.
Multiple viewing option: 1080p, widescreen, or full screen
Very high resolution + THX quality, the Epson 5030UB is the perfect projector for all types of viewing — perfect for sports, movies, even video games (excellent for 3D movies!)
Lighting power of 2400 Lumens — great for videos w/ strong colors.
The colors really pop on screen + great for animation videos, such as Disney or Pixar.
It's expensive, but w/ positive buyer reviews.

Optoma UHD51A is offers 4K video quality for w/ affordable price.
For a true 4K experience it provides extreme color — brightness of 2,400 lumens and 500,000:1 contrast ratio.
Right away you'll notice the depth of auxiliary colors + vividness of black levels.
Features include 3D compatibility, 1.3x optical zoom + vertical lens shift (lets you position projector at angles).
Optoma UHD51A has strong buyer reviews — Many note "stunning" 4K quality and versatility (for indoor or outdoor viewing).
UHD51A includes voice command — sync it w/ Amazon Alexa or Google Assistant.

The Optoma EH416 is ideal for a home theater or office setting.
It comes w/ 20,000:1 contrast ratio and 4,200 lumens — an extremely sharp, bright picture.
There's also a strong optical lens that lets you view from a distance using a 1.6x zoom function!
While it is typically used in office settings, it works well as a home movie projectors.
Video quality makes it appropriate to use in customer-based businesses as well — restaurants, bars, golf courses, stores
Highlights
Performance: 1080p quality
Brightness: 4,200 lumens
Lamp life: 6,500 hours
Contrast Ratio: 20,000:1

Includes optical lens w/ 1.6x zoom
Potential Flaws
Fan can be noisy if used 2+ hours

The Sony VPLVW385ES Video Projector is not your typical home theater projector.
It has an incredible resolution of 4096 x 2160 with 1,500 lumen brightness.
Sony HDR provides Native 4K resolution (4096 x 2160) and higher color + sharper picture quality than mostly any other 4K projectors.
Buyer reviews say the picture quality is superb — 8.8 million pixels bring to life anything on screen (excellent for sports or gaming!).
Sony's new 'Reality Creation' technology adds a crisper color + multiple black levels. (smoother video motion)
One quality that stands out is that it never lags.
FYI — it's the most expensive projector on my list.
Highlights
Performance: Native 4K resolution
Brightness: 1,500 lumens (very good for price)
Lamp life: 6,000 hours
Contrast Ratio: 200,000:1
Resolution: 4096 x 2160 (super high quality)

True 4K HDR performance

Immersive 3D experience (glasses optional)
Potential Flaws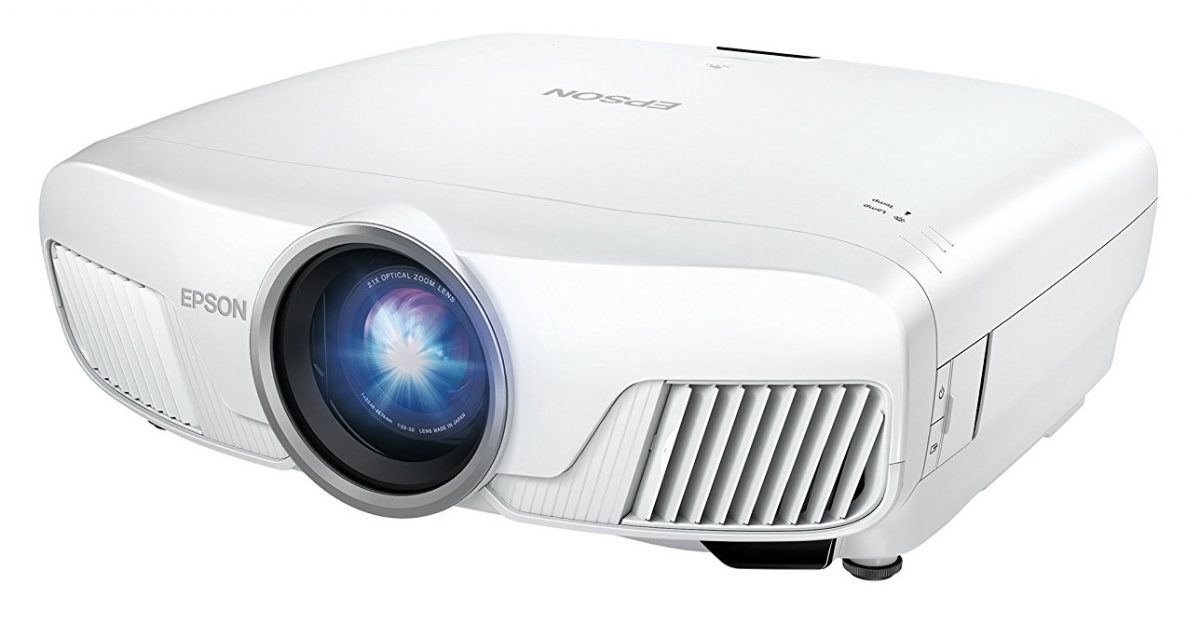 The Epson Home Cinema 4000 has excellent buyer reviews because of its advanced 4K technology.
You can view 4K quality + enhance non-4K content.
According to online reviews, the Epson 4000 has excellent color quality and good brightness (although not the highest in its category).
Black contrast ratio is 140,000:1 which means you'll notice multiple layers of black-depth.
The 2,200 lumens provides a balanced picture and the full spectrum of colors.
Epson's 4K technology is great for any 4K content, but what stands out is its ability to make non-4K content better. You can play 1080p and get a video quality that exceeds Full HD.
FYI:  4K projectors are nearly 4X higher quality than 1080p
Downside – it is fairly expensive, but that should be expected of any 4K video projector.
Highlights
Quality: 4K UHD quality
Brightness: 

2,200 Lumens

Contrast Ratio: 140,000:1 

Epson's 4K Enhancement Technology (4Ke)

3D with strong brightness

Excellent for gamers and watching sports

Quiet operation
Potential Flaws
Expensive

Will need to change bulbs more often

The Optoma UHD60 Projector is quickly becoming one of the most popular home theater projectors online.
Strong cinematic color, dynamic black contrast and brightness of 3000 lumens gives videos a sharp picture and lots of depth.
What really strikes me about the UHD60 is the black contrast ratio of 1,000,000:1
Another aspect you'll like is the price – it's surprisingly affordable.
Highlights
Performance: 4K quality
Resolution: 3840 x 2160
Contrast Ratio: 1,000,000:1
Brightness: 3,000 Lumens

Multiple levels of black depth

High Dynamic Range (HDR) compatibility

1.6X zoom + Vertical lense

4K quality for affordable price
Potential Flaws
Some performance issues after a few years
Epson Home Cinema 2030 Projector provides a high-quality experience for an affordable price.
Includes a 2000 lumen brightness + full HD 1080p performance that can be used for 3D Movies.
Contrast ratio: 35,000:1
⭐ Best Home Theater Projector Under $1,000 ⭐
Looks fantastic for sports games and isn't as expensive as others on our best home theater projector list.
Picture quality is excellent compared to similar priced projectors.
While it lacks the 4K quality, the Epson 2030 is a top home theater projector under 1000.
Highlights
Performance: 1080p quality

great for watching movies or sports

Brightness: 2,000 lumens (good for price)

Vivid colors + strong brightness

Lamp life: 7,500 hours
Contrast Ratio: 35,000:1

Strong brightness with 1080p quality colors

3x stronger colors than similar-priced units
Potential Flaws
Fan can be noisy so ensure proper airflow
The Sony Home Theatre Projector (model #VPLHW45ES) is built to impress people.
Depending on the distance between the projector and the screen, it has a Full HD Resolution of 1920 x 1080 which is powered by 1,800 lumen brightness. Many online reviews note that it is brighter than they expected — some even say that they had to turn down the brightness (which is very rare for a theater projector).
** Even at that distance, the crisp images and HD quality won't be compromised.
The Sony VPLHW45ES projector also comes with a built-in 3D transmitter and 'Reality Creation' technology (which increases color quality beyond normal standards).
Another thing that makes this Sony projector special is its silent operation.
HDR requires more power, but according to buyer reviews it is very quiet. Even during silent parts of the film, you can barely hear the projector fan — it's rare for super high quality projectors.
Obviously this is a top-of-the-line SXRD projector. The reason I did not rank it higher is because of it's extremely high price tag — very few consumers can afford it.
Highlights
Resolution: 1920 x 1080 HD quality
Brightness: 1,800 lumens
Lamp life: 6,000 hours

Better 1080p w/ Sony 'Reality Creation'

Built-in 3D Transmitter

Screen size from distance:

 

8 ft. viewing = 51 x 82 inches

12 ft. viewing = 77 x 122 inches

16 ft. viewing = 102 x 162 inches

Connects with HDMI cable

Quick response rate = crisp action scenes and sharp images

Vivid brightness and high contrast ratio

Includes a 3-year limited warranty
Potential Flaws
High price tag, which reflects the projector's quality


The Optoma HD142X Home Theatre Projector is recommended for those looking for 1080p quality for at an affordable price range.
It has multiple input options and can even be paired with 3D movie technology.
With 3000 Lumens of power, the colors are bright, and the contrast is superb. You can recline in your home theatre and be confident that you made the right choice in projectors.
Optoma HD142X is a top home theater projector under 1000.
Highlights
Performance: 1080p quality
Resolution: 1920 x 1080 HD Resolution
Contrast Ratio: 23,000:1
Brightness: 3,000 Lumens

strong colors and brightness

Screen sizes from distance:

 

Distance from 8 feet = 37 inches x 66 inches

Distance from 12 feet = 60 inches x 107 inches

Able to pair with 3D technology

Brightness of 3,000 ANSI Lumens 

Connects with HDMI, 3.5mm, and USB
Potential Flaws
May be confusing to switch between input hookups


The InFocus IN119HDx Projector is a lower-cost option that packs a surprising amount of power.
With 3200 Lumens of color power and a contrast ratio of 15,000:1, your home theatre will leave you excited.
⭐ Best Home Theater Projector Under $1000 ⭐
As a bonus, this projector has an ECO power option to dim the light option which can results in lower electricity bills. Lamp lifetime is also pretty good.
It's another top home theater projector under 1000.
Highlights
Resolution: 1920 x 1080
Brightness: 

3,200 Lumens

Lamp life: 10,000 hours
Contrast Ratio: 15,000:1 

Resolution is clear no matter the distance from screen

Very affordable option!

Connects with HDMI, VGA, S-video

Composite video for a wide range of options

Powerful colors w/ clear picture
Potential Flaws
Might have issues when connecting with external speakers
Best Home Theater Projector – Related:
Best Fireplace TV Stands
Top 8 Best Home Theater Seating Review
Top 10 Best Wireless Headphones
Sony Wireless Headphones Review (#WH-CH700N)
Best Popcorn Machines
Favorite Ping Pong Tables
Top 10 Best Subwoofers Review
Smart Lights for Your Smart Home