Best Home Theater Seating.
Luxury home theater seats have made big strides over the last couple years.
Today's options offer top features that even movie theaters envy:
Sound Shaker, full grain leather seats, LED base lights, power recline & headrest
To help you find the right option for your home, here is my list for best home theater seating.
Home theater seats range, $399 – $699 (per chair).
Best Home Theater Seating

The Seatcraft Hawke seating the best fabric power recline sofa.
It's more affordable than the true leather seats on my list – fabric is super durable!
Type: Performance Fabric
Pricing: Medium
Fabric cover has a tight, smooth feel that's comfortable for sitting long hours. And unlike leather, the material is breathable and water resistant.
Underneath is foam padding. Buyers say it is the perfect mesh of comfort and firmness.
Seatcraft Hawke features:
power reclining, powered headrest, charging ports, fold-down table
Fair price and happy buyer reviews!

SeatCraft's Sigma Recliners come w/ leather gel which is made to mimic top-grain leather.
Leather Gel is a leather-polyurethane hybrid that sits on top of another fabric. It creates a buttery, smooth softness that mimics the highest grain leather seats.
Type: Leather gel hybrid
Pricing: Medium
Buyers love the gel leather feel and say it's super comfortable and ideal for sitting long hours.
Great option for sports enthusiasts who like to spend weekends in their home theater.
Seatcraft Sigma home theater seat recliners also include:
powered headrests, power recline, hidden in-arm storage space, charging docks, lighted cup holders
Lots of positive reviews and affordable price!

SeatCraft's Equinox Seats are made of high-quality grain leather.
The true leather construct looks great and is remarkably durable for long-term use.
As one of the newer models, the Seatcraft Equinox home theater seats include the SoundShaker system. Good option for action movies or animation.
Buyers love the power headrest and power recline options — the buttons are easy to access and provide a luxury experience that's built to impress guests.
Lumbar support can also be adjusted to numerous positions to reduce lower back pain. (great for movie marathons!)
Blue LED lights under the seats and inside the cupholders helps add to the ambiance.
Expensive home theater seating, but offers all the luxury benefits. 
Highlights
Leather Type: Top Grain Leather
Reclining Chairs: Yes
Bass Shaker: Yes

Power recline and power headrests

New SoundShaker system for action movies

Best home theater seating with SoundShaker
Downsides

Seatcraft Seville theater seats are another affordable option made with leather gel.
The appearance and leather feel is nearly identical to that of top grain leather – very durable and buttery smooth.
Big upgrade from the Seatcraft Seville seats is the SoundShaker feature. Great for action movies, the SoundShaker transducers let you feel epic moments in realtime!
To impress guests, the SoundShaker feature is perfect with home theater projector rooms.
Buyers say the SoundShaker provides an enhanced movie experience that even movie theaters don't provide.
Also includes:
adjustable incline, power head-rests, tray tables, charging ports, and ambient LED lights in the cupholders + base of chairs.
Highlights
Material: Leather gel hybrid
Reclining Chairs: Yes
SoundShaker: Yes

Best home theater seats for price value
Downsides
Armrests for seats can't be adjusted

Seatcraft Anthem Seats are high-end, but include all the newest features.
The first thing you'll notice is the top-grain leather quality. The Anthem seats are made with a specialized upholstery (grade 7000 leather) which gives it high-end texture.
Buyers say it has a soft, "buttery smooth" feel that's unlike other home theater seating.
The next feature you'll notice is the LED blue lighting at the base of chairs and inside the cup holders. It creates a true movie theater ambiance that's built to impress.
Other features include:
power recline, power headrests, built-in trays, and charging ports (for phones or laptops)
If you want to impress guests and can afford a higher price tag, Seatcraft Anthem home theater seats are a terrific option!

Seatcraft Venetian leather seats are true home theater seats.
Seats are made with bonded leather that offers the true look & feel of genuine full-grain leather, but for an affordable price.
They come with LED lights in cup holders and at bottom of chairs.
Blue LED ambiance offers an authentic marquee accent — you'll notice that the blue LED is the same color theaters use for the aisles.
Also includes:
storage compartment, tray table, and outlets for charging devices.
Buyers love the Seatcraft Venetian bonded leather. It's a fraction the cost of full-grain and offers the same feel and aesthetic.

The SeatCraft Sienna theater seats are at the high-end of home theater seats.
Right away you'll notice the fine thickness and creamy texture. Seatcraft Sienna home theater seats are made with a very exclusive bonded leather called, Leather 7000 (highest grade possible).
FYI: Leather 7000 is a top-grain leather that's hand-picked from the top cowhides each year — it's then buffed for exceptional softness.
Available in 2 colors, Leather 7101 (black) or Leather 7252 (brown).
The Seatcraft Sienna seats also include:
space saver armrests, tray tables, LED cupholders
Very popular model because of its affordable price and its true leather feel.

Seatcraft's Sausalito Home Theater Seating is more affordable (than others on my list).
They include a manual recline which you can adjust to a full-recline. Perfect for home theaters with projectors or large screens.
Seats are made of specialized leather-gel which looks + feels just like top grain (although an expert will notice the difference)
As you can see it has more of a contemporary design — looks fantastic in living rooms!
Also includes power-adjust recline, ambient lighting + built-in speakers.
Highlights
Leather Type: Gel leather hybrid
Reclining Chairs: Yes
Bass Shaker: No

Most affordable options

Best home theater seats for basic functionality
Downsides
Not made of top-grain leather

No SoundShaker system

Seatcraft's Dynasty home theater chairs are made w/ gel-hybrid material.
Dark leather seats are very durable and looks like real leather.
What's cool about these is the the blue ambient lighting at the bottom.
It does not have a SoundShaker system, but also the reason seats are more affordable!
To keep yourself comfortable during long films, each chair comes equipped w/ power button for changing the recline. (fancier than traditional lever reclines)
Highlights
Leather Type: Leather
Reclining Chairs: Yes
Bass Shaker: No

Power-button recline

Ambient blue light at bottom of seats
Downsides
Seats may not recline as far back as some would prefer

Does not include a SoundShaker system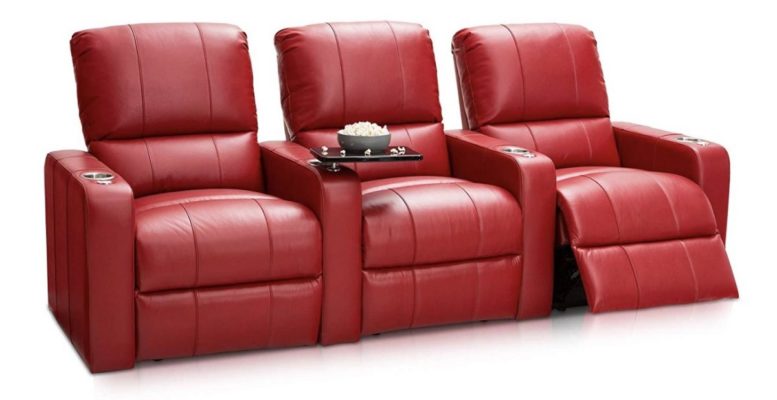 Seatcraft Millenia seats are available in red, black, or grey — each has a modern style, constructed of top-grain leather.
Personally I love the matte style — gives it a classic theater look (opposed to gaudy top-grain leathers)
Each chair comes equipped w/ power recline.
Also includes stainless-steel cup holders + pull-out tray table.
Millenia seats are mid-price range.
They don't have SoundShakers, but top-grain leather will certainly impress guests! 
Highlights
Leather Type: Top Grain Leather
Reclining Chairs: Yes
Bass Shaker: No
Seat options: 2, 3, 4

Best theater seats w/ affordable top-grain leather

Multiple colors available
Potential Flaws
** I'll be adding 10 best home theater seating later this year! Stay tuned!
Best Home Theater Seating Reviews:
SeatCraft is a trusted brand that puts out high-quality seats that make watching movies more than just entertainment.
They help you get sucked into the story by offering maximum comfort, ambient lighting, speakers, and convenient features.
To level-up, your movie-watching experience, consider your budget and the main benefits you want to receive from home theater seating. This will make it easier to narrow down your choices between the seven options above.
Best Home Theater Seating 2019
Best Theater-Style Popcorn Machines
Reviews on 1080p Home Projectors
Top 10 Best Wireless Headphones
Top 10 Best 4K Projectors