Best Snow Blower Review 2019.
Snow blowers:
#1.) Husqvarna Snow Blower Review
#2.) Briggs & Stratton Snow Blower
#3.) Ariens 2-Stage Gas Snow Blower
#4.) EGO Power+ Dual Port Snow Blower
#5.) Yardmax Heavy-Duty Snow Blower
#6.) Snow Joe Cordless Snow Blower
#7.) Honda Power Single-Stage Snow Blower
#8.) Poulan Pro Electric Snow Thrower
#9.) Husqvarna Electric Thrower
#10.) Troy-Bilt Gas Snow Thrower
Notable — Toro Power Curve Snow Blower

** FYI: links go to Amazon (had lowest prices)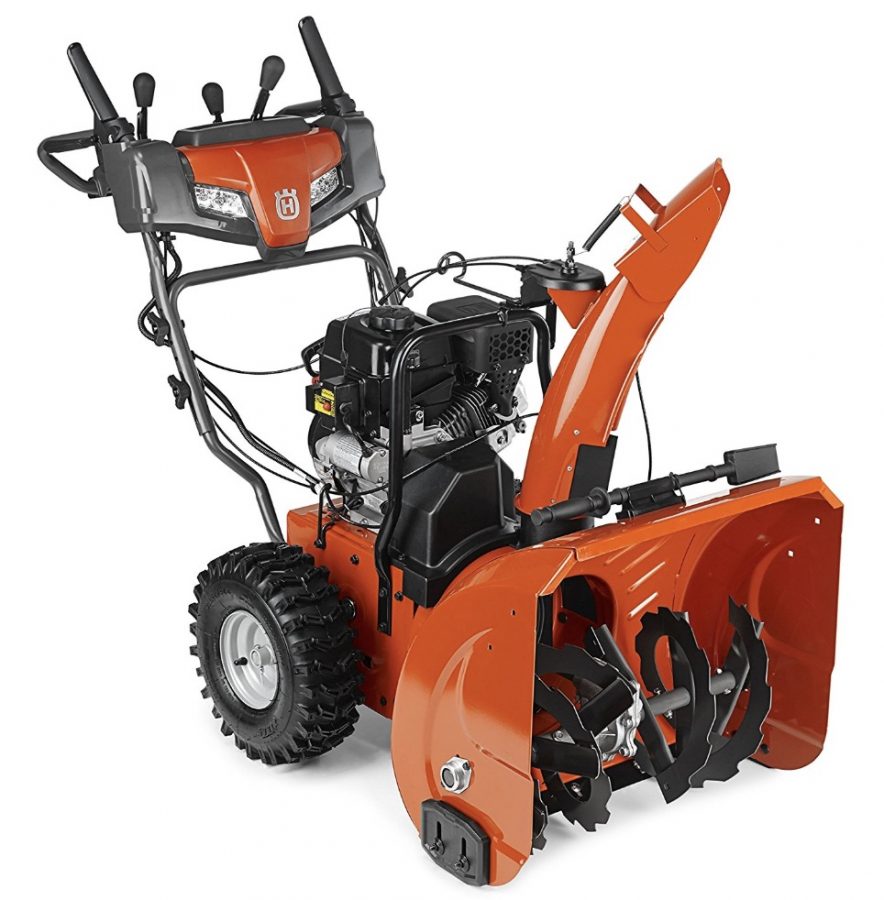 The Husqvarna is a 2-stage blower designed for heavy snow.
Right away you'll notice its electric-start + self-propelled system — handles very well on steep driveways!
For traction, it comes w/ skid shoes that glide on any surface: driveways, sidewalks & paths
Buyers love how powerful the chute is — throws snow 20+ ft. to avoid piles + large drifts!
Husqvarna snow blower has 6 operating speeds + can be operated in reverse (for walkways or paths)
* heated handles will keep your hands warm!
One last benefit are its LED headlights — easy to operate at night.
Husqvarna blower is very expensive, but w/ lots of positive reviews + built for heavy snowfall.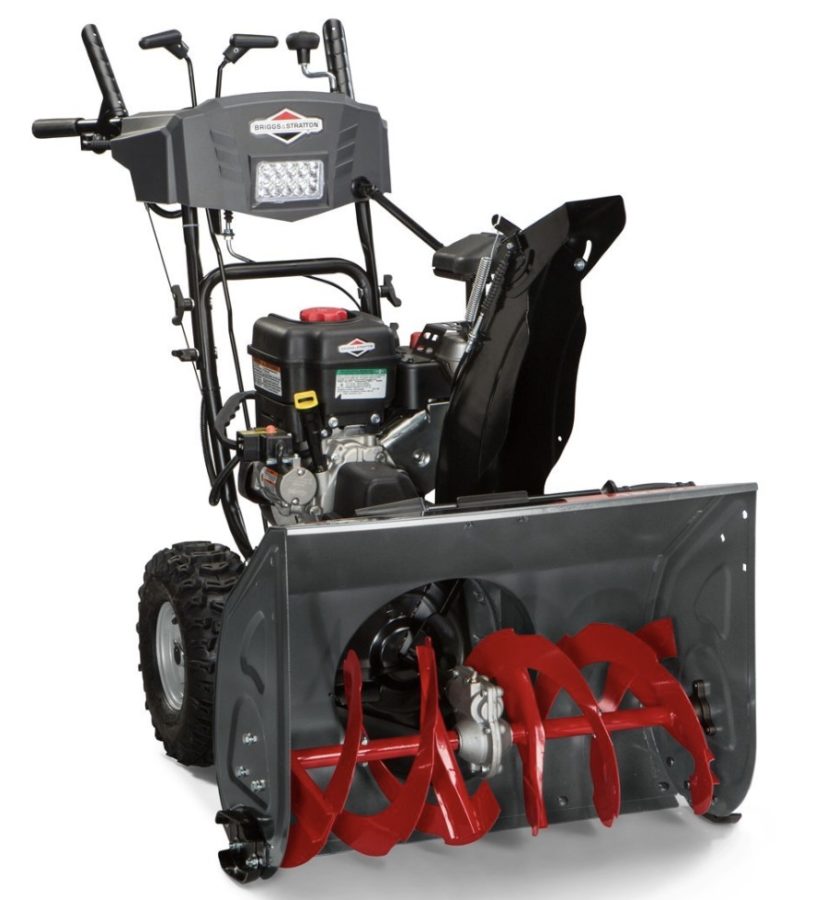 The Briggs 250cc blower comes w/ 1-button electric push-start (very easy to use!)
It's a powerful snow blower that has 24-inch wide clearing path.
As you can see it comes w/ 12″ steel auger — chops right through icy or wet snow!
For handling, there's 6 forward speeds + 2 reverse speeds (useful for long paths).
It's expensive, but if looking for a dependable machine for 5+ years, the Briggs electric start is a great option.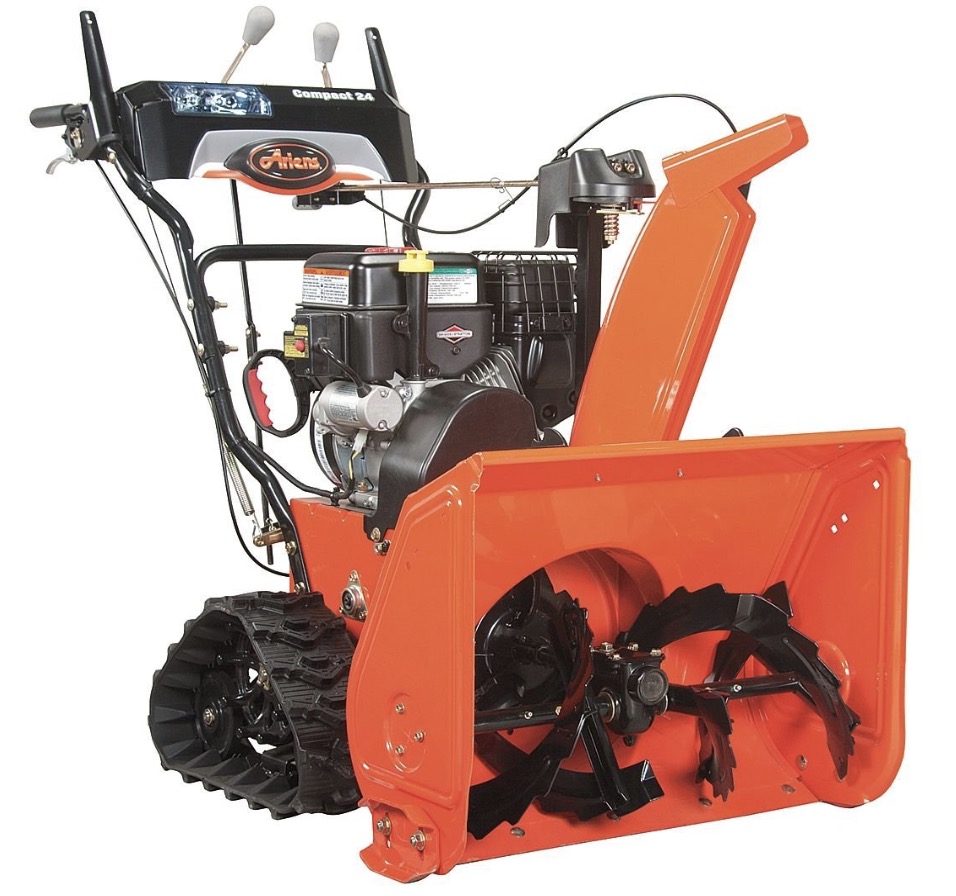 Ariens Gas Powered, 24-inch snow blower is one of the most powerful on my list.
Equipped w/ 208cc engine, electric ignition (for easy start!) + steel auger
You'll love the Tire Chains – allow it to glide smoothly in the worst conditions: hard-packed snow, slippery driveways + steep inclines
Another great feature is the powerful chute which throws snow 40 ft. high (avoiding drifts or pile-ups)
Lots of positive reviews — one buyer says it rips through 3-4 ft. of snow "like it's nothing"
More expensive than others, but longterm durability + power make it worth the money.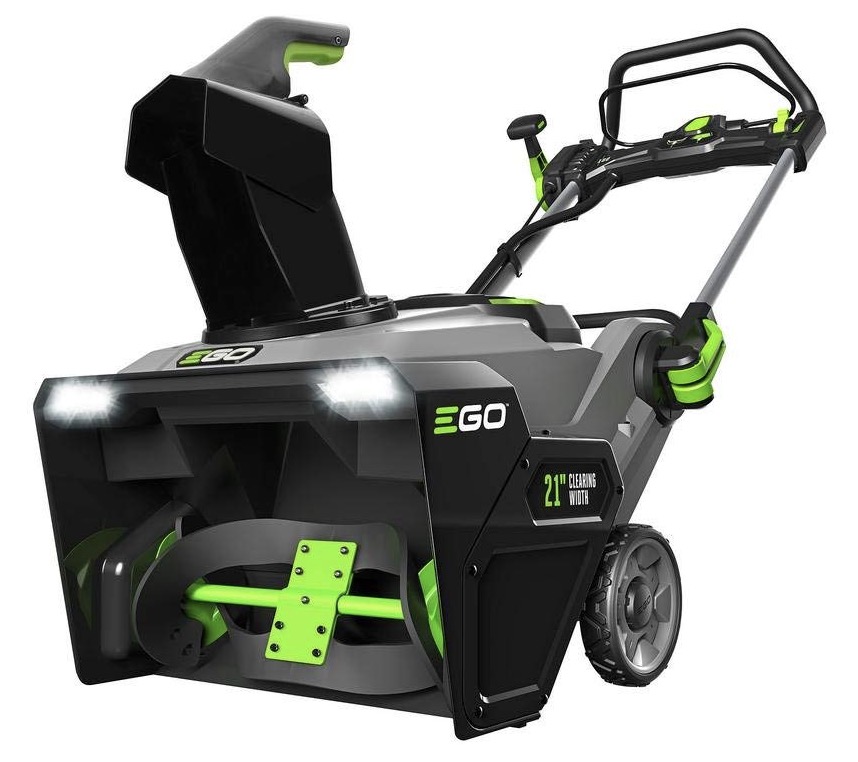 EGO Power+ is powerful for a cordless blower — similar capability as a gas snow blower (and without the noise or fumes!)
Comes equipped w/ 56-Volt Batteries giving you 1-hour of power per charge.
For size, it has a 21-inch clearing width and includes a 180° chute
1-button start, it handles well in wet or compact snow making it ideal for most homes — if you live in a very snowy area, you'll want something bigger
Snow chute turns 180° and can throw 35 ft. — according to reviews, the ability to fling snow over snowy drifts + high piles is why it's so popular.

YARDMAX two-stage is another powerful snow blower which handles well in heavy or wet snow.
It comes w/ special serrated-steel blade augers capable of smashing through hardened snow.
Includes 6 different speeds + 2 reverse speeds (for walkways and patios). It's a self-propelled blower w/ an easy electric-start.
Other features are front headlight (for operating at night) and heated hand grips.
Lots of positive buyer reviews make it a top choice.

Snow Joe Snowblower weighs 32 pounds, making it the best lightweight snowblower on my list.
It comes w/ 50-min rechargeable battery — Perfect for small or medium driveways!
Bonus convenience is the battery is detachable making it easy to recharge inside your home.
Another huge benefit is the noise level – it's extremely quiet. (less likely to bother anyone sleeping)
Chute swivels up to 180° + launches snow 20 ft. (which is great for high drafts)
Buyers say it does well w/ all types of snow — even wet or deep snow!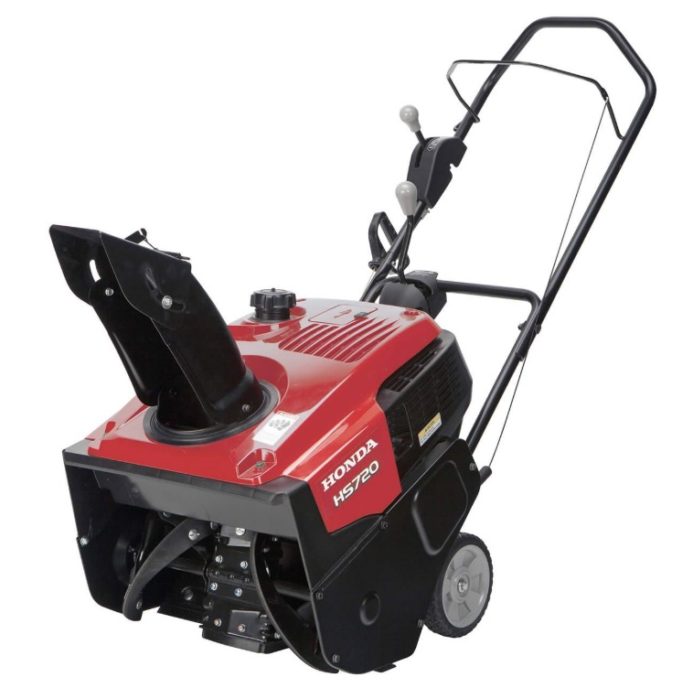 ** FYI – brand names may differ by country
One of the appealing features of the Honda Snow Blower is that it's semi self-propelled — much easier to control + move up inclines (such as driveways)
This model has an easy electric-start and can clear snow width of 20-inches.
Powerful enough to throw snow 33 ft.
Buyers say it's more powerful than older two-stage blowers. They also note easy-start + performance in extremely cold temps.

Poulan Pro has a 2-step design making it versatile — super easy to handle, it easily clears snow from paved or gravel surfaces.
It's designed to tackle larger areas — large driveways or long paths.
Powerful ribbon auger (the yellow blade), it can chop heavy or icy snow. 
Comes w/ electric start + power steering.  You won't struggle to get it started or maneuver through deep snow.
There's 6 operating gears — You can also shift into "reverse" which helps you back out tight spaces (i.e. walkways)
Lots of strong buyer reviews – Many confirm that the Poulan Electric Snow Thrower can easily plow through 1-ft of snow.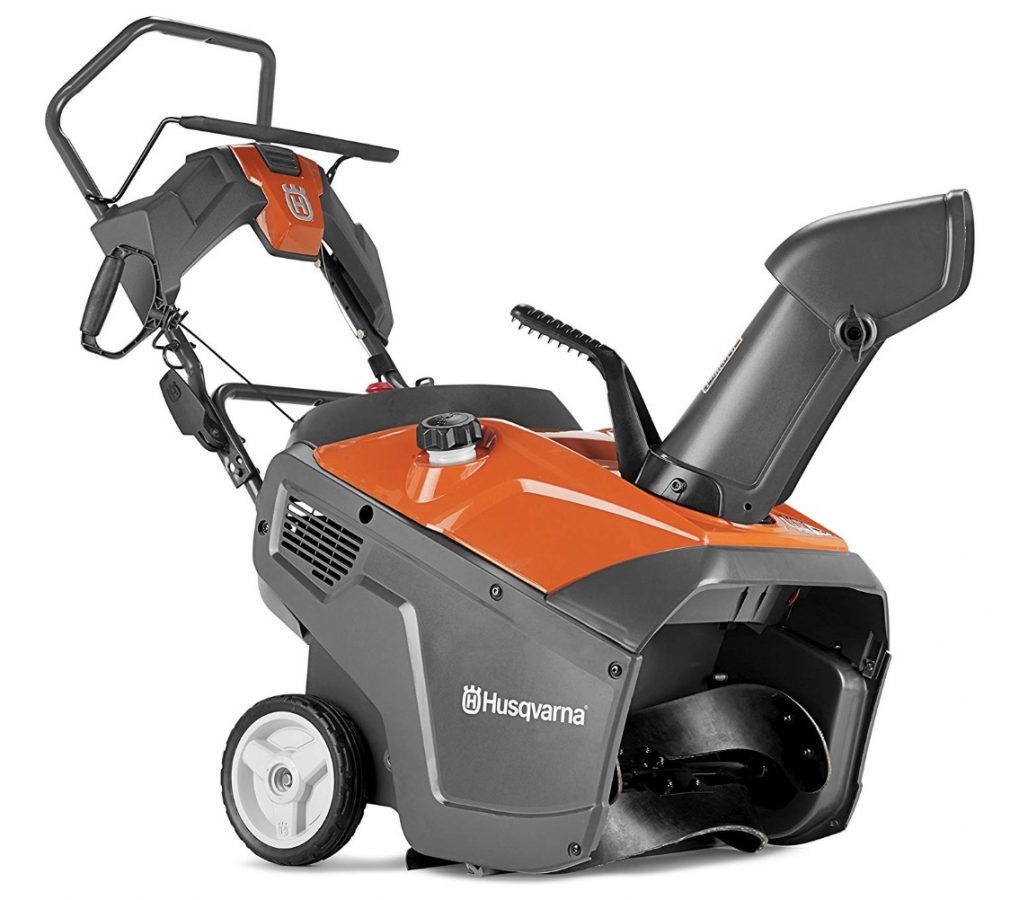 Husqvarna Snow Thrower is a small, yet powerful snow thrower.
FYI: Snow Throwers are single-stage and usually lightweight
What makes it unique — it's very easy to start. Plug into a power outlet and use the 1-button ignition to get started.
Another thing I love about the Husqvarna is that it's lighter and weighs only 95 pounds
It's relatively powerful too — it can plow through 8 inches of snow. Performs great on flat pavements: driveways, pathways and walkways
If you're looking for the best driveway snow thrower, I think the Husqvarna 208cc is your best option.

Troy-Bilt Squall 208cc snow thrower is a 4-cycle gas-powered engine.
1-stage snow blower easily plow through up to 13″ of snow.
Lightweight (93 pounds), it's very easy-to-start + handles well in cold weather
Perfect for mid-size residences, the Troy-Bilt Gas Snow Blower is an affordable model.

The Toro Power Curve Blower is the most affordable snow blower on my list 
It's smaller than the other models — it handles well in tight areas making it perfect for paved walk-ways + medium size patios.
⭐⭐ Best Lightweight Snow Blower ⭐⭐
Toro Curve Snow Blower boasts the ability to remove up to 700 pounds of snow in 1-min. It's not the most powerful on my list, but that should be enough for most mid-size residences.
At only 25 pounds, it's also the lightest snow blower on this list.
Conclusion:
Snow blowers come in all sizes. Some people may have a large driveway to clear and need powerful models designed to tackle big surfaces. Other people may have a short driveway and be in the market for a smaller design.
No matter your specific needs, there are a number of snow blowers that can chop up ice and snow and throw snow several feet away so that you can clear your driveway and sidewalks with ease.
Best Snow Blower Review – Related:
Top 10 Best Leaf Blowers
Top 10 Wood Chippers
Best Pressure Washers Review
Most Popular Artificial Christmas Trees