Best Snow Blower Review // Snow Throwers
Having a high quality snow blower can make a huge difference if you're expecting a lot of snow this season. Modern ones have multi-stage operation and much quieter engine.
Below is my list of the best snow blowers available online.
** FYI — Snow blower links go to Amazon (which typically has the best prices)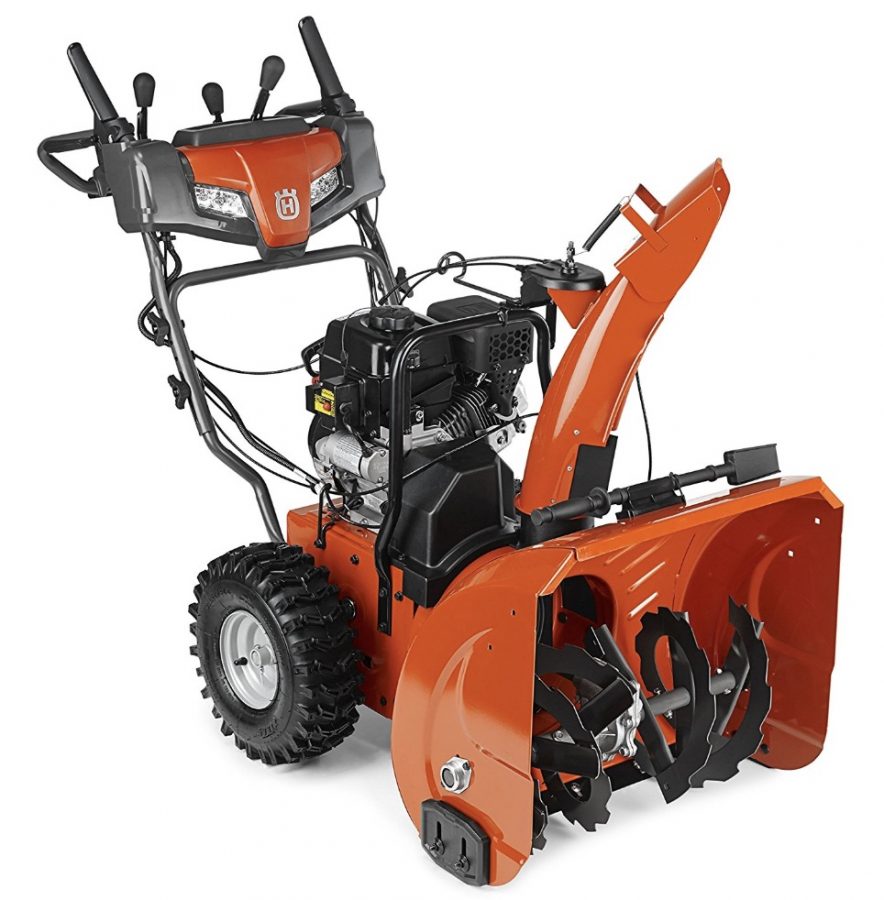 The Husqvarna Electric Blower is large for its category — designed to tackle heavy snow.
When using you'll notice that it's easy to maneuver and comes w/ adjustable skid shoes allowing it to handle all types of surfaces: driveways, sidewalks and walk-ways
One of the things I like is that it throws snow very high. Designed w/ a 2-stage system it takes snow in and sends it out from the chute mounted in the center of the blower.
⭐⭐ Best Snow Blower for Heavy Snow ⭐⭐
This model has an electric starter and 6 operating speeds.
I love the fact that it's very easy to start and you can change speeds easily by shifting the transmission. The Husqvarna Electric Blower also operates in reverse — That means you can get it out of tight spaces without needing to turn it around.
It's a little heavier at 198.6 pounds but is self-propelled, so don't let the size scare you. It's big enough to tackle large driveways in tough winter weather conditions and is still easy to operate..
*Best Part — heated handles to keep your hands warm when it's terribly cold. You can also adjust handle heights to your liking.
One last benefit are its LED headlights which make the Husqvarna blower easy to operate at night or overcast days.

The Toro Power Curve Blower is a great option for people on a budget.
It's the most affordable snow blower on my list and it's smaller than the other models — it very well in tight areas making it ideal for paved walk-ways and patios.
Toro Curve Snow Blower boasts the ability to remove up to 700 pounds of snow in 1 minute. It's not the most powerful on my list, but that should be enough for most mid-size residences.
At only 25 pounds this is the lightest snow blower on this list. It's the only model that you can pick up and carry and I like the fact that it is versatile and can be taken to hard-to-reach places you want to clear.
This snow blower is electric so users need to be able to reach a power source and will need to purchase a suitable extension cord.

The YARDMAX Two-Stage is another powerful snow blower that handles well when removing heavy or wet snow.
As you can see, it comes w/ serrated-steel blade augers which can break through hardened snow. They're also super durable making the Yardmax one of the better purchases for per-year-value.
Not only does the YARDMAX YB6270 have 6 different speeds to choose from, but it also has 2 reverse speeds.
A version of this model is also available in a 22" design, which is an option for anyone that wants to save a little bit of money and has a smaller space to clear. Both models are self-propelled, but only the 24" model has electric start.
There's a light on the dashboard, which I really appreciate because removing snow at night can be difficult.
Hand grips are heated and there's even a cup holder, in case you have to work through a large area and want a hot beverage handy.

The Briggs & Stratton Single-Stage snow thrower is super easy to use w/ 1-button push start.
It has a 4-stroke engine, is easy to assemble and can plow through 10 inches of snow with ease (confirmed by buyer reviews). Also handles well w/ heavy, wet snow — large snow chute which can be rotated 360°
There are 3 different versions of this model — you can choose to have the remote deflector or you can opt for a basic model.
Briggs & Stratton Snowthrower includes a headlight, so you can use it any time of the day or night. I love the fact that it has supersized controls. (You don't have to take your gloves off to start this machine or operate it!)
This snow thrower weighs only 93 pounds and is self-propelled.

The 2-step design of the Poulan Pro snow blower is the ultimate for versatility — very easy to handle, it effectively clears snow from paved or gravel surfaces.
It's designed to tackle larger areas, so if you have extra driveway space for multiple vehicles (or long a long driveway) this snow blower should do the trick.
Powerful ribbon auger (the yellow blade), it can chop heavy snow or wet snow turned to ice. Once the snow and ice are chopped up it's shot out the 360° adjustable chute. 
I love the fact that this model has electric start and power steering.  You won't have to struggle to get this snow blower going or to navigate through the snow — even though it weighs 240 pounds.
It comes w/ a headlight and 6 operating gears. You can also shift it into reverse which helps when you're backing out tight spaces (i.e. walkways)
Lots of strong buyer reviews – Many confirm that the Poulan Electric Snow Thrower can easily plow through 1-ft of snow.

The Troy-Bilt Squall 208cc snow thrower has a 4-cycle gas-powered engine. It's just over 93 pounds, and starts easily, even on cold days.
It's a 1-stage snow blower easily plow through up to 13 inches of snow. Unlike other blowers, the Troy-Bilt Squall doesn't include an auger to chop up snow first — it can handle quite a bit of snow, but wet/icy snow is not ideal.
Perfect for mid-size residences, the Troy-Bilt Gas Snow Blower is an affordable model.
Conclusion
Snow blowers come in all sizes. Some people may have a large driveway to clear and need powerful models designed to tackle big surfaces. Other people may have a short driveway and be in the market for a smaller design.
No matter your specific needs, there are a number of snow blowers that can chop up ice and snow and throw snow several feet away so that you can clear your driveway and sidewalks with ease.
Best Snow Blowers, Related Articles:
Top 10 Best Leaf Blowers
Top 10 Wood Chippers
Best Pressure Washers Review
Most Popular Artificial Christmas Trees