Best Ductless Mini Split System. 
Updated: November 2020 
For homes without HVAC systems, owning a ductless mini split system is the next best thing.
Some ductless ac models are even more advanced than regular ventilation:
WiFi connectivity, mobile app control, ultra quiet operation
To help you in your search, here are my top picks for ductless mini split ac units – many are offered in sizes.
Mini-split prices range, $829 – $1699.
#1. Senville Ductless Mini-Split AC
#2. Mr Cool DIY Ductless Mini Split
#3. Pioneer Ductless Mini-Split System
#4. Senville Ductless Mini-Split System
#5. Mr Cool Advantage Ductless AC System
#6. DuctlessAire Mini Split AC Review
#7. Pioneer Ductless Inverter AC
#8. Klimaire Ductless Air Conditioner Reviews
#9. Mr Cool DIY Olympus Ductless AC
#10. Pioneer 3 Zone Mini Split AC
---
Best Ductless Mini Split 2020
---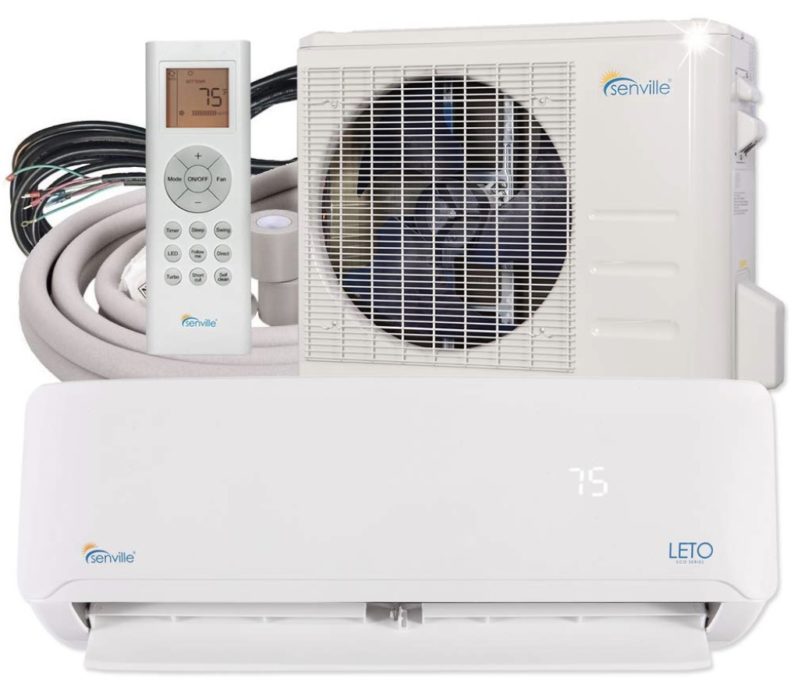 Senville SENL mini split is the most popular ductless mini split air conditioner & heat pump system.
It's designed with whisper quiet technology ~ great for bedrooms, living rooms and basements!
AC Compressor:  Toshiba (GMCC)
Noise level:  25 – 47.5 decibels
Pricing:  Medium
As a ductless mini split it uses low ambient technology which cools & heats rooms at a consistent temp.
Buyers say it's great for maintaining temp and won't constantly cycle on/off ~ it's also energy efficient w/ high SEER rating.
Like other ductless systems, the Senville SENL-24CD includes a mini split heat pump for winter.
Also includes:
remote control, timers, eco-friendly refrigerant, multi-direction air vent, & upgraded compressor
Lots of positive buyer reviews online!
---

The Mr Cool DIY mini split is an affordable unit and offers a "smart" mini split option.
As a smart model, the MrCool DIY mini split lets you change the room temp using your smart phone ~ simply set your desired temp remotely!
Sizes:  350 – 1500 sq. ft.
Pricing: Affordable
Once set, the system automatically adjusts its speed to achieve your desired room temperature.
Mr Cool DIY mini split is offered in four sizes:
12000 BTU: 350 – 500 sq. ft.
18000 BTU: 500 – 750 sq. ft.
24000 BTU: 750 – 1,000 sq. ft.
36000 BTU: 1,000 – 1,500 sq. ft.
Also comes with high-powered motor which offers low ambient cooling — quick cooling w/ super quiet operation.
Includes new "Sleep Mode" for even quieter operation!
Easy to install, the Mr Cool DIY mini split system does not require special tools.
Good reviews w/ affordable price!
---

Pioneer WYS Series mini split AC and heat pump is an affordable, high-powered system.
It is one of the best sellers because of its energy efficiency, fast cooling and lower price tag.
Noise level:  28 – 42 decibels
Pricing:  Affordable
Using the remote control you can adjust room temp or fan speed ~ set your desired temp and the Pioneer mini split will reach it.
FYI: You can also opt for the "smart" Wi-Fi functionality for smartphone control. It costs a little more, but is still very affordable.
Buyers love it for home-use, but it is also a favorite ductless mini split for garage, shops, offices and restaurants.
Ductless mini split system includes:
remote control, washable filters, five fan speeds
Perfect for any size room, the Pioneer AC is offered in multiple sizes:
[table id=58 /]
Read our ratings on Pioneer Mini Split Units!
---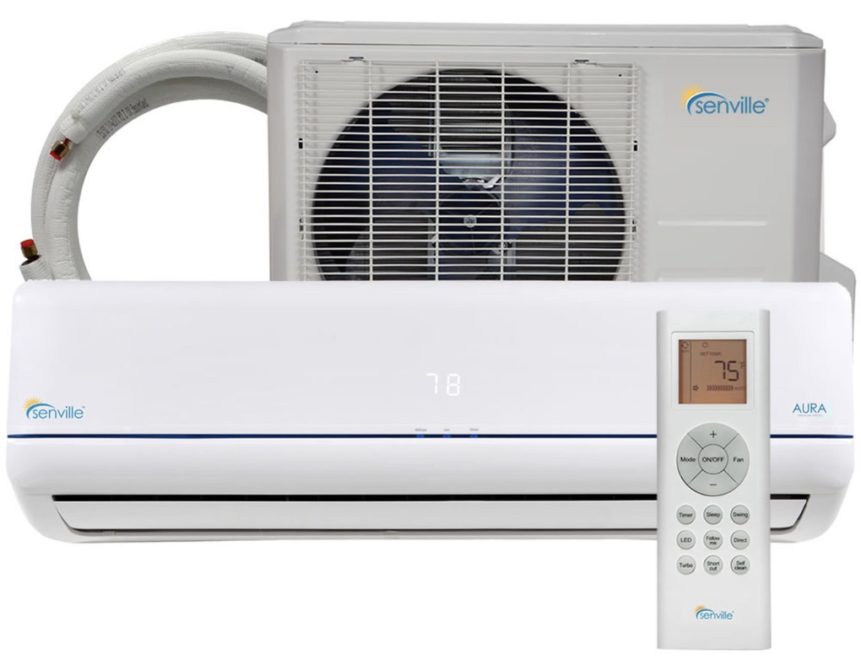 The Senville SENA mini split air conditioner is the top seller online.
As an Energy Star Rated ductless system, it comes with a DC inverter for ultra-high efficiency and quieter performance.
Senville SENA is a true all year-round mini split.
Buyers say that it is surprisingly fast at heating and cooling, which is why it is a popular model for residential and commercial use.
Reviewers say they bought it specifically for a business:
bars, restaurants, garage shops, retail store, and even a hair salon
Using the remote control you can adjust the temp – new climate control lets you set exact temp!
Senville ductless air conditioner is also fairly easy to install, although it will take two people.
Mini split unit is offered in multiple sizes:
[table id=2 /]
Lots of positive reviews + affordable price makes it a top pick.
---

Mr Cool Advantage is a smart ductless air conditioner.
With multiple speeds w/ variable operating modes, it's good at maintaining cooler temps without constantly turning on/off.
Noise level:  24 – 38 decibels
Pricing:  Expensive
It is avail in multiple sizes, but the Mr Cool DIY 18000 BTU mini split is the most popular.
Unlike the other diy mini-split models, it requires only basic tools to set up.
Additional features:
sleep mode, low ambient cooling, WiFi control (smart mini split system), heat pump for winter
Good buyer reviews w/ medium price tag.
---

The DuctlessAire ductless mini split AC is designed for energy efficiency and fast cooling.
From reviews, the most popular model is the 24,000 BTU unit but it is available as a 12,000 and 18,000 BTU units as well.
Cooling: 24,000 BTU
Efficiency: 20.5 SEER
It can cool large rooms w/ high ceilings without overheating — buyers confirm that it's very fast at cooling.
Thanks to the inverter technology, it offers the same efficiency for heating and cooling.
DuctlessAire system was awarded an Energy Star Rating for its high SEER rating – saves on your monthly electric cost!
Read our review on Mini Split Heat Pumps.
---

The Pioneer Ceiling Cassette AC is very high-powered, but expensive.
It is one of the most powerful on the market —  it can cool (or heat) large rooms within 10-minutes.
Multiple ductless mini split options available:
[table id=57 /]
Easily customize or make pre-settings for temperatures
Temp range: 62 – 90°F
As an ultra-high efficiency system it comes w/ an upgraded DC Inverter — helps manage and disperse air flow evenly throughout a room.
Compared to others it has one of the highest SEER ratings for a mini split.
Super efficient, high-powered mini split model w/ good buyer reviews!
---

The Klimaire comes equipped w/ the latest DC Inverter technology.
It is specifically designed to provide you with a consistent room temperature.
Capacity: 12,000 BTU
Room Size: 550 sq. ft.
The DC Inverter maintains a consistent temp + can be used as a dehumidifier.
What I really like is that it features my favorite accessory – a full feature remote control. Easily set the temp or adjust fan settings.
Good budget-friendly ductless air conditioner option.
---

The Mr Cool Olympus ductless air conditioner is a newly released mini split.
It is similar to the Mr Cool DIY mini split, but offers the mobile app function and easy, DIY installation.
Multiple sizes available but the 24,000 BTU is the most popular.
Power: 24,000 BTU
Rooms: 1200 sq. ft.
Mr Cool Olympus mini split offers full wireless control (through the mobile app) — once connected, you can adjust all settings remotely:
turn on/off, adjust temperature, increase or decrease power, set ac timers, activate heating/cooling/dehumidify
Reviews confirm it's an easy DIY mini split unit.
Good price and features!
---

This Pioneer wall-mounted AC is very energy efficient.
The most popular is the Pioneer 3 zone ductless mini split, but is also a favorite as a 4-5 zone ductless unit.
Efficiency: 21.3 SEER rating
User-friendly remote control – set the temp w/ a single button.
All year-round unit, the Pioneer 3 zone mini split is a popular for commercial model – good for heating and cooling:
bars/pubs, restaurants, offices, shops, salons
Pioneer multi zone ductless mini splits are expensive, but as energy efficient models they pay off in the long-run.
With costs of energy increasing, it is the best ductless ac for all day use.
---
Best Ductless Mini Split System Reviews