Jackery Explorer 240 Review. 
Jackery is a newer brand to hit the market, but they've already listed top selling portable generators.
In only one year, they offer two of the most popular models on Amazon.
One thing that separates the Jackery Explorers from other portable generators is how super lightweight they are – in fact, many of Jackery's models weigh less than 15 pounds and include an easy-to-carry handle.
Power stations are available in 3 sizes:
[table id=51 /]
Each is powered through a rechargeable lithium-ion battery — no fumes or exhaust means you can safely use it indoors.
For this review, I will focus on the Explorer 240.
Jackery 240 Power Station:
The Explorer 240 is perfect for powering smaller appliances under 150 watts.
Continuous Appliance: 100 watts
Peak Appliance: 150 watts
Useful for charging cell phones, laptops, and other electronic devices, plus it has the ability to power mini refrigerators, radios, TV, or other small appliances.
Buyers love using it for camping, fieldwork, tailgating, or road trips.
Recharge time: 8-10 hours
Also useful as an emergency home power supply in case of power outages or natural disasters.
It's not large enough to get you through anything catastrophic, but is more than enough to power/charge communication devices.
| | |
| --- | --- |
| Smartphone | 17+ times |
| Tablets | 14+ times |
| Camera | 30+ times |
| Laptop | 4+ times |
| Mini Fridge | 3-4 hours |
The lightest in its class at 6.6 pounds, it is ultra portable and offers several options for recharging:
Solar Charging

Car Port

Generator

AC Outlet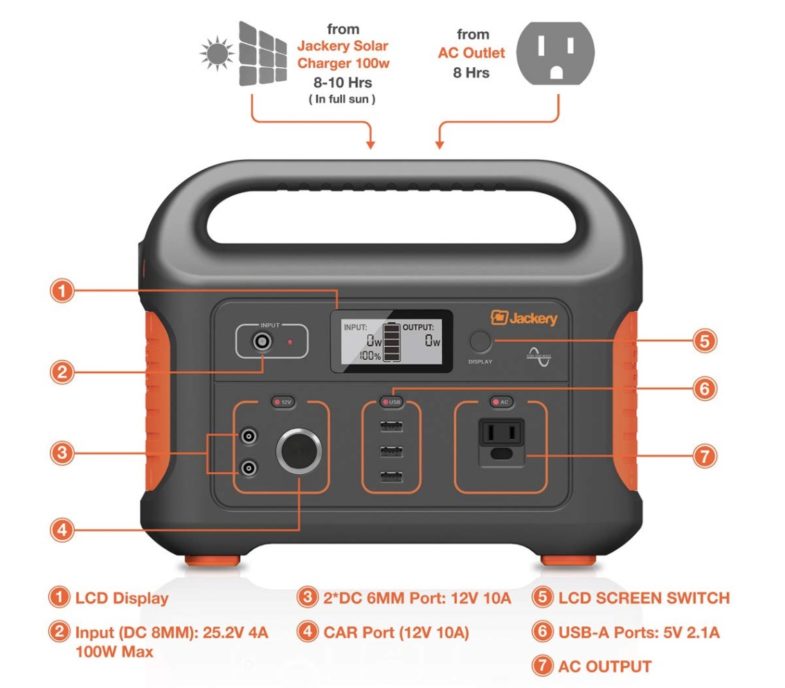 Jackery Power Station Review:
Camping and outdoor enthusiasts love the Jackery Portable Power Station Explorer 240 because it is so easy to transport and can be recharged in so many ways.
AC wall outlet: 8 hour charge
Car charger: 8 hour charge
Secondary generator: 8 hour charge
Solar panel: 10 hour charge

50W solar panel sold separately
Unlike noisy gas-powered generators, this rechargeable battery-powered generator runs quietly without the use of gasoline.
It offers USB ports for charging electronics such as phones and tablets, US standard AC outlet for laptops or small appliances, and a car port plug to power electric coolers or other compatible devices.
Customers recommend the Explorer 240 as a creative solution for powering CPAP sleep apnea machines when traveling or camping.
What is Included:
Jackery Explorer 240

9.5ft / 2.9m AC Adapter

3.3ft / 1m Car Charger Cable

User guide
Jackery Explorer 240 Power Station:
Compact and lightweight, the Jackery Explorer 240 provides hours of power supply in a small battery powered generator.
The included backup battery is great for storing an extra 240 watt hours of power when away from home!
With a sturdy handle that is easy to grasp and a light weight of just over six pounds, the Explorer 240 is a convenient generator to bring along on trips.
Includes a backlit LCD screen which shows you the the battery's power level + approximate time left.
The Explorer 240 is equipped with a pure sine wave inverter that provides a steady release of electricity to your devices, protecting them from harmful power surges.
Features:
Capacity:

240 Wh

Dimensions:

9.05 x 5.24 x 7.87 inches

Weight:

6.6 pounds

Recharge: 8-10 hours

Great for camping or power outages

Provides hours of power

AC outlet, car port, & USB outputs

240 Wh backup battery

Solar power compatible

Light and compact!

Protects from power surges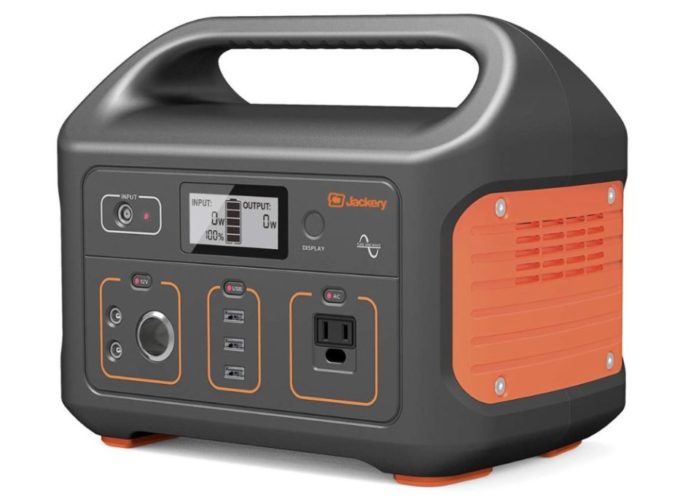 Jackery 240 Power Station Review:
Whether you are camping, backpacking, living in a van or RV, tailgating, or powering lights or music for a backyard party, the Explorer 240 is a useful companion.
It's great for camping or as a last-resort home power emergency power source.
Most of all buyers love it's easy portability — weighing only 6.6 pounds it's super easy to take anywhere.
Buyers also like how it runs on battery instead of gasoline. It's a clean form of energy which can be used indoors.
So far it's gotten very good reviews from buyers.
If you're looking for an affordable power source for small appliances or day-trips, I think the Jackery 240 power station is worth considering!
Jackery Explorer 240 Portable Power Station
Jackery 160 Portable Generator
Explorer 440 Explorer Power Station
Jackery HL 290 Battery Power Station