Midea MAD70C1YWS Review. 
The Midea 70 pint dehumidifier is expensive, but one of the best basement dehumidifiers for continuous drainage.
It offers high-end features such as whisper-quiet operation, washable air filters, and gravity-fed continuous drainage for basements.
As a newer model, the Midea MAD70C1YWS is super quiet.
Noise level: under 51 dB
Buyers confirm that it's one of the best quiet dehumidifiers for residences — powerful enough for large basements and whisper-quiet for bedroom use.
Capacity: 70 pints (9 gal.)
Water Tank: 14 pint
Water tank is not huge, but the dehumidifier includes a "Tank Full" notification.
If not emptied, it will automatically turn-off to avoid leaks.
Also includes a built-in pump, anti-drip design, and continuous drain function for basements.
Coverage: 1,000 – 1,500 sq. ft.
Pricing: Expensive
If you're looking for a smaller model, Midea dehumidifiers comes in 3 sizes.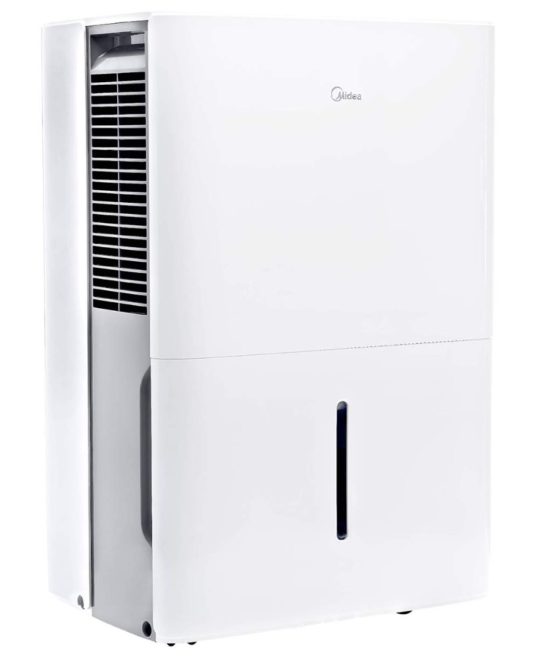 Midea 70 pint Dehumidifier Review:
Allowing excess moisture to build in your home can cause a lot of damage.
mildew, fungus, mold, and rotting wood
Excessive humidity can also bring about health risks — mold buildup can pollute air quality without you realizing it.
A secondary issue is a damp-smelling or musty environment.
Fortunately, modern dehumidifiers are more affordable and less maintenance.
Perfect for larger rooms, the Midea EasyDry dehumidifiers include an automatic dehumidify setting, making it super low maintenance.
By selecting the Auto setting, the Midea dehumidifier will adjust itself based on current air moisture level.
Adjustable Humidity: 35 – 85% RH
** FYI — recommended humidity level in house or basement is 40-50% RH (relative humidity).
For easy operation, the Midea 70 pint dehumidifier includes simple controls and washable filters.
[table id=72 /]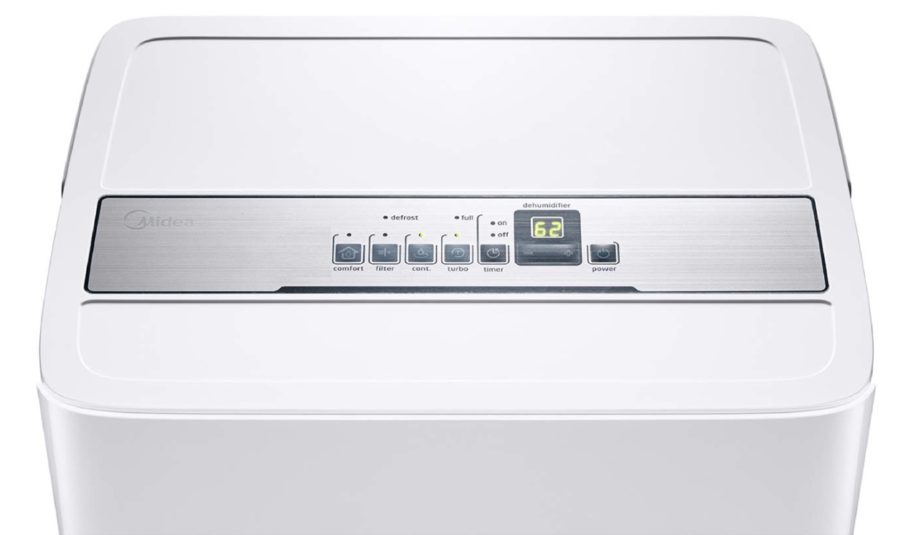 For use in colder rooms (i.e. basement dehumidifier in winter) the Low Temp function lets the Midea dehumidifier to operate in areas as low as 41°F.
Lastly, the Midea EasyDry is the best basement dehumidifier with continuous drainage.
Continuous drainage: simply attach a standard .75 inch female garden hose w/ the other end leading to a sink or drain. This allows for continuous drainage without having to empty the water tank.
The continuous drain function is especially useful for basements.
Additional dehumidify functions include:
auto defrost, variable fan speeds, EasyDry set up, auto humidity controls, auto-restart
Midea EasyDry Dehumidifier Review:
Model: MAD70C1YWS
Capacity:

70 pint (33.1 liters)

Humidity (RH): 35 – 85% RH
Water Tank: 1.6 gallons (12.8 pints)
Room Size:

1,500 sq. ft.

Dehumidifier with continuous drainage

Whisper-quiet operation

Auto-Restart feature (for electric outages)

Multiple fan speeds

Reusable air filters

24-hour timer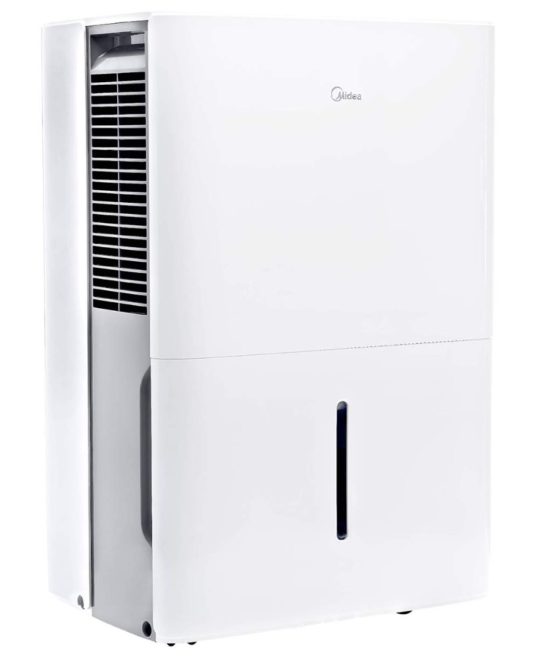 Midea MAD70C1YWS Review:
In my opinion, the Midea EasyDry dehumidifiers are good options for basic functionality.
The Midea 70 Pint (MAD70C1YWS and MAD70P1YWS) are both good dehumidifiers for basements — one includes the drain hose and the other doesn't. Very little difference in cost.
If you're looking to large rooms (up to 1500 sq. ft.) or a basement dehumidifier, I think the Midea 70 pint dehumidifier is worth considering.
It has a very affordable price + lots of positive buyer reviews.
Let us know what you think in the comments!
Midea 70 Pint Dehumidifier Review