✅

Best Wood Chipper Review 2019.
Chipper shredder ratings:
#1.) Earthquake Tazz K33 Review
#2.) Stanley DEK 15HP Chipper
#3.) Earthquake Chipper Shredder Reviews
#4.) Earthquake Tazz K32 Review
#5.) Champion CX350 Wood Chipper
#6.) Great Circle USA Chipper Review
#7.) Patriot Wood Chipper Shredder
#8.) NorTrac PTO Chipper (* best PTO chipper)
#5.) Patriot Gas Wood Chipper
#10.) Coming soon!

** FYI: links go to Amazon (had lowest chipper prices)

Earthquake's Tazz K33 chipper shedder has a powerful 301cc engine.
It comes w/ 2 blades, giving it 13.28 pounds of torque — it quickly shreds bundles of leaves or branches of 3″ thick.
Being on wheels, it's easy to tote around the yard.
Tazz K33 features a 34-inch high steel hopper (nearly 3 ft.) making it a little safer than models.
Also includes a mulching bag for easy clean up.
It's very expensive, but lots of positive reviews + top safety features.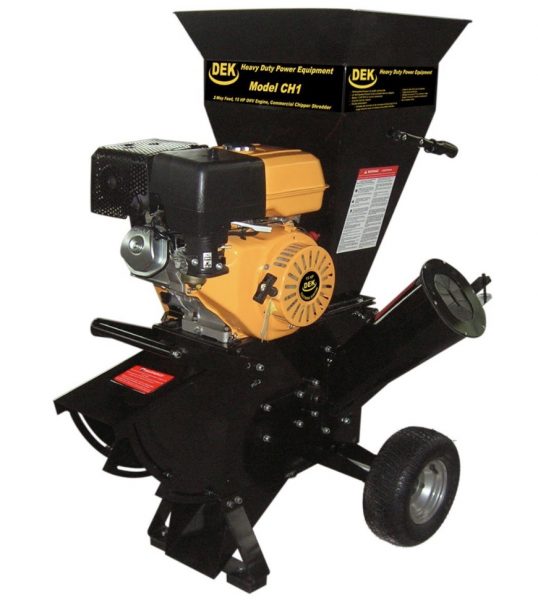 The Stanley DEK shredder is the most powerful on my list.
It features a commercial 420cc engine that rips through 3-4″ branches with ease.
Built w/ a solid steel-frame, Stanley DEK weighs 270 pounds — little heavy, but buyers say it easily hitches to an ATV or vehicle.
It comes mostly pre-assembled making it very easy set up.
Lots of positive reviews, but the DEK is very expensive.

The Earthquake Chipper features a 205cc engine (Briggs & Stratton engine.)
It's equipped w/ 2 tri-hammers and 2 J-shredder hammers — generates a finer shred and is less likely to clog.
You can feed it leaf bundles or branches up to 3″ thick.
The Earthquake chipper is more compact model — weighs 107 pounds.
Includes 2-bushel bags for clean-up.
Buyers love that it's easier maintenance + very affordable.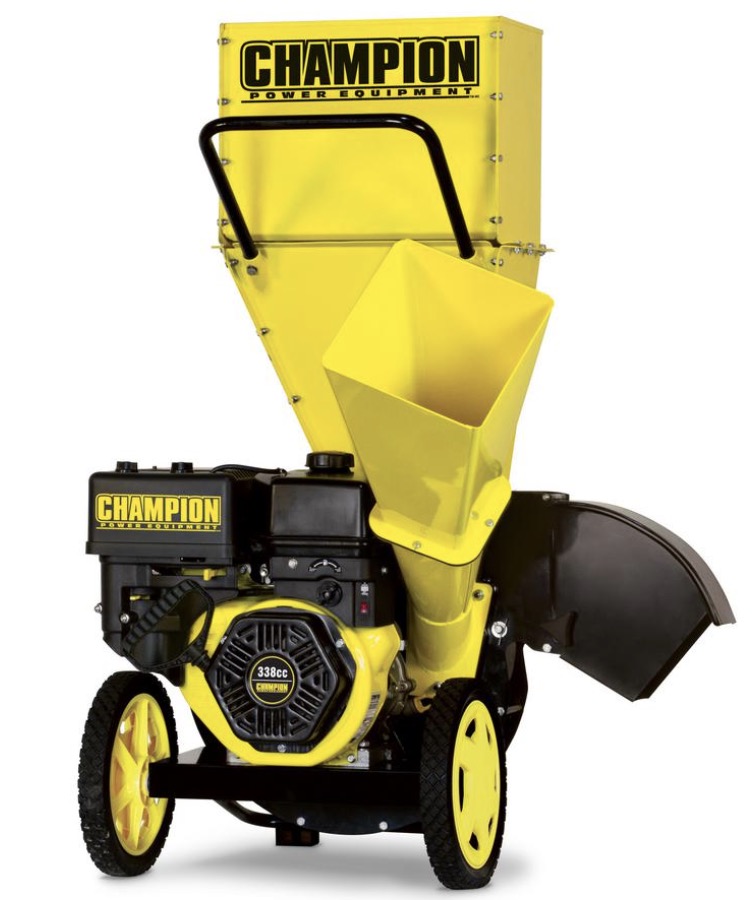 The Champion CX350 chipper is expensive, but excellent for continuous chipping/shredding.
It comes w/ a 338cc engine and holds 1.6 gallons of fuel.
Champion chipper uses 2 steel chipper blades + 4 shredder hammers. It's very quick in shredding bundles of leaves or branches 3-inches thick.
Unlike other chippers, it includes a shredder chute — aim debris to a specific area or attach a bushel bag (which is included) for collection.
Buyers confirm the Champion CX350 is easy to assemble and fast shredding/chipping.
It's gotten good buyer ratings online.

The Tazz K32 (similar to Tazz K33) comes w/ 212cc Viper engine.
It easily shreds 3-inch thick branches in a continuous feed (and is unlikely to clog).
K32 model is a smaller version of the Tazz K33 — not as fast, but still very durable and high-performance.
Positive is the price – It's more affordable and lighter weight (121 pounds).

This Great Circle USA chipper shredder is a professional-grade machine.
Includes a 212cc gas engine w/ gasoline capacity of 0.7 gallons — enough to shred for hours!
As a 3-in-1 chipper there's multiple ways to shred.
1.) Top hopper – for 1/2″ volume chipping
2.) Side chute – for 3″ branches
3.) Back opening – for leaf loading
Great Circle chipper has top safety features including automatic shut-off if low on oil.
Slightly smaller chipper, but has affordable price tag!

The Patriot gas chipper is high-powered, but very expensive.
It comes w/ Briggs engine providing 10 HP — it shreds 3-inch branches into dime size chips.
With a powerful gas engine, the Patriot chipper is a continuous feed machine. Perfect for short cuts or multiple hour projects.
Also includes a jumbo bag for easy cleanup.
Very expensive, but lots of happy buyer reviews.

The NorTrac PTO is the best PTO wood chipper, ideal for big workloads.
In terms of performance it easily slices 5.5-inch branches or huge bundles of leaves. The vertical hopper elevated higher than most, but is angled for ease + safety.
Inside it contains a 6.5″ knife and operates at 20 horsepower w/ 540 max RPM. (super powerful!)
As a PTO chipper you'll need a Category 1 tractor to move it around — the NorTrac PTO weighs 350 pounds, but easily attaches using a 3-point hitch.
Buyers confirm even though it's heavy (350 pounds), it's surprisingly easy to assemble.
If you have piles of branches, this is the best PTO chipper available.

The Patriot Chipper comes w/ 14-amp electric motor which plugs into an outlet.
It's very easy to turn-on (by flipping a switch).
The grinding chamber is equipped w/ 2 metal knives + 6 steel hammers.
It can handle continuous feed for hours — shreds mountains of leaves or 2.5-inch branches.
Patriot chipper is also lightweight, only 95 pounds.
Buyers love it's easy to start + being electric, can operate it indoors.
Expensive, but very good online reviews.
** I'll be adding #10 Best PTO Wood Chipper Review! Stay tuned!
Best Wood Chipper Review – Related:
Top 10 Generac Portable Generators
Top 10 Outdoor Storage Sheds
Best Pressure Washer Review
Top 10 Best Lawn Mowers
Best Leaf Blowers for Large Yards
6 Best Honda Generator Review
Best Patio Heaters for Fall