Best Rated Honda Generators.
When it comes to generators, you have 2 options: common portable generators and inverter generators
Here is my list of the best Honda generators available online.
** FYI: links go to Amazon (which had the lowest prices)
✅ Top #1 Pick: Honda 7000 Watt Generator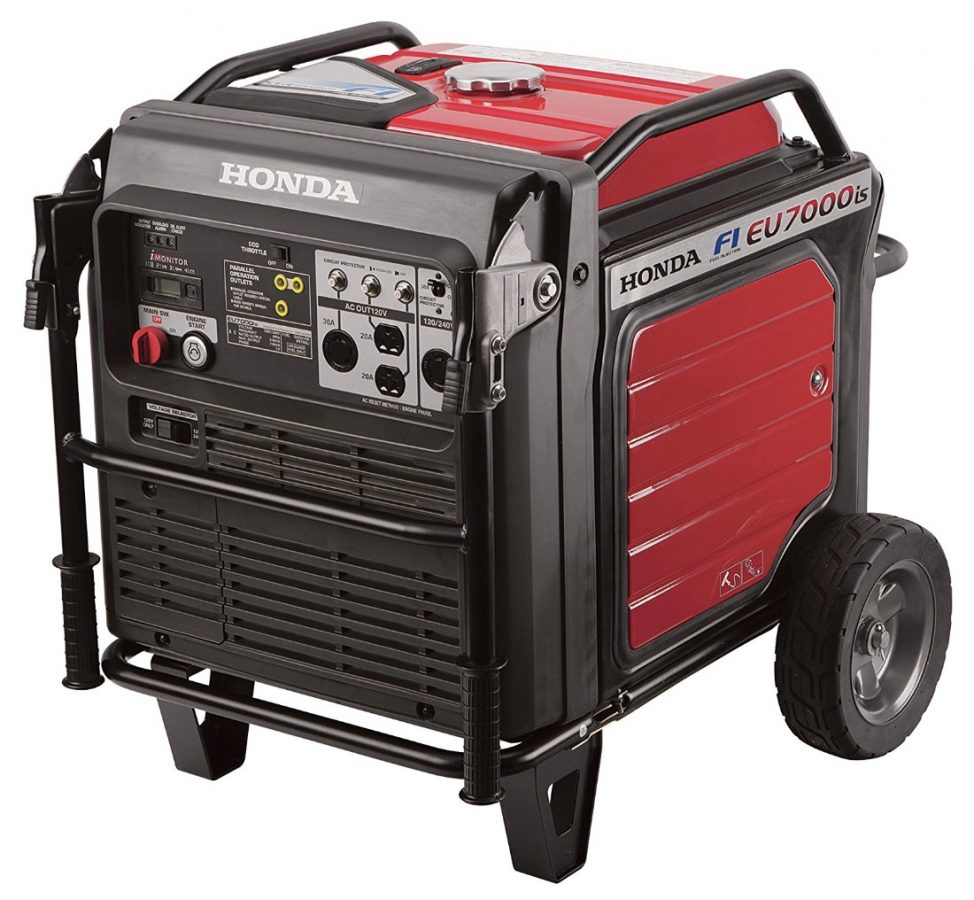 What you are looking at here is a monster generator!
Picture this — a monster truck next to a VW Beetle. This is the discrepancy between this generator and smaller ones Honda manufactures.
At 7000 Watts, you have the power to provide continuous running for a full-sized fridge, A/C unit, several medium-to-strong light bulbs, TV/DVD, satellite, and camping-grade cooker and a small boiler. You can practically power an entire home for hours during a power outage or storm.
⭐⭐ Best Honda Generator for Power Outages ⭐⭐
Offers 2 channels of parallel output: up to 50A at 120V and 30A at 240V. You can select the most appropriate for you via a slider at the back of the machine.
The Honda 7000W is ideal for homes that experience lots of power outages – it's strong output can keep your home running for a relatively long-time.
** Extremely quiet generator with tons of power
The amazing thing is that it only produces 57 dBA of noise, which is as loud as you having a conversation with someone over a cup of coffee. 
As you can see, the generator has 2 wheels at the bottom which makes it much easier to move the 260 pound generator.
But this is the cost of taking your entire electrical arsenal with you when camping. It's an ideal generator for building sites as well.
Highlights
Price: Expensive
Power: 7,000 Watts
Weight: 260 lbs
Power: Gasoline
Length: up to 30 hours

** Very quiet operation
Potential Flaws
#2.) Honda EB2000i Portable Generator

The Honda EB2000i runs on gasoline and has a tank of 0.95-gallon capacity. This means it will run for up to 9.5 hours on a single tank, depending on the intensity of use.
At 2000 Watts max, you can hook-up a small fridge, TV, satellite, several light bulbs and other useful electrical appliances and be sure they will work for the entire night.
⭐⭐ Best Honda Portable Generator for Apartments ⭐⭐
Being one of the quietest generators out there, the EB2000IT1A is ideal as a back-up solution at home or building sites close to residential zones. It is not likely to bother any of your neighbors while providing you and your family with all the necessary power.
Personally I think it's a good, medium size generator ideal for families of 2-3 or apartments units.
Highlights
Price: Decent
Power: 2,000 Watts
Weight: 50 lbs
Power source: Gasoline
Max output: 16.7A at 120V
Dimensions: 20.2×11.4×16.7

Fuel efficiency: up to 9.5 hours per tank

Super quiet

Easy to carry
Potential Flaws
Little heavy for a Honda portable generator

No 240V or designated 12V outlet
#3.) Honda 3000 Generator – Honda EU3000i

This 'little' devil is one of the lightest 3000-Watt generators on the market. At only 80 lbs and at around 100 lbs when full, it can be moved by one or two people. Mobility is further improved by a pair of large wheels at the back.
Honda EU3000i packs a punch – filled to the brim with gasoline, you are looking at around 10 hours of running time, with some users reporting running time up to 80 hours with refueling.
⭐⭐ Most Quiet Honda Portable Generator ⭐⭐
It is efficient and most importantly extremely quiet.
At only 65 dBa at its max, the generator emits a sound similar to the one of a home vacuum cleaner. In its mid-to-low working mode, you will struggle to hear it.
Highlights
Price: Relatively pricey
Power: 3,000 Watts
Weight: 80 lbs
Power source: Gas
Dimensions: 24.5×14.9×19.3
Fuel efficiency: 7.7 hours per tank

Wheel-assisted mobility

Ideal for family vacations

Can feed RV A/C

Low noise pollution
Potential Flaws
Lower running time

Requires two people to lift – not a portable generator
#4.) Honda 2200 Generator

Powered by a 121cc improved four-stroke engine, this Honda inverter generator produces about 200 Watts more than the E2000i model – 2200 Watts in total. This means the output is increased from 16.5A to 18.3A.
Apart from the improved power, Honda designed this model with an improved cooling capability. This significantly extends the lifespan of the components and decreases the risk of them malfunctioning.
⭐⭐ Best Honda Generator w/ Cooling Function ⭐⭐
What I love is that it can easily be linked up with another Honda generator for extra current. This is a super handy function during storms or extended electrical outages.
On its own, it can run up to 8.1 hours on a full tank which has a capacity of 0.95 gallons.
The eco throttle button is easily visible on the back of the machine. You'd rather have it in its 'ON' position though, as it saves a considerable amount of fuel. As one of the most popular Honda Portable Generators, it has stellar buyer reviews and lots of stars on Amazon.
** Also check out my Top 10 Generac Portable Generators (many are similar and cheaper than Honda portable generators)
Highlights
Price: Pretty good
Power: 2,200 Watts
Weight: 47 lbs
Power source: Gasoline-powered
Max output: 18.3A at 120V
Dimensions: 20×11.4×16.7
Fuel efficiency: up to 9.6 hours

Dead quiet

Ideal for tent and RV camping
Potential Flaws
#5.) Honda 1000 Watt Generator – Honda EU1000i

If you enjoy retreating to nature to escape the electrical dominion of our modern reality, then this inverter generator is for you. The EU1000i is a great choice for camping!
Power of 1000 Watts, it'll cover all the 'small' electrical needs for a more enjoyable trip in nature – whether for fishing or solo camping. However, if you want to power up your RV's A/C unit, you'd be better off with the 2000i or 3000i models.
What you are looking at here is around 10 Amps at 110 volts – enough to feed your phone, electrical stove, several light bulbs, and several other electrical appliances.
⭐⭐ Best Honda Portable Generator for Camping ⭐⭐
Lightweight and small, the EU1000i is like a small briefcase. It can be carried around with ease.
Much like the EU2000i, this model is fitted with an on and off eco throttle button. When on, the engine rotates according to the consumption – saving tons of fuel in the process.
** Very quiet – The noise it generates is just under 60 dbA at its maximum.
Highlights
Price: Good
Power: 1,000 Watts
Weight: 32 lbs
Power source: Gas-powered
Output: 10 Amps at 110 volts
Dimensions: 19.5×15.9×11
Fuel efficiency: 8.3 hours on a single tank

On and off eco throttle button

Extremely low noise pollution

Ideal for dynamic nature retreats
Potential Flaws
Can't feed A/C units

Could be slightly cheaper
#6.) Honda 2000 Generator – Honda EU2000i

This model is by far the most sold Honda generator – and for all the right reasons!
At 2000 Watts, this contraption provides over 8 hours of continuous power for TVs, computers, satellites, fridges and coffee pots.
It can even power a CPAP machine for those affected with Sleep Apnea in case of power surges.
⭐⭐ Most Popular Honda Generator ⭐⭐
Whether you want back-up power at home or you just want your family to enjoy the comforts of civilization during camping trips, the EU2000I promises to fulfill all your needs.
Lightweight (45 pounds) and strong energy output, it is the most popular Honda portable generator.
** FYI — being the most popular, it's occasionally sold out on Amazon.
Highlights
Price: Medium
Power: 2,000 Watts
Weight: 45.6 lbs
Power source: Gasoline
Dimensions: 21 x12x19
Max output:13.3A at 120V AC
Fuel efficiency: 8.1 hours per gallon
Tank: 1.1 gallons

Designated 12V DC output for battery charging

Easy to carry

Very quiet compared to others

Japanese-quality build
Potential Flaws
Not able to feed RV A/C

No wheels for improved mobility
You shouldn't give up on the comforts electricity can provide when you take your family camping. All you need is a good generator and you and your family are set up for a cool movie night in the middle of nowhere.
Whether you are camping, fishing or simply working in remote locations, owning one of these Honda Portable Generators is one of the best ways to ensure you'll have modern comfort home during a power outage or with you on a camping track.
Designed with the same obsession with detail that made Japan world leaders in the electronics industry, Honda portable generators stand out with excellent fuel efficiency, quietness and durability.
** I'll be adding #7-8 best Honda Generator Review later this year! Stay tuned!
Best Honda Generator – Related:
8 Best Garbage Disposals
Top 10 Reverse Osmosis Systems
Best Pressure Washer Review
Top 10 Chipper Shredder Review
Most Popular Shop Vacs Review
Top 10 Best Leaf Blowers
Best Patio Heaters for Fall
Best Outdoor Storage Sheds