Best Leaf Blowers // Cordless Leaf Blower
Here's my list of the best leaf blowers online.
#1.) Dewalt XR Brushless Blower
#2.) Toro UltraPlus Leaf Blower Vacuum
#3.) Husqvarna Blower (#1 backpack blower)
#4.) Black+Decker Blower + Vacuum
#5.) WORX Turbine Cordless Leaf Blower
#6.) Makita Stroke Engine Leaf Blower
#7.) DeWalt Flexvolt Handheld Leaf Blower
#8.) Greenworks PRO 80V Cordless Blower
#9.) Tanaka Handheld Blower
#10.) Black+Decker Blower + Sweeper
FYI — best leaf blower links go to Amazon (had the lowest prices)

Dewalt Brushless Blower (model # DCBL720P1) is one of the best-selling leaf blowers on the market.
Vey lightweight at only 7 pounds and smaller size (15.2″ x 7.8″ x 23.4″) — buyer reviews confirm it's easy to maneuver + powerful for mid-size yards.
In terms of performance, it includes a variable speed trigger + speed locking making it easy to change power levels.
⭐⭐ Best Leaf Blower for Mid-Size Yards ⭐⭐
Fairly high blowing power up to 90 mph — however, it has a max run time of 15 mins (when set on "high" speed)
Good value for small to mid-size yards (up to 1.5 acres).
For larger yards, there's options to upgrade to more powerful DeWalt leaf blowers.
Highlights
Speed: 90 MPH
Power: 400 CFM (cubic ft. per minute)
Weight: 7.1 pounds

20V MAX 5.0Ah Lithium Ion Battery

Brushless motor for efficiency + durability

Lightweight and ergonomic design

(minimizes stress on your arm)

Adaptable trigger + 

Speed lock
Potential Flaws
Will need to upgrade for larger yards of 1.5+ acres
Toro UltraPlus blower has awesome buyer reviews! (and lots of them)
Includes tons of lots of features: leaf shredding capability + air flow vacuum suction (for picking up leaf particles).
⭐⭐ Best Leaf Blowers for Driveway + Patios ⭐⭐
Speed control up to 250 mph, making it versatile for all parts of your yard whether it's clearing leaves or removing debris of your patio.
Comes w/ 350 CFM power is also great for clearing away non-heavy snow. 
Seeing it's price, I think it's one of the best value purchases out there.
Highlights
Speed: 250 MPH
Power: 350 CFM

CFM = cubic ft. per minute

Vacuum Power: 410 CFM Vacuum mode
Weight: 8.9 pounds

Bottom-zip bag + Vacuum tube

Variable speed control for easier handling
Potential Flaws
Extension cord not included with the blower
Husqvarna (model # 965877502) is one of the best backpack leaf blowers on the market.
It's more "heavy duty" than most people need, but if you have a 3+ acre yard or a commercial blower, it's very recommended!
FYI: many buyer reviews appear to be professional landscapers
Model comes w/ equipment-straps and handle for easy-carrying.
Considering its size + blowing power it's not too heavy, only 22.5 pounds.
⭐⭐ Best Backpack Leaf Blower ⭐⭐
Husqvarna's new X-Torq Engine generates max speed of 180 mph.
What makes this backpack blower unique is its long battery power — Husqvarna backpack blower can go 2+ hours on a single charge.

Highlights
Speed: up to 180 mph
Weight: 22.5 pounds

X-Torq engine = 2.1 HP (and reduces emissions)

Online reviews confirm how comfortable it is to carry

Includes load-reducing harness

Easy handling and fuel starting (air purge system)

Powerful engine + adjustable fan speed
Potential Flaws
Heavier than others on my list (but lightweight for backpack blower)

With powerful 250 mph engine, the Black and Decker is one of the most powerful leaf blowers on the market.
Offering 3-in-1 functionality you can use it as leaf blower, mulcher, and vacuum. You can also toggle the speed for fragile areas of your landscaping.
You can blow away debris in your rose garden + decrease 30% speed for leaf blowing.

Highlights
Speed: 250 MPH
Type: Corded-electric blower
Weight: 14.3 pounds

Adjustable speeds

2-speed modes gentle for flower beds

Powerful enough for matted leaves

Components made of high-quality plastic

Easy to disassemble + reassemble
Potential Flaws
Produces a louder sound than other leaf blowers
WORX Turbine Cordless Blower lets you easily make speed adjustments and freedom of movement because of the cordless design, which can help you clean your garage or corners near fences.
Also includes a turbo mode implemented in the system — makes it easy to blow larger amounts of leaves or garbage on large surface areas. 
⭐⭐ Best Leaf Blowers for Multiple Speeds ⭐⭐
The best part is that compared to other blowers, the WORX Turbine is very affordable – most consumers can afford this one!
It's not as strong as other blowers at 125 MPH max power, but it should be well enough to do the job.
Highlights
Speed: 125 MPH
Power: 465 CFM (cubic ft. per minute)
Charge time: 90 minutes charging time
Weight: 8.1 pounds

Includes WORX's TURBINE fan tech

Hyper-Stream air nozzle

can handle extra tough conditions

Optimal weight distribution so it doesn't feel so heavy

56V Max Lithium battery

Speed controller w/ TURBO boost mode

Very affordable!
Potential Flaws
You may need to replace the battery and charger over the years

Makita may not be as big of a brand name as WORX or Husqvarna, but their outdoor products are just as good.
The 4-stroke leaf blower has a powerful 24.5cc engine and is still lightweight at 9.8 pounds. Also a low compression engine which makes it very easy to start.
⭐⭐ Best Lightweight Leaf Blower ⭐⭐
Buyer reviews note how very quiet it is compared to similar size blowers – the muffler decreases the noise considerably and the soft grip eases the vibration.
If you need a blower for 30+ minutes I highly suggest the Makita 24.5cc (model # BHX2500CA)
Highlights
Speed: 195 MPH
Engine: 24.5cc (gas powered)
Weight: 9.8 pounds

Replaceable 2-stage filter

4 Stroke engine = 60% less fuel

Quick start w/ low compression engine

Long nozzle
Potential Flaws

DeWalt is a well known brand that make durable, lightweight tools.
The Flexvolt is a cordless leaf blower that can reach speeds up to 175 MPH – it's not the highest velocity because is high efficiency. Variable speed & trigger-lock make it easy to toggle the power… this way you won't run the battery + won't have to constantly turn on/off.
⭐⭐ Best Leaf Blower for Versatility ⭐⭐
Strong buyer reviews confirm how versatile it is: debris off driveways, large amounts of leaves, and light snow.
If you're using it as full driveway sweeper… you may want something with more power. I suggest the Toro UltraPlus Blower listed previously.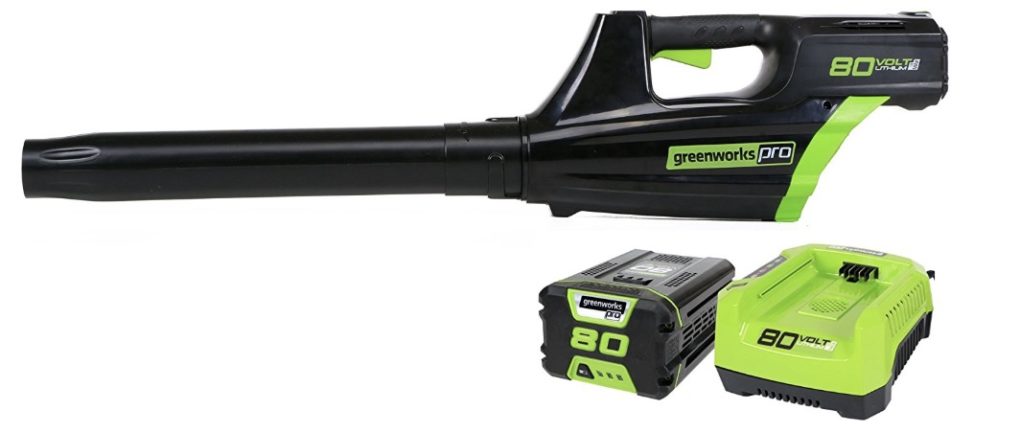 Greenworks PRO is one of the most powerful gas-free cordless blowers on the market.
Runs at a speed of 125 MPH which is strong enough to blow away debris off most surfaces (but also not the most powerful). 
You're able to select 3 different blowing speeds, which means you can use it on various surfaces without worrying about potential damage.
Greenworks PRO also comes w/ Jet Turbine technology — provides a steady airflow, further increasing its energy efficiency. 
Highlights
Speed: 125 MPH
Speed Modes: 3
Engine: 30cc gas engine

80V Lithium Ion system

Eco-friendly leaf blower

70 mins of run time w/ fully charged battery

Brushless motor

Quiet operation
Potential Flaws
Battery's capacity minimizes after using a while

More expensive than other leaf blowers

Cleaning yards, porches, and driveways can take up hours of your time. That's why a high-powered blower is necessary — mulch sticking to a driveway requires the highest power.
The Tanaka is equipped w/ 25cc engine and generates blowing speed up to 180 mph and 441 cfm.
Relatively lightweight weighing 8.6 pounds.
What makes it unique is that it's very easy to start — the 2 finger throttle makes it simple enough for mostly anyone to use.
Highlights
Max Speed: 180 MPH
Weight: 8.6 pounds

25cc powered engine

3-in-1 blower, shredder, & vacuum

PureFire 2-stroke start

Soft-grip handle

Secondary handle for easy carrying

Lightweight = very portable
Potential Flaws
Not crazy expensive, but not cheap

Black Decker Ion String is a combination of a string trimmer and sweeper ideal for cleaning hard surfaces like driveways and pavements.
You can easily switch between the trimmer and sweeper to clean your yard efficiently, while also reducing the carbon emissions.
⭐⭐ Best Leaf Blower + Trimmer Bundle ⭐⭐
Blowing power of 250 mph and variable speeds, it provides a lot of power at a super affordable price.

Highlights
Speed: 140-250 mph
Weight: 8.1 pounds
Type: Electric

40V MAX Lithium-Ion Battery

Includes 13″ Sweeper + String Trimmer

GEAR DRIVE transmission

Adjustable length

Much quieter than others

(surprising considering it's blower strength)
Potential Flaws
Bundle is sometimes sold out
Best Leaf Blowers, Relevant Posts:
Best 10 Power Washers
Top 6 Best Honda Generator for Home
Top 10 Best Patio Heaters
10 Best Lawn Mowers
Best Pressure Washers Review
Top 10 Wood Chippers