✅
Best Rated Pressure Washer 2019.
Top picks list: 
#1.) Sun Joe Electric Pressure Washer
#2.) Simpson Pressure Washer
#3.) PowerBoss Gas Pressure Washer
#4.) Generac Gas Pressure Washer
#5.) DeWalt Gas Pressure Washer
#6.) Sun Joe SPX3500 Electric Washer
#7.) Generac 6565 Gas Washer
#8.) PowRyte Electric Pressure Washer
#9.) AR Blue AR390S Electric Washer
#10.) Karcher K2000 Electric Pressure Washer

   **FYI: links go to Amazon (had lowest washer prices)

✅ Top #1 Pick: Sun Joe SPX 3000 Electric Washer

The Sun Joe SPX3000 is a very affordable washer w/ 14.5 Amp motor
It has an output of 1.76 GPM (gallons per min) and water power of 2,030 PSI.
** PSI = pounds per sq. in.
SPX3000 also includes dual detergent tanks — easily fill w/ soap to wash your car!
And for added power, there's 5 quick-connect nozzles (concentrated pressure). You'll want these for intense jobs: cleaning driveways, removing paint + cleaning steel
Tons of happy buyer reviews and affordable price, make the SPX3000 a solid choice.

#2.) Simpson Gas Pressure Washer

The Simpson gas washer comes w/ powerful Honda GC190 engine.
As a heavy-duty power washer, it has a welded steel frame — buyers love that it's super durable, but still fairly lightweight (only 55 pounds).
There's also lots of sizes if you want to upgrade or downgrade.
      Power sizes: 3100 ~ 4200 PSI  (2.5 ~ 4.0 GPM)
Simpson washer includes 5 attachable nozzles for more power + 25 ft. hose.
Buyers like its push-start ignition and reasonable price.

#3.) PowerBoss Gas Pressure Washer

The PowerBoss is a powerful washer w/ 3100 PSI and 2.4 GPM.
Equipped w/ 25 ft. pressure hose, detergent tank + high-pressure nozzles. 
PowerBoss Washer includes 1-gallon detergent tank — easy to add soap or oils.
Excellent for washing cars!
Buyers say it takes only 10-20 mins to assemble + very easy to start.
PowerBoss gas washer is expensive, but has lots of happy buyer reviews.

#4.) Generac SpeedWash Power Washer

Generac SpeedWash is equipped w/ 196cc engine + affordable price.
Output of 2.70 GPM and 3 power options — power broom, turbo nozzle + soap blaster.
High-pressure flex hose — comes w/ 30 ft. hose
Includes Turbo nozzles to remove dirt + grime 30% faster.
The Soap Blaster can also be used to wash a car or wood deck!

DeWalt is equipped w/ Honda GX390 OHV engine.
It's a high-powered washer offering 4.0 GPM with 3,200-4,200 PSI (multiple sizes avail)
Buyers say it's excellent for cleaning hard surfaces: driveways, sidewalks, steel components
Comes w/ quick connect nozzles additionally help clean your surfaces faster + maneuver this machine through tight spaces.
What I really like the the multiple nozzles — the DeWalt is very versatile.

#6.) Sun Joe SPX3500 Electric Power Washer

Sun Joe SPX3500 comes w/ 13 AMP motor + delivers 2,300 PSI.
** PSI = pounds per sq. in.
It's super versatile — powerful enough for hard surfaces or washing your car.
Full blast shoots 1.48 GPM (gallons per min)
Includes 5 quick-connect nozzles for various jobs: pavement, washing the car, or removing paint.
Also comes w/ 1-gal detergent tank — you can add soap or cleaning oils.
It's a very affordable washer w/ lots of positive buyer reviews.

#7.) Generac Gas Powered Pressure Washer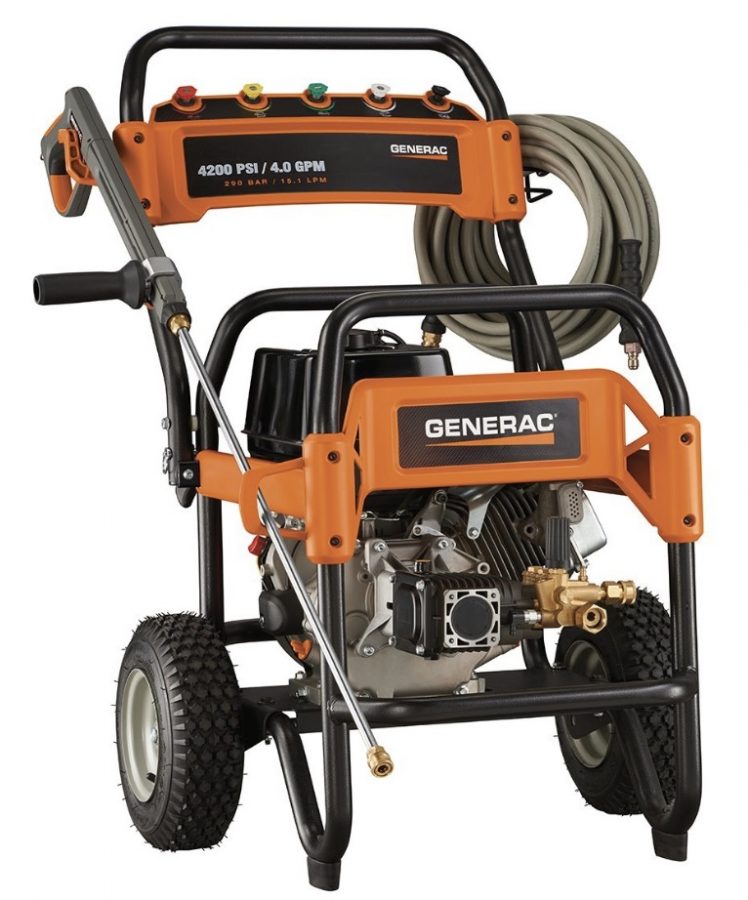 The Generac gas washer has multiple sizes offered 3,100 ~ 4,200 PSI
Most popular comes w/ 302cc engine and 3.6 GPM output.
Buyers say it's great for hard surfaces: sidewalks, driveways, and cleaning metals
Generac pressure washer is 129 pounds + comes w/ ergonomic tires (very portable washer!)
It's very expensive, but lots of positive buyer reviews.
#8.) Karcher Electric Pressure Washer (K2000)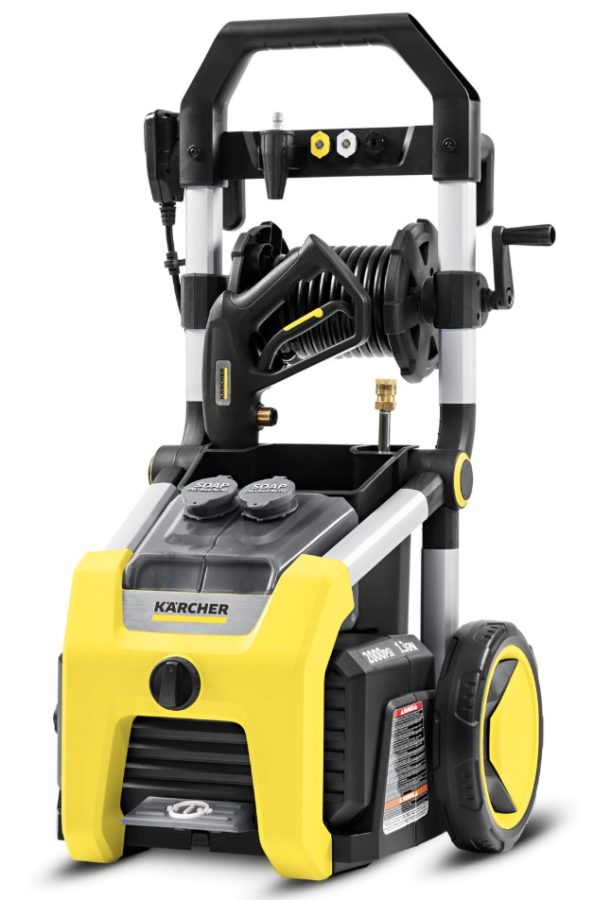 The Karcher K2000 is very similar to the Annovi Reverberi, but a little cheaper.
It offers 2000 PSI at 1.3 gallons per min.
For lighter washer, it includes dual detergent tanks — simply add soap or sanitizer.
Buyers also love the on/off foot switch. You're able to easily turn the electric pressure washer on or off by stepping on the foot pedal (other models usually have a switch on the body)
Excellent choice if you're looking for an affordable electric washer for basic jobs around the house.
#9.) AR Blue Electric Pressure Washer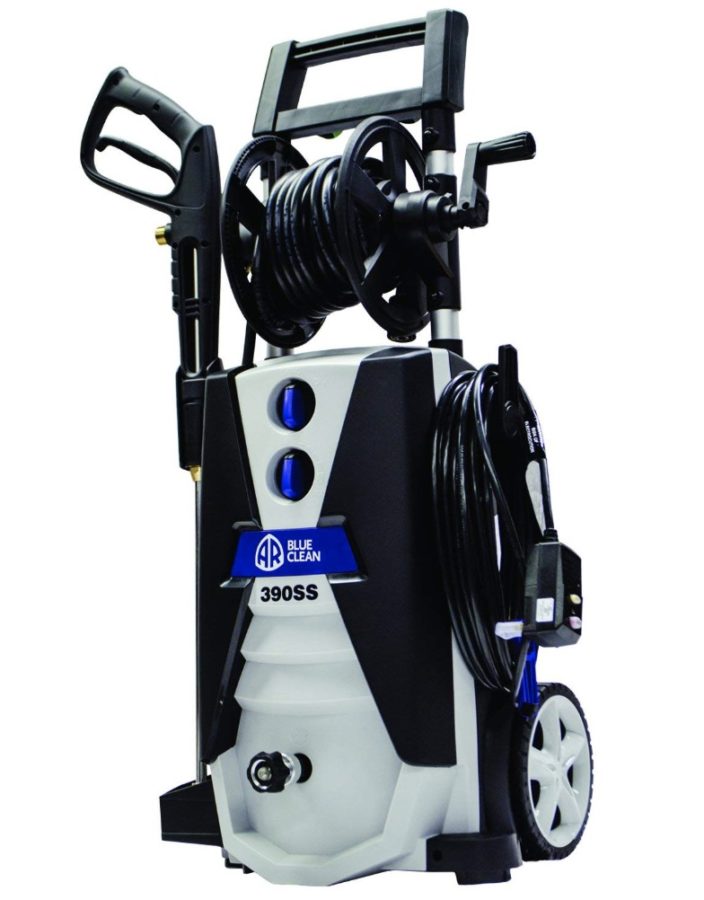 The Annovi Reverberi is the ideal for washing vehicles.
It comes w/ a universal motor and pump which delivers 2000 PSI at 1.4 gallons per min.
Buyers love that it's very easy to set up straight out-of-the-box.
Not as powerful as others on my list — however, it's perfect for basic household jobs: wood decks, home sidings, mowers, vehicles, and patio furniture.
Annovi Reverberi is one of the top selling electric pressure washers online.
It's affordable w/ lots of positive reviews.
#10.) PowRyte Electric Power Washer

PowRyte Elite includes 26 ft. hose + 4 quick-connect spray tips for various jobs.
Max power is 3,500 PSI delivered at 1.9 GPM.
Built-in detergent tank lets you add soaps or oils — perfect for washing vehicles: cars, boats, and ATVs
Not the strongest, but very affordable + strong buyer reviews.
 Notable #1 — Powerstroke Gas Pressure Washer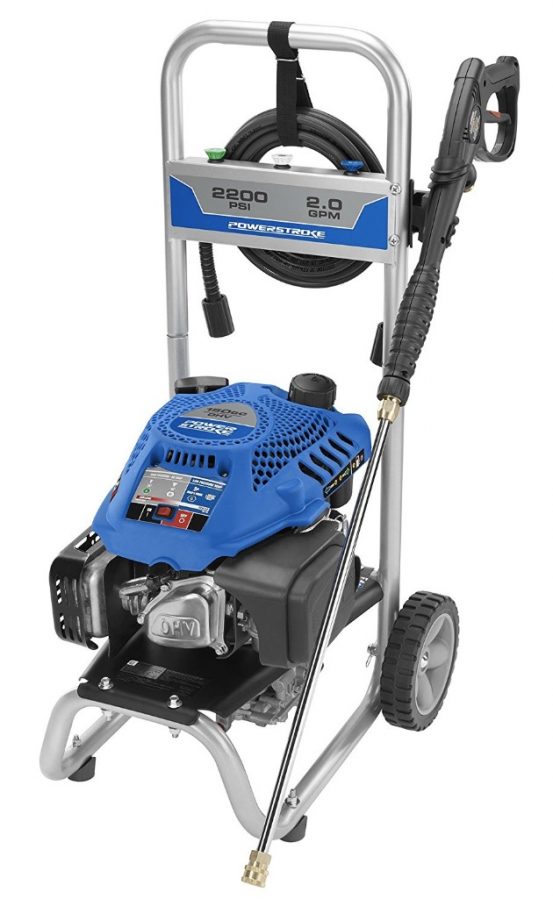 The PowerStroke comes w/ 150cc engine (smaller than others).
What I like is its 2200 PSI and of 2.5 GPM output — it's smaller power makes it a safer washer for basic jobs.
It's also very lightweight, only 32 pounds + includes wheels for mobility.
There's multiple nozzles for household jobs: washing cars, cleaning steel components, or washing driveways
PowerStroke is a very affordable model.
Notable #2 — Briggs & Stratton Gas Pressure Washer

The Briggs & Stratton Gas Washer is equipped w/ 190cc engine.
Fairly powerful, it delivers 2.5 GPM with strength of 3,100 PSI.
What's unique is the 1-button push start — no need to worry about choking, priming or pulling a cord.
Very durable, it's made of an all-steel base.
Highlights
Engine: 190cc OHV
Power: 3,100 PSI
Flow: 2.5 GPM
Washer sizes: 5

2200 PSI (1.9 gpm) ; 

2800 PSI (2.1 gpm)

3100 PSI (2.5 gpm) ; 

3100 QuietSense
Best Pressure Washers – Related:
8 Best Garbage Disposals
Top Wood Chippers Review
Top 10 Best Leaf Blowers
Best Honda Generator for Home
Top 10 Reverse Osmosis Systems
Best Patio Heaters for Summer
Top 10 Generac Portable Generators
Best Outdoor Storage Sheds