Top pressure washers review. 
Top picks list: 
#1.) Sun Joe Electric Pressure Washer
#2.) Simpson Pressure Washer
#3.) PowerBoss Gas Pressure Washer
#4.) Generac Gas Pressure Washer 
#5.) Sun Joe SPX Pressure Washer
#6.) PowRyte Electric Pressure Washer
#7.) DeWalt Gas Pressure Washer 
#8.) Generac 6565 Gas Washer 
#9.) Briggs & Stratton Gas Washer
#10.) Powerstroke Gas Washer

** FYI — links go to Amazon (had lowest washer prices)

Sun Joe SPX3000 is a very affordable washer w/ 14.5 Amp motor
It delivers 1.76 GPM (gallons per min) + 2,030 PSI.
** PSI = pounds per sq. in.
Comes w/ dual detergent tanks — easily fill w/ soap to wash your car!
Also includes 5 quick-connect nozzles (concentrated pressure) for more intense jobs: cleaning driveways, removing paint + cleaning steel
Affordable model w/ tons of positive reviews.

The Simpson gas washer comes w/ powerful Honda GC190 engine.
It's welded steel frame is durable + fairly light (only 55 pounds).
There's multiple sizes/powers from 3100 ~ 4200 PSI and output 2.5 ~ 4.0 GPM 
Simpson pressure washer includes 5 nozzle tips + 25 ft. hose.
Buyers say it's very easy to start + reasonable price.

The PowerBoss is a powerful washer w/ 3100 PSI and 2.4 GPM.
Equipped w/ 25 ft. pressure hose, detergent tank + high-pressure nozzles. 
⭐⭐ Best Pressure Washer for Car Washing ⭐⭐
PowerBoss Washer includes 1-gallon detergent tank — easy to add soap or oils.
Excellent for washing cars!
Buyers say it takes only 10-20 mins to assemble + very easy to start.
PowerBoss gas washer is expensive, but has lots of happy buyer reviews.

Generac SpeedWash is equipped w/ 196cc engine + affordable price.
Output of 2.70 GPM and 3 power options — power broom, turbo nozzle + soap blaster.
High-pressure flex hose — comes w/ 30 ft. hose
Includes Turbo nozzles to remove dirt + grime 30% faster.
The Soap Blaster can also be used to wash a car or wood deck!

Sun Joe SPX3500 comes w/ 13 AMP motor + delivers 2,300 PSI.
** PSI = pounds per sq. in.
It's super versatile — powerful enough for hard surfaces or washing your car.
Full blast shoots 1.48 GPM (gallons per min)
Includes 5 quick-connect nozzles for various jobs: pavement, washing the car, or removing paint.
Also comes w/ 1-gal detergent tank — you can add soap or cleaning oils.
It's a very affordable washer w/ lots of positive buyer reviews.

PowRyte Elite includes 26 ft. hose + 4 quick-connect spray tips for various jobs.
Max power is 3,500 PSI delivered at 1.9 GPM.
Built-in detergent tank lets you add soaps or oils — perfect for washing vehicles: cars, boats, and ATVs
Not the strongest, but very affordable + strong buyer reviews.

DeWalt is equipped w/ Honda GX390 OHV engine.
It's a high-powered washer offering 4.0 GPM with 3,200-4,200 PSI (multiple sizes avail)
Buyers say it's excellent for cleaning hard surfaces: driveways, sidewalks, steel components
Comes w/ quick connect nozzles additionally help clean your surfaces faster + maneuver this machine through tight spaces.
What I really like the the multiple nozzles — the DeWalt is very versatile.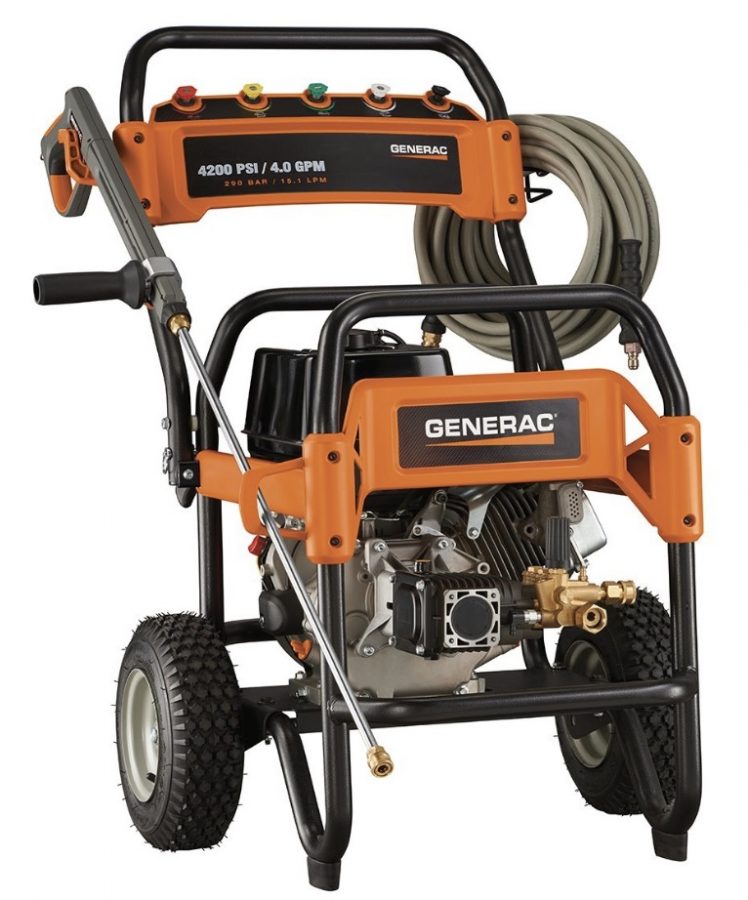 The Generac gas washer has multiple sizes offered 3,100 ~ 4,200 PSI
Most popular comes w/ 302cc engine and 3.6 GPM output.
Buyers say it's great for hard surfaces: sidewalks, driveways, and cleaning metals
Generac pressure washer is 129 pounds + comes w/ ergonomic tires (very portable washer!)
It's very expensive, but lots of positive buyer reviews.

The Briggs & Stratton Gas Washer is equipped w/ 190cc engine.
Fairly powerful, it delivers 2.5 GPM with strength of 3,100 PSI.
What's unique is the 1-button push start — no need to worry about choking, priming or pulling a cord.
Very durable, it's made of an all-steel base.
Highlights
Engine: 190cc OHV
Power: 3,100 PSI
Flow: 2.5 GPM
Washer sizes: 5

2200 PSI (1.9 gpm) ; 

2800 PSI (2.1 gpm)

3100 PSI (2.5 gpm) ; 

3100 QuietSense

The PowerStroke comes w/ 150cc engine (smaller than others).
What I like is its 2200 PSI and of 2.5 GPM output — it's smaller power makes it a safer washer for basic jobs.
It's also very lightweight, only 32 pounds + includes wheels for mobility.
There's multiple nozzles for household jobs: washing cars, cleaning steel components, or washing driveways
PowerStroke is a very affordable model.
Best Pressure Washers, Related:
Top 10 Best Leaf Blowers
Best Patio Heaters for Summer
Top 10 Generac Portable Generators
Top 6 Best Honda Generator for Home
Best Snow Blowers Review
8 Best Garbage Disposals
Top 10 Reverse Osmosis Systems
Best Outdoor Storage Sheds
Top Wood Chippers Review