Best Pressure Washers // Pressure Washer Review
Pressure washers come w/ different engines and pressure power (known as PSI) — they're effective at removing paint, cleaning sidewalks + washing machinery.
Below is my list of best pressure washers online.
#1.) Sun Joe Electric Pressure Washer
#2.) Generac SpeedWash Pressure Washer
#3.) PowerBoss Gas Pressure Washer
#4.) PowRyte 2400 Electric Pressure Washer
#5.) DeWalt Gas Pressure Washer
#6.) Generac 6565 Gas Washer
#7.) Briggs & Stratton Gas Washer
#8.) Simpson Gas Pressure Washer
#9.) Powerstroke Gas Washer
#10.) Coming soon!
** FYI — pressure washer links go to Amazon (which had the best prices)

** Brands may differ by country
Sun Joe SPX3500 has a 13 AMP brushless induction motor that works faster than standard pressure washer motors.
For its size it has relatively strong pressure of 2,300 PSI – strong enough to clean driveways, patios, and other hard surfaces
Full blast shoots 1.48 GPM (gallons per min)
It comes w/ 5 quick-connect nozzles for various jobs: pavement, washing the car, or removing paint.
What separates the Sun Joe Electric Pressure Washer is its 1-gal adjustable detergent tank — easily add soap to clean your car, patio or deck.
Highlights
Weight: 46.5 pounds 
Power: 2300 PSI (pounds per sq. in.)
Sprayer: 34″ wand
Flow: 1.48 GPM (gallons per min)

13 amp motor

5 quick-connect spray tips

Adjustable detergent dial

20 ft. high-pressure hose

35 ft. GFCI extension cord
Potential Flaws
Heavier than other pressure washers

Generac SpeedWash is equipped w/ top features and is relatively affordable.
Comes w/ 3 awesome power options — power broom, turbo nozzle, & soap blaster. Together they create a washing system with enough power to clean mostly any surface. 
⭐⭐ Best Pressure Washer for Patio and Driveways ⭐⭐
Power Dial Gun also included in the package — easily adjust pressure.
High-pressure flex hose — comes w/ flexible + kink-resistant hose making it easy to reach any area.
Includes Turbo nozzles which removes dirt + grime 30% faster. Also use the Soap Blaster for washing your car or cleaning your deck patio
Highlights
Engine: 196cc using OHV engine
Flow: 2.70 GPM (Gallons per Minute)

30 feet high-pressure flex hose

4 quick-change nozzles: 

0°, 25°, 40°

and soap mode

Power Dial ergonomic spray gun

Turbo nozzle removes dirt and grime 30% faster

Soap blaster sprays soap 3x further

Power broom function

10 inch pneumatic wheels
Potential Flaws
Possible cleaning brush flaws

With 3100 PSI and 2.4 GPM,  the PowerBoss Gas Pressure Washer provides you with everything you want in a gas washer.
Equipped with a 25 ft. pressure hose, detergent tank, and high-pressure nozzles, it gives you better cleaning results than many of the other high-powered pressure washers.
What separates PowerBoss from the other pressure washers is the 1-gallon detergent tank.
⭐⭐ Best Pressure Washer for Car Washing ⭐⭐
You can add soap or other essential oils to the detergent tank and have better cleaning results than ever. Some tanks will deteriorate by adding extra chemicals or soaps, but not this one.
Be careful which power setting and nozzle you choose, what I like is the ability to add soap — it is perfect for washing a car.
Personally, the PowerBoss Gas Pressure Washer would be my choice if I washed my car on a weekly basis. (much easier to visit a car wash though!)
Highlights
Power level options

2,800 PSI (2.3 gpm) ; 

3,100 PSI (2.8 gpm)

3,300 PSI (2.7 gpm)

Maintenance-free axial cam pump

Easy Start technology

Quick connect tips

10 inch pneumatic wheels

1 gallon tank
Potential Flaws
Filter can get contaminated with oil

PowRyte provides an ergonomic and innovative design packed w/ useful features that make cleaning an easy task for anyone.
It has a convenient pencil jet which rotates 360°, so you can access every spot for maximum cleaning efficiency.
And the long, 20 ft. hose allows you to clean objects from a distance. It seems like a simple benefit, but if you're washing large surface areas (such as a cement wall) the PowerRyte is a perfect solution.
⭐⭐ Best Pressure Washer for Spraying Longer Distances ⭐⭐
But, my favorite feature is the Total Stop System which automatically shuts off the pump when the trigger is not engaged — you'll save on energy costs and prolong the pump since it won't be needlessly used.
The PowRyte has 4.5-stars on Amazon — one of the highest rated products I've come ever come across. It's also very affordable.
** If you have a mid-size budget, this is the one for you!
Highlights
Power level: 2400 PSI

Powerful Induction engine

5 Quick-connect spray tips

Auto Stop System

Garden hose quick connector

0° pencil jet

20 ft. high pressure hose

Cheaper than other similar units

   
Potential Flaws
Lower GPM than other similar units

Dewalt pressure washer requires minimal effort while providing maximum efficiency.
Powerful Honda engine is a characteristic of Dewalt's pressure washers.
Includes high-pressure hose (4200 PSI) make this unit perfect to use to clean your pavement, driveway, or other hard surfaces.
⭐⭐ Best Pressure Washer with Multiple Nozzles ⭐⭐
Comes w/ quick connect nozzles additionally help clean your surfaces faster + maneuver this machine through tight spaces.
What I really like the the multiple nozzles — the DeWalt is more versatile.
You can also adjust the water PSI and choose a tighter or broader spray.
Highlights
Power level: 4200 PSI
Engine: Honda GX390 OHV engine
Flow: 4.00 GPM

Pump design w/ ceramic pistons

Thermal relief valve

Steel Wand w/ Quick Connect

5 quick-connect nozzles
Potential Flaws
More expensive than other similar units

Louder than other similar units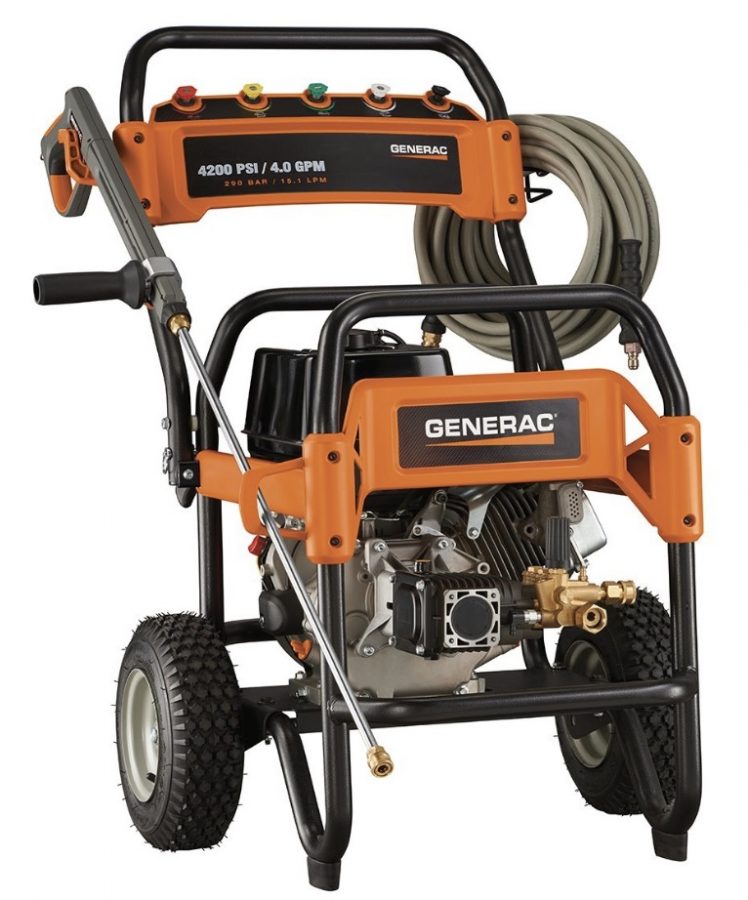 High performance & durability is what's made Generac's gas powered engine one of the best pressure washers currently on the market.
It's equipped with a super powerful 420cc Generac engine, making it ideal for any type of hard surface.
⭐⭐ Best Pressure Washer for Maneuverability ⭐⭐
GPM of 4.0 means that the power will be used efficiently, without wasting additional energy — it should last a good while (longer than most other washers)
One of the features I really like are the big, ergonomic tires. With them, it's easy to move the washer around and use it on bumpy terrains without it shaking or becoming unstable.
Highlights
Engine: 420 cc Generac OHV engine
Flow: 4.00 GPM

Power level options

3,100 PSI ; 

3,600 PSI

3,800 PSI ;

 4,200 PSI

Pro-Grade Triplex Pump

Low-Oil Shutdown Sensor

5 Quick Click nozzle tips

Oversized Pneumatic Tires
Potential Flaws
More expensive than other similar units

With the lithium-ion powered starter, you can turn the washer on and off multiple times without worrying about choking, priming or pull starts. It's convenient for times when you have to clean or take breaks between usage.
⭐⭐ Most Durable Pressure Washer ⭐⭐
Briggs' gas powered also has an all-steel base — makes it super durable to use on uneven surfaces where rocks and pebbles might hit it. The steel base will protect it from potential damage to the inner parts, helping it to last longer than other similar pressure washers.
The laboratory tested performances are just another guarantee of the superb quality of this pressure washer.
Highlights
Engine: 190 cc OHV 875iS Series engine
Power: Delivers 3100 PSI of pressure
Flow: 2.5 GPM

Power level options

2200 PSI (1.9 gpm) ; 

2800 PSI (2.1 gpm)

3100 PSI (2.5 gpm) ; 

3100 QuietSense

5 Quick Connect Nozzles

Lithium ion power starter

Easy Start pump
Potential Flaws
Some reviews note oil leakage after a few years

If you're looking for versatility and functionality, Simpson Cleaning (MSH3125-S) is the perfect pressure washer for your home.
One of the most durable and easy to maintain pressure washers due to the multiple features and upgrades. The hose is kink and abrasion resistant and the frame is made of high-quality steel and powder coated to protect it from corrosion.
⭐⭐ Most Durable Pressure Washer ⭐⭐
It's also equipped with a cleaning attachment that helps clean it effortlessly and facilitates the maintaining. The 10″ never-flat wheels make it easy to maneuver and use on any terrain, by anyone.
Highlights
Power: 3200 PSI
Engine: Honda GC190 engine
MorFlex high-pressure hose: 1.25″ x 25 ft.

Various nozzle tips (x5)

Spray gun comes w/ safety lock out
Potential Flaws
Lower GPM than other similar units

Smoke excessively on startup

For those who want more power, but an electric pressure washer doesn't do the job, a gas pressure washer is a great option – increased 2200 PSI and multiple nozzles should get you through any type of job.
The Powerstroke Gas Pressure Washer has 4 cycle, 150cc OHV engine which is powerful enough to wash even the hardest surfaces.
2200 PSI includes 3 quick-connect nozzles and extended high-pressure hose to help clean corners or other hard-to-reach areas.
Highlights
Weight: 32 pounds
Power: 2200 PSI
Engine: 150cc OHV engine
Output: 2.5 GPM (gallons per min)

High-pressure fan nozzles

21″ chrome plated spray wand

Storage space for the nozzles

Easy to transport and store
Potential Flaws
Not powerful to clean higher surfaces
** We'll be adding #10 best pressure washers later this year. Stay tuned!
Best Pressure Washers, Related:
Top 10 Best Leaf Blowers
Best Patio Heaters for Summer
Top 10 Generac Portable Generators
Top 6 Best Honda Generator for Home
Best Snow Blowers Review
8 Best Garbage Disposals
Top 10 Reverse Osmosis Systems
Best Outdoor Storage Sheds
Top Wood Chippers Review