Best Rated RO System Review.
** Update: read newer version  Top 10 Best RO Systems Review
Reverse osmosis system ratings:
#1.) APEC Alkaline RO-PH90 System 
#2.) Home Master TMAFC-ERP Artesian
#3.) APEC Top Tier RO Water System
#4.) Home Master TMHP HydroPerfection
#5.) iSpring Deluxe Reverse Osmosis System
#6.) Express Remineralization RO System
#7.) APEC RO-90 Water System
#8.) AquaTru Countertop RO Water System
#9.) Brondell RO Circle Reverse Osmosis System
#10.) iSpring WGB32B RO System
Notable — APEC Countertop RO System

APEC Supreme system is an affordable, 90 gallons-per-day system.
It uses a 6-stage process to increase water purity and pH+ levels — also retains healthy minerals (give tap water a purer taste)
As a pH+ system it comes w/ specialized filters that remove 99% of particles: chemicals, chlorine, lead, bad odors + bacteria
APEC Top-Tier system has capacity of 90 gallons per day — perfect for families or shared apartments
Buyers confirm it's very easy to install. (takes only 2-3 hours for tank to fill)
Overall, it's an affordable priced system w/ tons of positive reviews.

The Home Master Artesian has the highest online reviews (for RO systems).
Buyers say they immediately noticed that their water purity + taste quality increased.
It uses a 7-stage filtration for balanced alkalinity and natural taste.
The Artesian system also remineralizes tap water w/ calcium + magnesium for healthier drinking water.
RO system has flow rate of 70-75 gallons per day.
It comes fully assembled.  Buyers say it takes 10-20 mins to set up (very easy install!)
Home Master TMAFC is very expensive, but has tons of positive reviews — it's the highest rated RO system online.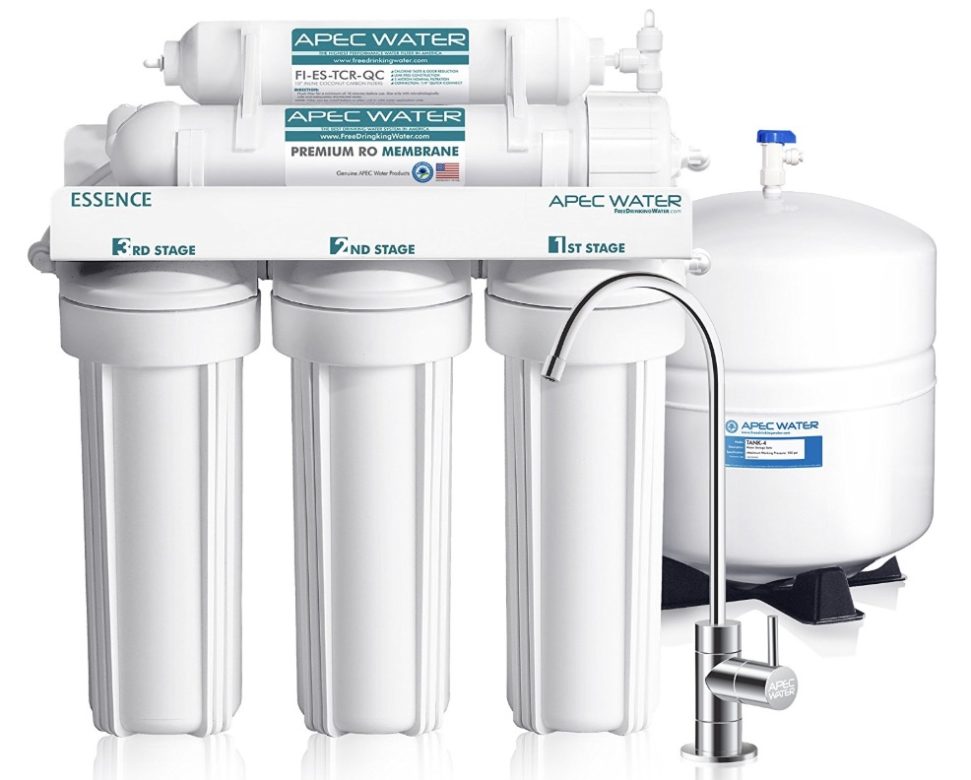 The APEC Top Tier comes w/ specialized 5-stage process:
Stage 1: high-grade filters remove dust, particles + rust
Stage 2-3: specialized carbon filter for unpleasant tastes, chlorine + odors
APEC filters remove water cloudiness and coloration. (usually in older homes)
Stage 4: Dow FilmTec filters remove 99% of smaller contaminants: arsenic, lead, chromium, radium, bacteria, etc
Stage 5: captures residual particles (sometimes left from the tank)
It's a very popular RO system w/ 90 gallons per day + alkaline filters lasting 1+ year.
Buyers love APEC's affordable price and easy installation.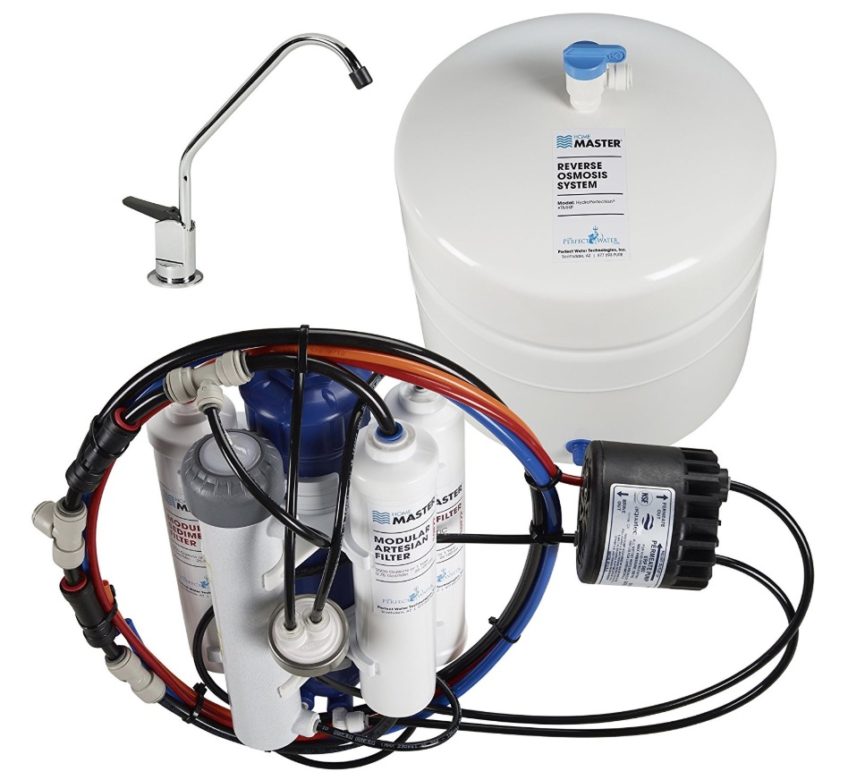 * arrives fully assembled = easy installation
For exceptional purity, the Home Master TMHP system is the best available.
Advanced UV sterilization process (safely) destroys 99.9% of germs, viruses, and bacteria.
As a 9-stage RO system it's equipped w/ specialized iron pre-filters — able to remove 98% of iron, metallic residue, and microorganisms. 
HydroPerfection also uses a remineralization process to add calcium + magnesium (gives water a balanced pH and purity level)
Daily flow rate of 76 GPM (includes 3.2 gallon tank)
Home Master Hydroperfection is extremely expensive, but has very strong ratings from buyers. 

The iSpring RCC7AK is an affordable system w/ multi-layered filtration.
It uses a 6-stage filter process to remove basic 97% of contaminants: salmonella, e-coli, viruses, bacteria + micro particles
Tap water is remineralized w/ calcium + magnesium — Buyers say tap water has more natural, pure taste.
One reviewer notes that water tastes similar to high-end bottled water
RCC7AK system has daily flow rate of 75 GPM.
Includes brass faucet and 3.2 gallon pressurized tank.
Buyers love its affordable price + easy installation.

Express RO System comes w/ remineralization process to add nutritional benefits to your tap water.
What's unique is Express' 11-stage water filtration.
It removes 99% harmful particles + adds nutritional minerals:  potassium, calcium and magnesium
Unlike other RO systems, the filter won't disrupt your water flow w/ daily production of 100 gallons per day.
Buyers love its affordable price + vitamin remineralization (making regular water more healthy)

The APEC RO-90 has a high flow rate of 90 GPM + affordable price.
It uses a 5-stage process to remove 99% of contaminants: bacteria, viruses, chlorine + chemicals
RO-90 comes equipped w/ long-lasting filters which can produce 2,000 gallons (approx. 12-15 month) of water.
** APEC filters last 2X normal filter systems (adding to its affordability)
Buyers confirm it's easy to install and low maintenance.
Affordabe w/ lots of positive buyer reviews!

The AquaTru is a little different compared to others on my list.
It's a countertop RO system — lower maintenance + easy to install. It hooks right up to your sink and sits on your counter.
AquaTru has undergone extensive tests and it's shown to remove 15X more contaminants than regular water-filter pitchers. (such as Brita)
Takes only 3-mins to attach to your sink — No plumbing or installation required.
And it comes w/ quick-change filters making maintenance super easy. AquaTru suggests you change water filters every 12-24 months (depending on usage).
Highlights
Filtration: 4-stage reverse osmosis
Capacity: 3-5 gallons per hour

Very easy set up (

only 3-mins)

No plumbing or installation

Removes 15X more contaminants than water pitchers

Quick twist-and-change filters
Potential Flaws
Takes up room on your kitchen counter

Brondell RO Circle System comes w/ advanced features: high water efficiency, indicator light, twist water filters, smart valve + flexible reservoir.
RO Circle does not use a pump or electricity and constantly maintains a 2:1 water efficiency ratio (less wasted water!)
Convenient for family usage, Brondell RO comes w/ LED indicators to alert you when to change the filter.
** What I love about Brondell is how portable it is. If you're in a city and move apartments every 1-2 years, this is the one for you.
Highlights
Filtration: 4-stage reverse osmosis

LED filter change indicator

Smart water valve

Non-electric design

Refills quick (

6L refills in 1-hour)

WQA Certified
Potential Flaws
Installation is different than others

The iSpring 3-Stage has a multi-layered filter system that protects against 1,000 different contaminants.
Special carbon-block filters out chemicals such as  chlorine, fluoride, lead, mercury, bacteria, etc.
What makes it different is that it doesn't utilize a Total Dissolve method. Instead, it keeps the healthy minerals in the water unaffected, giving you water rich with healthy components unfiltered.
If you ever have any issues with your iSpring WGB32B, you can call their technical support anytime. You get a lifetime assistance so you won't have to struggle if you have issues with installation.
Pro tip: You can use the cleansed water instead of bottled water to make the best-tasting coffee or tea!
Highlights
Performance: Up to 98% water purification
Capacity: gallons per day
Filtration: 3-stage reverse osmosis

Doesn't reduce Total Dissolved Solids

WQA Certified

NSF/ANSI certified filters

Lifetime technical support
Potential Flaws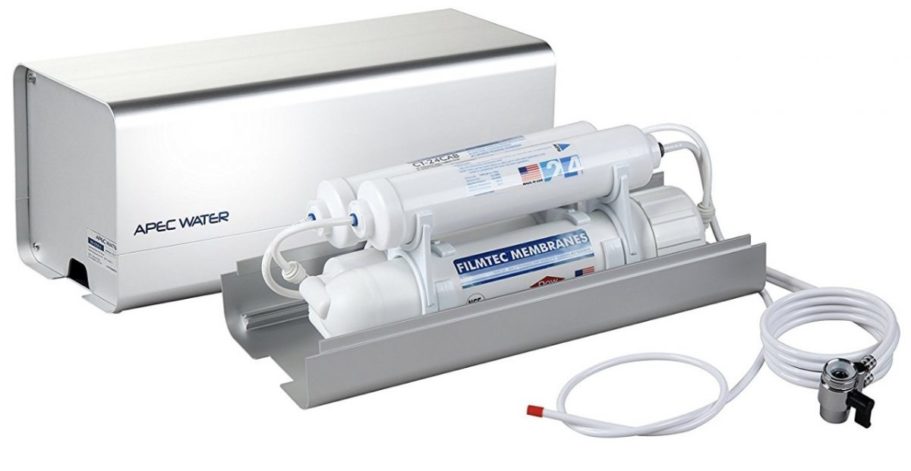 When you want to drink the finest alkaline water, let APEC do its job.
It has more than 20 years of experience in the water filtration industry, earned by continuous expertise and attention to detail.
What users have praised about this unit is that the system is very easy to set up and use. It doesn't require any installation and fits every standard faucet. You just need to plug it in and you have purified water in a matter of seconds.
Featuring high-capacity filters, it removes up to 99% of harmful chemicals and unpleasant odors in water.
It's ideal for any type of household or office because you can plug it off and move it to different rooms as you want, anytime.
Highlights
Performance: 99% water purification
Capacity: 90 gallons per day
Filtration: 4-stage reverse osmosis

Alkaline filters lasting 1 year

WQA Certified

Leakproof John Guest fittings

Easy installation + maintenance

Lifetime technical support
Potential Flaws
Works only with standard faucets
Best Reverse Osmosis System – Related:
Best French Door Refrigerators
Top 8 Tankless Water Heaters
Best Air Purifiers for Home
Reviewed – Best Water Softeners for Home
Top 8 Best Garbage Disposal
Top 10 Best Water Coolers