✅
Best Electric Scooter UK 2019.
Newest gen. of electric scooters are revolutionary: faster speed (20-35 kph), distance up to 36 kms, and fast charging batteries.
List of UK electric scooters:
#1.) Qiewa Q1Hummer e-Scooter
#2.) Xiaomi M365 Electric Scooter
#3.) M Megawheels Electric Scooter
#4.) Razor E300 Electric Scooter
#5.) Shengrui Lightweight E-Scooter
#6.) Benchwheel Adult Electric Kick Scooter
#7.) Segway Ninebot Electric Scooter
#8.) GOTRAX GXL Electric Scooter
#9.) Segway ES4 Kick Scooter
#10.) Benchwheel GOTRAX E-Scooter
** FYI — links go to Amazon UK (which had the best prices)

The Qiewa Q1Hummer Electric Scooter is very expensive — but also very fast + can travel the furthest distance.
Scooter comes w/ very powerful motor giving top speed of 55 kph (34 mph).
Travel distance will vary by user's weight, but it can be up to 100 km (62 miles) on full charge.
Disadvantage – battery takes up to 12 hours to fully charge (but the extremely long battery life may compensate for that!)
Little heavy at 27 kg (59.5 pounds) so it isn't as easy to carry as some other models, but promises to safely hold up to 550 lbs — much higher weight than most electric scooters.
Many positive buyer reviews mentioning its sturdy construction + crazy, high speeds.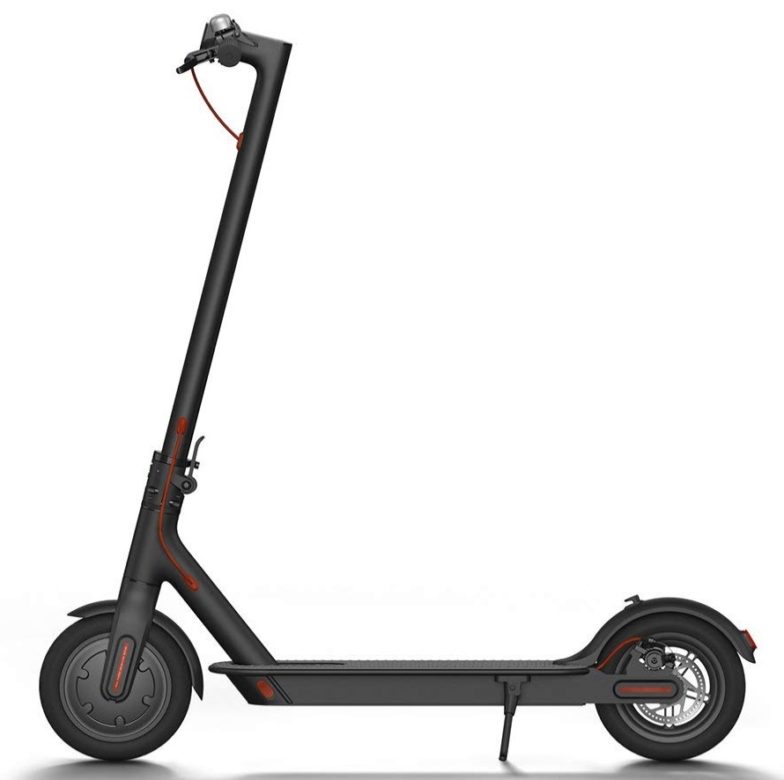 ** FYI – brand names may differ by country
Xiaomi Mi is a sleek, black electric scooter w/ a long lasting battery – it can travel 30 (18.5-miles) on a single charge.
It comes w/ a powerful 250W motor and top speed 25 kmh (15.5 mph)
Safety features include anti-lock + anti-slip system. Xiaomi Mi also comes w/ headlight and tail-lights for easy visibility
Lightweight at only 12.2 kg (26.9 pounds), it's easy + quick to fold — best portable electric scooter
Connect it to your smartphone and you're able to see how much battery remains + monitor other riding statistics
Fairly expensive electric scooter, but it has excellent buyer reviews and has better distance than most other scooters

Made of aluminum alloy, the M Megawheels Electric Scooter is an affordable model w/ top speed 23 kph (14 mph) w/ travel distance of 13 km (8 miles).
It's not the most powerful scooter on my list, but it's a great starter – the battery charges in under 3 hours.
Unique feature is the charging indicator light — alerts you in advance if it needs to recharge.
Very lightweight, it's easy to fold + carry to class or work.
So far lots of positive buyer reviews on Amazon.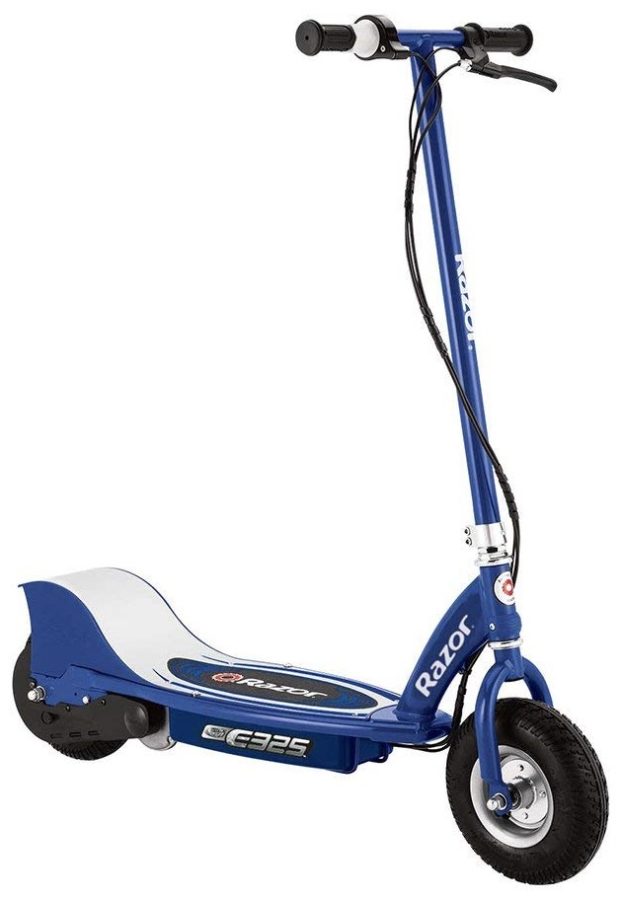 Razor's new E300 E-Scooter is the most affordable electric scooter on my list and has lots of positive buyer reviews.
Extra-large deck and extra-wide tires — it can reach top speed of 24 kph (15 mph) and up to 45-mins of riding time per charge.
E300 model is a little heavier, but is long distance + quieter compared to similar scooters.
Buyers say it performs well in short distances — great commuter scooter for city travel!

With an almost perfect buyer rating, the Shengrui 250W E-Scooter is an affordable model w/ speed up to 23 kph (14.5 mph) and 15 km travel range.
It's extremely lightweight, at just 8.5 kg (18.7 pounds) – very easy to carry to class or up stairs. (also fits well if you have a skateboard backpack!)
Battery charges in 3 hours making it great for daily commuting.
Constructed from aluminum alloy, its is designed for people w/ max weight 98 kg (216 pounds).
Lots of positive reviews – one of the most popular on Amazon UK!

Benchwheel Electric Scooter comes w/ 2 gears and reaches top speed of 25 kph (15.5 mph).
Max range is 15.5 kms (9 miles) per charge.
One of the really features is the LED display screen — it has anti-glare coating so you can see the display clearly, even in bright sunlight.
It weighs just 7.7 kg (16.9 lbs) + can be folded in seconds for transport or storage.
Scooter is designed to hold up to 120 kg (264 lbs) and has a 24V battery which charges in 3 hours.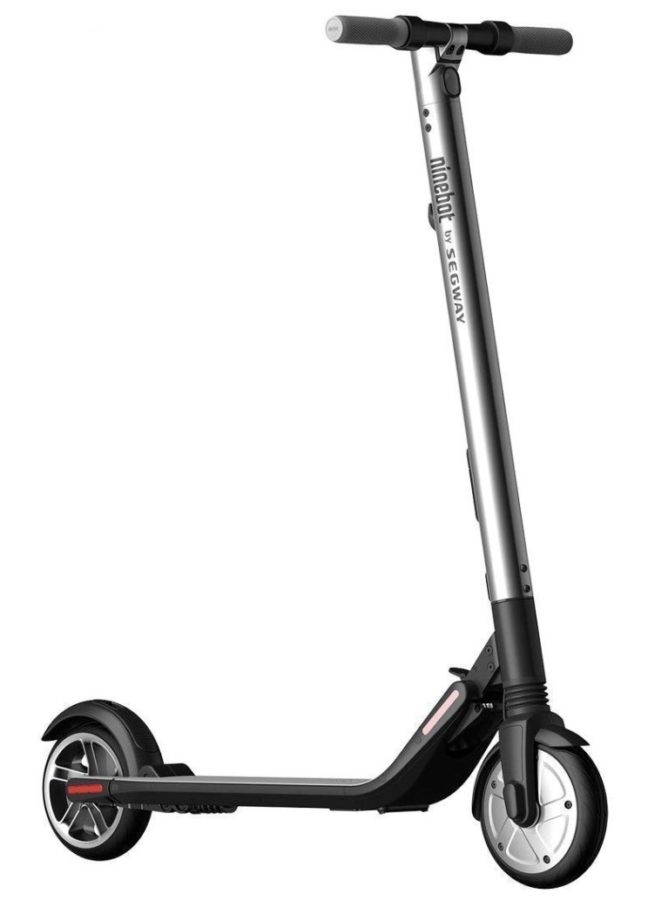 Ninebot Segway connects to your phone w/ Bluetooth and lets you monitor battery life + other operating statistics
Top speed of 25 kph (15.5 mph) and distance of 25 km per charge – extended battery available for additional price!  
On the front, you'll have a bright LED screen – shows your speed + distance
Weighs only 17 kg and comes w/ shock-absorbing tires — giving you a much smoother ride!
Tail lights, powerful headlight, electrical + mechanical brakes are nice safety features.
Fairly expensive model but buyers say it's high-quality build makes it worth the price.

GOTRAX GXL is one of their newest models – its lightweight at 14 kg and comes w/ a powerful 250W motor.
You can choose from 2 gear speeds — lighter people can travel 25 km (15.5 mph) on a single charge.
High-powered, 35V battery can be charged in 4 hours. Not the quickest, but not bad.
Buyers love the LED display: shows battery life + acts as a speedometer (showing you the current speed)
And it's great for night use — front headlight adds an extra layer of visibility for traffic.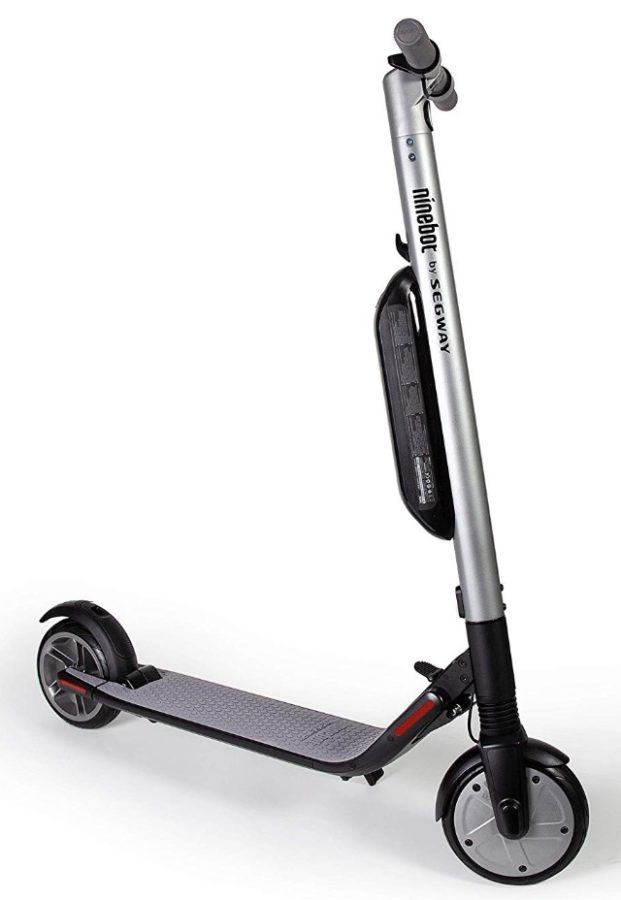 ES4 KickScooter Ninebot has a 45 km (28 mile) range and top speed of 30 kmh.
It comes w/ 2 batteries letting you travel longer distances. External battery can be removed — travel up to 15.5 miles on a single charge.
LED display lets you monitor your speed while riding. Unique feature includes cruise control.
Fairly lightweight at 14 kg (31 pounds) –  easy to fold down, store and carry.
Buyers love the extra battery life + multiple lights to ensure safety at night.

The Benchwheel GOTRAX is a great mid-price range scooter.
Like other Benchwheel e-scooters it comes w/ 2 gears and the 250W motor enables it to reach speeds of 25 kph (15.5 mph).
Fully charged battery can travel up to 19.5 km (12 miles).
It's designed with an anti-lock braking system which is a good safety feature for riding downhill.
Not a ton of reviews yet, but looks to be a solid choice for an affordable price.
Best UK Electric Scooters – Related:
Top 10 Best Electric Bikes
List of Best Drones w/ 4K Cameras
Most Popular Digital Piano Keyboards
Favorite Robot Vacuum Cleaners
Top 10 Home Theater Projectors
Top 8 Best Home Theater Seating Review