Best Wood Chipper Review // Best Leaf Shredders
Having a wood chipper is a nice luxury if you've got a big yard — they're portable, easy-to-use, + produce wood chips (as mulch for gardening)
Here is my list of best wood chippers online.
#1.) Tazz K33 Wood Chipper Shredder
#2.) Stanley DEK Heavy Duty Chipper Shredder
#3.) Earthquake Chipper Shredder
#4.) Tazz K32 Chipper Shredder
#5.) Great Circle Gas Wood Chipper Shredder
#6.) Patriot Gas Wood Chipper
#7.) Patriot Electric Wood Chipper
#8-10) Coming soon!

** FYI — wood chipper links go to Amazon (which typically has the best prices)

Tazz Wood Chipper Shredder is top-of-the-line when it comes to wood chipping or leaf shredding.
Coming in a compact size, this Tazz Chipper Shredder (model K33) will surprise you with its power and high performance.
Equipped with a state-of-the-art Viper Engine which can easily chip branches as thick as 3″.
⭐⭐ Best Wood Chipper for Efficiency ⭐⭐
Rugged steel hopper stands at 34″ height, so when you're using it, the waste will be cleaned w/ minimal effort.
Option of collecting into a mulching bag — less cleaning up to do after using it, making the Tazz Wood Chipper super efficient.
For larger yards Tazz offers 3 similar chippers w/ larger engines. View all sizes >>
Highlights
Power: 301cc Viper Engine
Weight: 140 pounds
Wheel size: 11″ wheels
Hopper height: 34″ above ground

Rugged debris bag

** Can chip branches up to 3″

Compact size – easy to store

You can include a vacuum kit in the package

Approved by ANSI B71.6 safety standards
Potential Flaws
Little heavier than others, but wheels make it fairly easy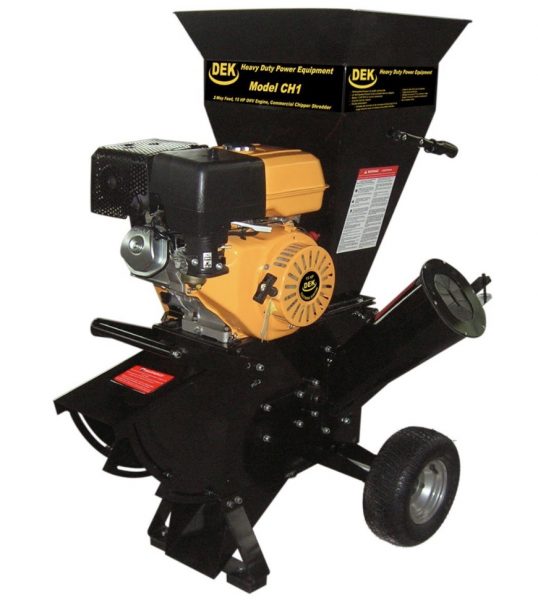 This DEK shredder bears a high-powered, 420cc commercial duty engine.
Features 2-way feed including an oversized funnel for leaves. Having a 2-way feed and a powerful engine after the work is done, the wood chips that you will be left with are as small as 0.25 inch.
⭐⭐ Best Heavy Duty Wood Chipper ⭐⭐
Centrifugal clutch and a belt-driven motor protect the engine against hits from pebbles or branches — the DEK possibly the most durable wood chipper on my list.
Includes a trailer hitch, a chip collection bag, a belt + extra blade.
Highlights
Power: 420cc Engine
Weight: 270 pounds

2-way feed for branches

Can chip branches up to 3″

Oversize funnel for leaves

Transforms yard waste into wood chips

12 bags = 1 bag of wood chips

Belt drove and a centrifugal clutch that protects the engine

A trailer hitch and a chipper blade included
Potential Flaws
Very heavy compared to other shredders

Sometime difficult to replace parts

Getting the perfect mulch won't be a difficult task for the Earthquake Chipper Shredder.
With a 205cc, 4-cycle Cycle Briggs & Stratton Engine, you can shred leaves and wood for hours without worrying of clogs.
Thanks to the powerful engine shredding branches as thick as 3″ won't be an issue — according to positive buyer reviews, the Earthquake chipper won't clog often.
It features heavy-duty metal knives and hammers capable of shredding woods and leaves and turn them into usable mulch without struggling.
2-bushel bags increase the debris capacity, further improving your chipping experience.
Highlights
Power: 205cc Briggs & Stratton Engine

Converts to mulch

Can chip branches up to 3″

Heavy-duty chipping knives and hammer

2-bushel bags
Potential Flaws
Branches must be trimmed before feeding

Tazz is a long-standing leader in the machine manufacturing business. They actually sell multiple sizes of their wood chipper shredder – K32, K33, K42, and K52
The Tazz K32 (pictured above) comes with a 212cc Viper engine and can easily shred large twigs and leaves without clogging –  a common problem lesser chippers face.
⭐⭐ Best Wood Chipper for Durability ⭐⭐
I reviewed the K33 above and the K32 is a slightly smaller version of it. They are both capable of shredding branches of 3 inches thick, but the engine horsepower is the difference.
When we talk about versatility, this is the kind of chipper shredder that has that.
Multiple accessories are included in the package. It has a Bottom-Out zipper, rugged fabric handles for easier carrying, and a Dock-and-Lock bag connector that allows you to connect your bag to the shredder faster and easier.
Highlights
Power: 212cc Viper Engine
Weight: 121 pounds

Can chip branches up to 3″

A Debris Bag is included

Multiple accessories included

Approved by ANSI B71.6 safety standards

5-year warranty

Cheaper than other similar units
Potential Flaws
Some buyer reviews note that the wheels wear down

This professional chipper shredder features a powerful 212cc gas-powered engine and a maximum gasoline capacity of 0.7, so you can shred for hours.
The Great Circle Wood Chipper is a 3-in-1 unit consisting of a top hopper for volume chipping, a side chute for small branch and limb and a back-vacuum inlet for leaf loading and shredder. Low oil option automatically shuts off the engine when the oil in the shredder is at a dangerously low level – a good safety feature not all chippers have. 
⭐⭐ Best Wood Chipper with 3-in-1 Functionality ⭐⭐
The engine is EPA3 and CARB Certified, making it one of the safest to use. And, when you're buying from a certified seller like GreatCircleUSA, you're guaranteed to get the best customer service in the industry.
Highlights
Power: 212cc engine

3 different shredding functions

Can chip branches up to 3″ (inches)

EPA3 and CARB Certified engine

Low oil automatic sensor

Certified seller

3-year limited warranty
Potential Flaws
Expensive replacement parts

Having a large yard requires a lot of hard work. Branches and leaves keep falling, and you need something that can clean that mess fast and efficiently. That's why Patriot CSV-3100B is perfect for heavy duty wood chipping.
It has a grinding chamber with 2 metal knives and 6 steel hammers that can grind and take apart any debris, regardless of its size.
⭐⭐ Best Wood Chipper for Easy Cleaning ⭐⭐
The wide opening is perfect for times when you need to shred more debris. And, it's also equipped with a side discharger, so you don't have to move the chipper and clean the disposals.
Maintenance and cleaning is a breeze thanks to the removable flails and cutters. You can just take them out and wash them to get them back into their original condition.
Highlights
Power: 10hp Briggs & Stratton Power Engine

Tapered chipping cone and a heavy-duty rotor

Can chip branches up to 3″

Direct drive system

Lo-Tone muffler

Easy maintenance and cleaning
Potential Flaws
More expensive than other similar units

Heavier than other wood chippers

If you're looking for an award-winning, top-quality chipper shredder, then look no more.
You can get multiple accessories to improve your shredding experience and make it easier to do every day. This versatility and efficiency are what have made this shredder a top-seller.
⭐⭐ Best Wood Chipper for Versatility ⭐⭐
You additionally get a 2-year warranty which means you can use your Patriot Chipper Shredder without worrying of potential breakdowns.
Highlights
Can chip branches up to 2 1/2″ in diameter

Jumbo Collection Bag

Safety accessories included

Lightweight

2-year warranty (can be extended)
Potential Flaws
Not as powerful as other chippers

Debris bag can get clogged over time
** I'll be adding #8-10 Best Wood Chipper Review! Stay tuned!
Best Wood Chipper Review, Related:
Top 10 Generac Portable Generators
Top 10 Best Lawn Mowers
Best Leaf Blowers for Large Yards
Top 10 Outdoor Storage Sheds
Best Pressure Washer Review
6 Best Honda Generator Review
Best Patio Heaters for Fall
Top 10 Best Electric Razors for Men