✅
Best Air Purifier Review 2019.
Air purifier ratings:
#1.) Levoit Air Purifier Review
#2.) Coway Mighty Air Purifier
#3.) Honeywell QuietClean
#4.) Alen BreatheSmart Review
#5.) Winix PlasmaWave
#6.) Honeywell AirGenius 5
#7.) Blueair Classic 205
#8.) Dyson Hot Cool Link
#9.) Honeywell HPA300
#10.) Fellowes AeraMax 290 
* FYI: links go to Amazon (had lowest prices)

The Levoit purifier is an affordable model w/ top-rated air filters.
It features a 3-stage air filtration system — removes 99.97% of airborne particles.
Rooms: 129 sq. ft.
Noise level: 50 decibels
Air purifiers include a specialized carbon filter — what's needed for removing the smallest air particles: odors, pollen, dander + some smoke
There's 3 speed settings which are all very quiet (perfect for running at night!)
You'll also love that Levoit designed it very light-weight, only 6.6 pounds.
Lots of positive buyer reviews + very affordable.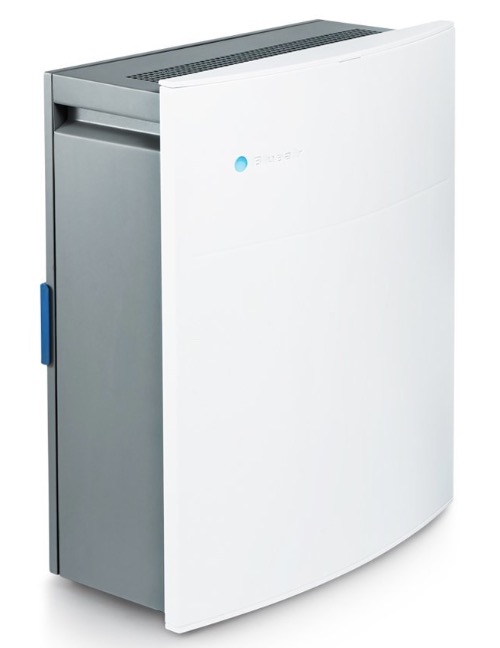 The Blueair 205 is a high-quality, affordable air purifier.
Designed for mid-sized rooms, it can cycle air 5X per hour (on max speed).
Rooms: 279 sq. ft.
Buyers say it's one of the best smart air purifiers on the market — it's easy to connect to your home WiFi.
Once synced, you can use the Blueair mobile app as the remote control.
Turn on/off

Adjust power and speed

Set a timer

Switch to fan
Very quiet operation, it ranges 32 – 56 decibels (depending on your current air quality).
Affordable smart air purifier w/ good buyer reviews.

The Coway Mighty is an affordable model w/ HEPA air filters.
It's a 4-stage air purifier and is perfect for medium size rooms.
Rooms: 360 sq. ft.
Compared to others, the Coway Mighty is very fast at killing pollutants — it automatically detects air quality + adjusts fan speed for air-flow.
Buyers love its fast performance (especially during allergy season!)
It can quickly removes 99% airborne particles — dust, pollen, second-hand smoke, and other pollutants.
Buyers confirm that it's relatively quiet, making it ideal for bedrooms.
Coway Mighty's affordable price + positive reviews make it a recommended option.
The Honeywell QuietClean is perfect for families w/ pets.
It's able to cycle air 5X per hour — this provides constant air filtering.
Room size: 170 sq. ft.
It's great for capturing air particles which are constantly moving in/out of a room:
pet dander, dust, pollen, ragweed + odors
Buyers love how quietly it operates and its easy portability — weighs only 12 pounds!
Honeywell QuietClan also includes washable filters so you won't have to buy replacements.
Lots of positive reviews + affordable price.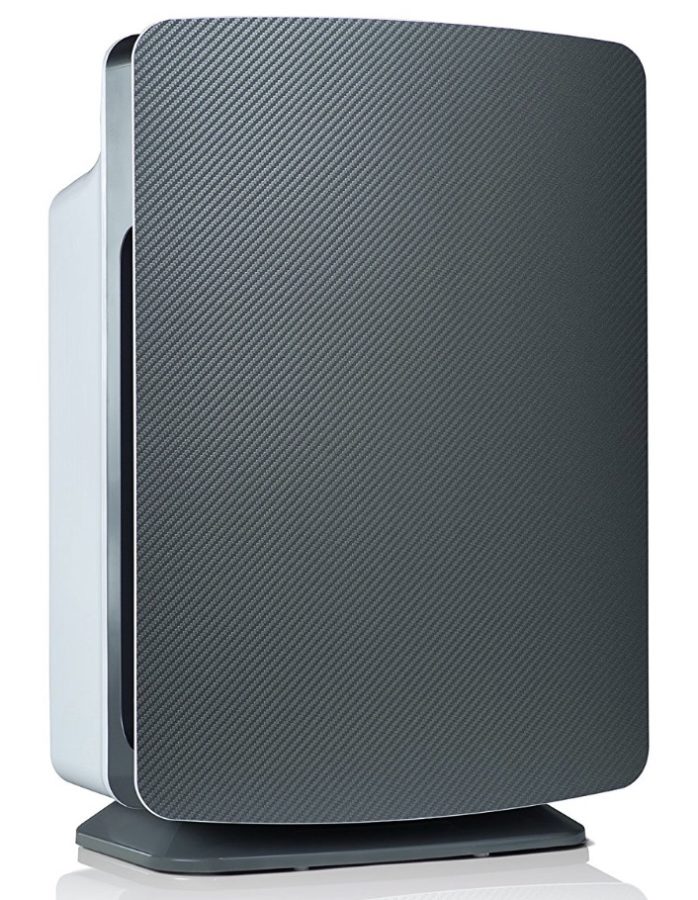 The Alen Breathe is a luxury air purifier.
It's specifically designed for capturing dust and seasonal allergies.
Alen BreatheSmart includes a smart sensor — It auto detects air particles larger than 0.3 microns.
There's also an Air Quality Indicator which alerts you if pollution is detected.
Lots of positive buyer reviews — many say it's very quiet + perfect for allergy season.
Very expensive, but can purify large rooms of 1,000+ sq. ft.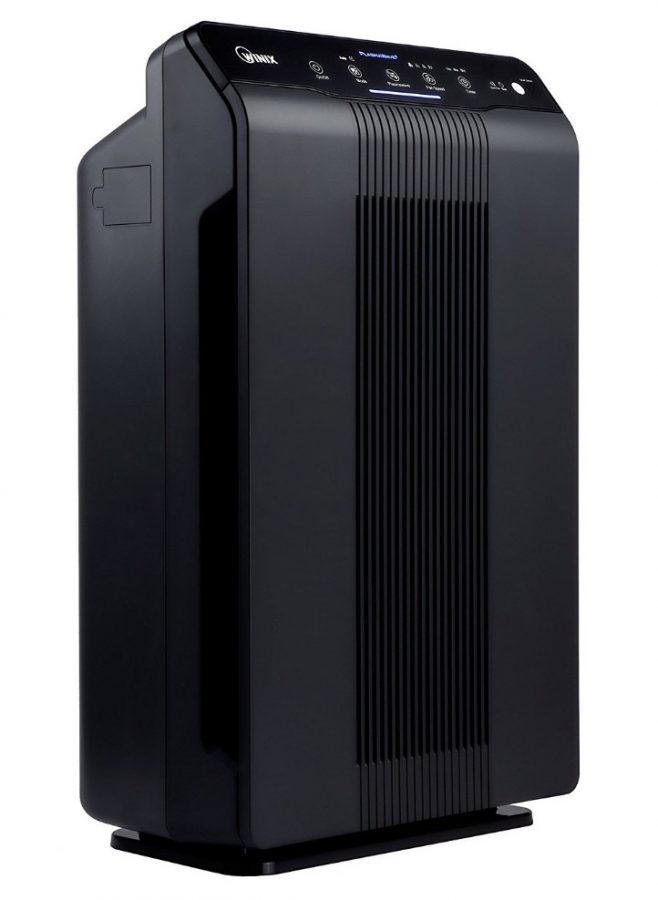 The Winix 5500-2 eliminates 99.97% of airborne pollutants.
It's designed w/ a specialized carbon filter — able to remove the smallest, most difficult particles:  odors, toxic gasses and cigarette smoke
Although expensive, it comes w/ washable air filters to help save money longterm.
PlasmaWave also includes Smart Sensors — it'll automatically increase/decrease power as needed.
Winix PlasmaWave is very expensive, but buyers say it quickly improved air quality (especially w/ cigarette smoke!)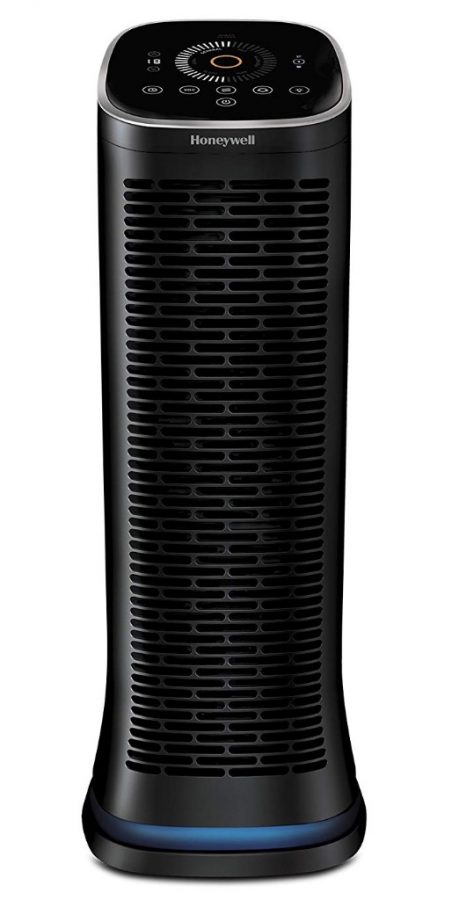 The Honeywell Air Genius is designed for pet dander + bad odors.
As an air purifier it's very fast + performs well in medium size rooms.
It comes w/ turbo fan which circulates air 5X per hour — this allows it to capture 99.9% of air particles (including cigarette smoke!)
Buyers say it's very quiet and perfect to run at night.
It's also great during allergy season — it can remove:  pollen, ragweed, dust + pet dander
AirGenius has top reviews, but is also very expensive.

The Dyson Cool-Link has a modern design + dual functionality:
1.) Air Purifier removes particles of 0.03 microns
2.) Air Fan (10-speeds)
It comes w/ secondary filter which includes a carbon-based air filter — removes the smallest particles (odors such as paint fumes)
Buyers love that it syncs with your smart phone — Dyson Purifier constantly monitors your air-quality and using Dyson Mobile App, you'll get real-time alerts + suggestions.
Warning — very expensive, but if you have a budget… Dyson Cool Link Air Purifier is an excellent choice!

The Honeywell True HEPA air purifier is an affordable option for larger rooms.
HPA300 is capable of removing 99.97% of room air pollutants in spaces up to 465 sq. ft.  (It also cleans and cycles air 5X within 1-hour.)
Air filters last 12-18 months but are fairly easy to replace.
Lots of positive buyer ratings. Many like how well it performs in living rooms + basements.

Fellowes AeraMax 290 air purifier is one of the most affordable models on this list.
Model promises to eliminate 99.97% of the harmful particles in your air. It also has an AeraSmart Sensor so it can automatically adjust fan speed based on how clean the air is.
Buyers found it to be very quiet when in use, which I like because it means it won't keep me up at night.
If you have asthma or allergies you will want to take note of the fact that this model is certified by Asthma and Allergy Foundation of America.
Lots of positive buyer reviews confirm the AeraMax is very effective in large rooms.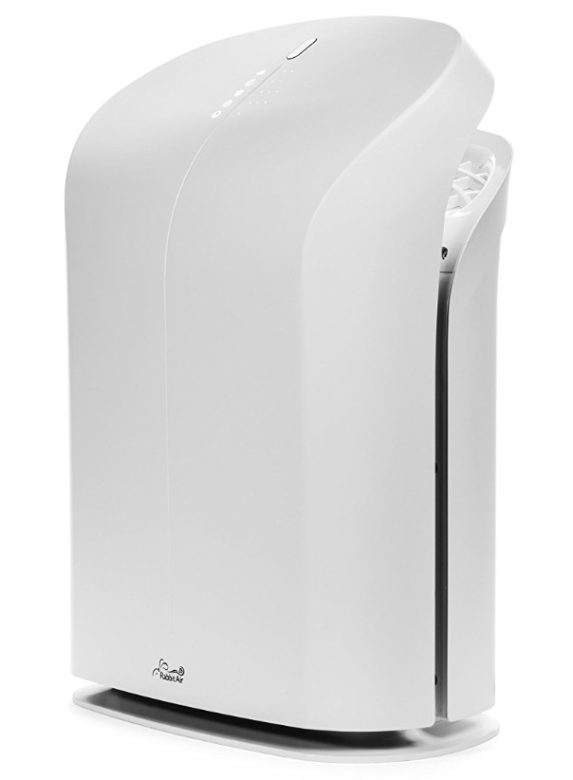 The Rabbit Air BioGS 2.0 Ultra Quiet air purifier is designed to clean air + cycle air 2X in 1-hour.
It comes w/ 5 different speeds — Low speeds are very quiet making it perfect as a bedroom air purifier.
⭐⭐ Best Air Purifier for Smokers ⭐⭐
I love the fact that it's ENERGY STAR certified.
Filters are also long-lasting, and will need to be replaced every 3 years.
Rabbit Air BioGS is one of the most expensive air purifiers because of its carbon-activated air filter — removes smallest particles (such as cigarette smoke)

Honeywell HPA600B Air Purifier is for larger rooms + promises to circulate the air in your room up to 5 times each hour — great for anyone with respiratory issues.
Online reviews show that it particularly appeals to those with asthma or seasonal allergies. Also great for anyone with respiratory issues from too much dust.
It is designed to eliminate 99.97% of the stuff in your air that's causing odors.
Bit of a more expensive model, but users find it does a great job purifying the air in larger rooms, which not all models can work effectively in/
You do need to replace the filters, but filters are designed to last a full year.
Sleep mode allows you to run the air purifier at night without keeping everyone awake.

Winix WAC9500 air purifier removes 99.99% of airborne particles.
This model is white and it has a remote control. Its sleek design can blend in with home decor and I like the overall look.
Built-in Smart Sensors are automatic so it purifier won't operate at maximum when not necessary. Also has an operating light that dims when in the dark.
I love the fact that there's a sensor to tell you when the filter needs to be replaced.
Filters are long-lasting and includes a pre-filter that is washable which helps extend the filter's life.
Types of Air Purifiers:
Basic Air Cleaner – remove 99% of household airborne particles
HEPA Air Purifiers – remove 99.97% of airborne particles larger than 0.03 microns
Carbon-Activaed Filter Purifiers – remove smallest particles like cigarette smoke (0.01 – 0.04 microns)
Best Air Purifiers Conclusion:
HEPA Air Purifiers are designed to remove 99.97% of air pollutants and particles.
They're a great resource for anyone suffering from asthma or allergies — they're also very beneficial for removing pet dander or normal house dust.
If you purchase one of the higher-grade air purifiers, it will have a carbon activated charcoal filter. This is needed to remove the smallest air particles such as odors and smoke — many buyers like using them to remove cigarette smoke.Hopefully our review is of help.
If you have questions or additions, please let us know in the comments section!

Best Air Purifier Review – Related:
Top 10 Humidifiers Review
Top 8 Austin Air Purifier Review
Biota Bot Air Purifier Review
iTvanila Cool Mist Humidifier Review
Dyson Cool Link Air Purifier Review
Top 10 Heated Toilet Seats Bidets
Best Robot Vacuum Cleaners