Whynter Portable AC Unit Review.
** Update: read newer version Whynter Portable AC Review 2019
Air conditioning is an inevitable necessity 3-5 months a year – and even though it is in the year, purchasing a portable AC might not be a bad idea. Best of all, they are extremely easy to store away during the winter and fairly easy to set up.
So why should you purchase so late into the year?
Prices are down and nearly every model is in stock – you would be surprised how limited your choices are during June and July.
Mid to late summer is probably one of the better times to purchase – the best portable air conditioners are still in stock… some have even been discounted.
What I like is that they're usually more durable than window ACs + very easy to store come winter time. Simply roll it into a closet and that's it! No heavy lifting. 
Introducing the Whynter Portable AC unit (model # ARC-14SH) – it actually made our Top 10 Portable Air Conditioning list which isn't easy since there's so many options available. But what's really interesting with this one is that it includes a dehumidifier and a heater!
** Some mixed reviews online, but overall it appears buyers are happy with Whynter portable ac's performance – it's quick to set up and effective for mid size rooms (especially bedrooms because of it's low noise level!)  Read buyer reviews here >>
How it works:
Suitable for rooms up to 500 square feet, this unit can cool OR heat rooms in just a few minutes.
The portable AC has a powerful motor capable of regulating the temperature to your wanted level, hot or cold. You can switch between modes with ease, any time of the year. And if that is not enough, it also serves as a dehumidifier, removing up to 101 pints of harmful moisture per day.
Dual exhaust hose helps you lower the energy costs by effectively distributing the air that gets vented.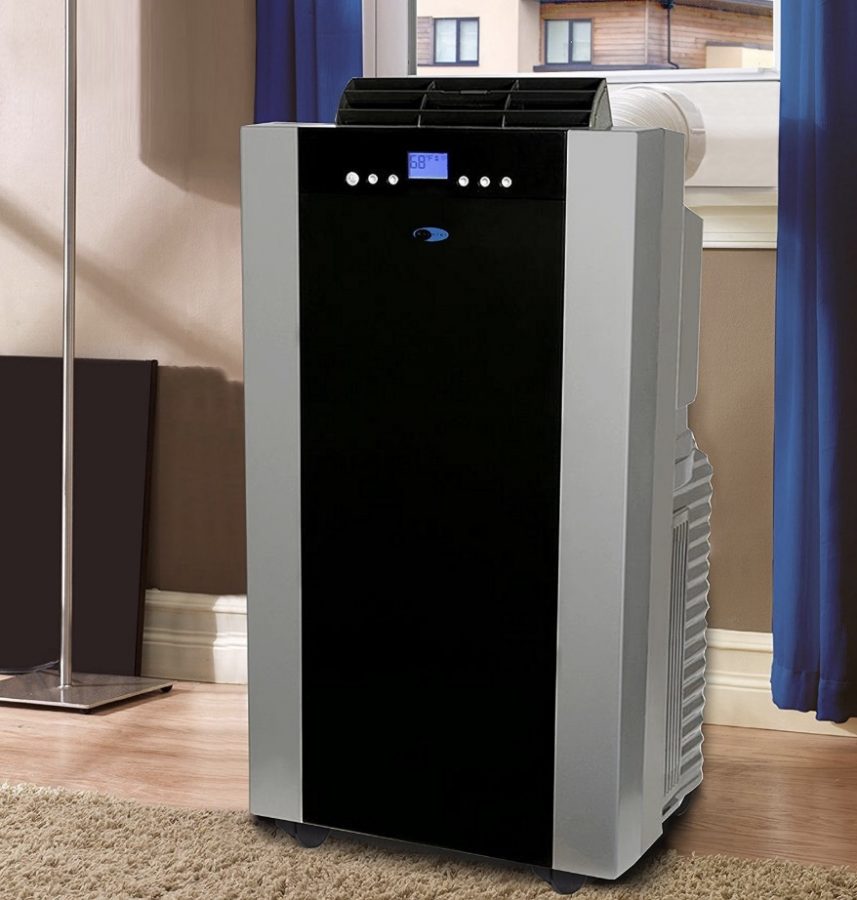 Since this portable air conditioner is all about duality, it also has 2 types of filters – carbon air filter and a reusable pre-filter.
Carbon air filter uses activate carbon to remove contaminants and impurities from the air, utilizing chemical adsorption. This, along with the reusable pre-filter provides a double protection against harmful substances in the air and extends the AC's life.
Whynter portable air conditioner comes with everything needed including a thermostatic controller with digital readout.  The digital display and remote controller make it easy to switch between settings from across the room.
With a sound level of less than 56 dBA, it's one of the quietest portable air conditioners on the market.
Sleeping in a quiet room will contribute to having a better night rest and with it, higher energy levels throughout the day. (also perfect for a home office!)
Whynter Portable Air Conditioner – Features:
Power: 13,000 BTU
Cooling:  61°F  –  89°F
Heating:  61°F  –  77°F

Thermostatic controller with digital readout

3 operation modes: air conditioner, fan or dehumidifier. 

Energy-efficiency rate of 8.9 BTU/Wh

Built-in dehumidifier removes up to 101 pints in 24 hours

Noise level (dBA) <56

3-fan speeds

Reusable filters

Carbon air filter

24-hr timer
What's included:
Whynter portable air conditioner

Installation parts

Dual exhaust hose

Window kit and insulation parts

Remote control with batteries

Smooth glide wheels (x4)
Buyer Reviews:
One of the biggest traits of the Whynter portable air conditioner is the dual system. Having the option of switching between heating and cooling helps lower the energy costs.
Buyers loves that they have a unit they can use throughout the whole year, not just during summer – saves them the effort of having to install another unit to compensate for the lack of cooling/heating.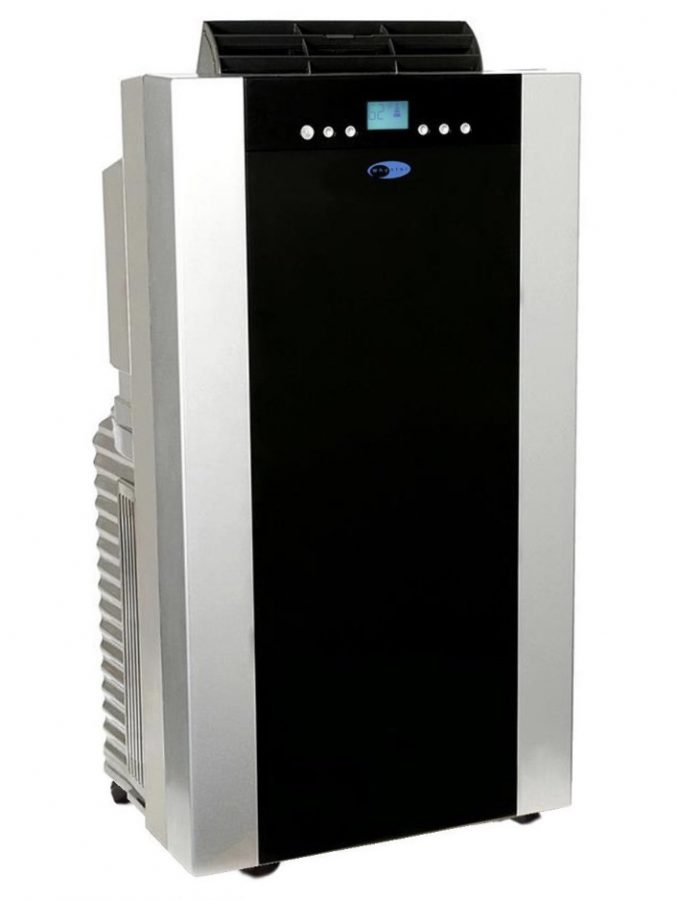 The major advantage Whynter has over the other portable units is the minimal noise it makes.
Many buyers love the quiet operation of the AC that allows them to sleep better at night and feel better in the morning.
One area customers want to be improved is the weight of the portable air conditioner. Some have struggled to move it easily between rooms, but the smooth glide wheels have made it easier.
Looking at the cost-efficiency of the unit, it's clear why it has become such a major hit on the market.
Best of all – the Whynter Portable Air Conditioner includes a quality heater. When paired with the remote control and temperature setting, your home will feel consistent throughout the year!
Whynter Portable AC Reviews – Similar:
Danby Portable AC Unit Review
Honeywell Contempo Portable AC Review
Shinco Portable AC Review
Quilo Portable Air Conditioner
Honeywell Compact Portable AC Review
Costway Portable Air Conditioner Unit
Koldfront Portable ACs